Sabotaging Oil and Gas Infrastructure Is an Act of Climate Heroism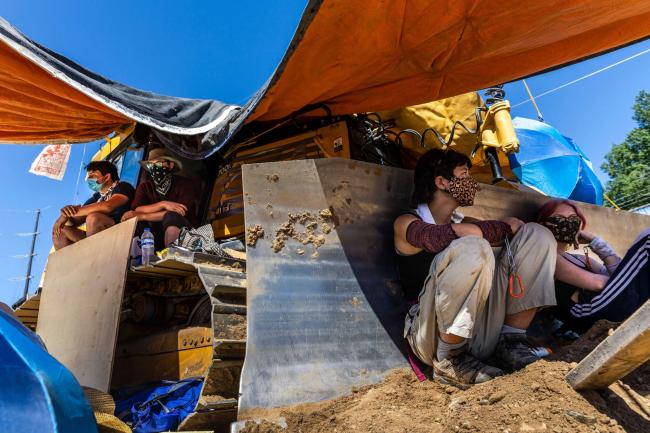 Apr. 7, 2023
As corporations build fossil fuel infrastructure despite protests, we must take the tactic of sabotage seriously.
The environmental movement has offered waves of demonstrations, petition drives, lobbying and other forms of protest. Yet, despite all that, Earth and its inhabitants are losing the war waged against us by capitalism. It follows that a reevaluation of strategy and tactics of the environmental movement is in order, including a closer examination of how nonviolence should be understood and practiced.
Consider first the current trajectory of global greenhouse gas emissions. Concentrations of carbon dioxide, methane and nitrous oxide, the three main greenhouse gases, continue to rise setting new records each year. Earth's atmosphere now has carbon concentrations not encountered since 15 million years ago, about the time our ancestors became recognizably hominoid.
Alas, more is on the way. According to the International Monetary Fund: "Globally, fossil fuel subsidies were $5.9 trillion in 2020 or about 6.8 percent of GDP and are expected to rise to 7.4 percent of GDP in 2025." Moreover, global direct subsidies nearly doubled in 2021, and to facilitate fossil fuel transport, more than 24,000 kilometers of new oil pipelines are under development around the world.
The U.S. is currently the world's largest producer of oil and gas and the third-largest consumer of coal. This year the nation will become the world's biggest exporter of liquefied natural gas. Those gas exports are expected to double by the end of the decade, and the U.S. Energy Information Administration projects that oil and gas will continue to be the largest sources of U.S. energy as late as 2050.
While it is true that renewable energy systems are also expanding worldwide at a rapid pace, solar panels, wind turbines and the like neither help nor harm the climate. What matters for the climate are greenhouse gas concentrations, and, as noted above, those are on the rise. By its very nature, capitalism expands in all profitable directions, and fossil fuels continue to be profitable.
In this context, we need to ask ourselves whether the destruction of planet-killing machinery is necessarily an act of violence. The answer should be no, because it prevents violence against nature. But, as a whole, the environmental movement's dedication to the strict avoidance of property destruction is extreme in comparison to virtually all other social justice movements.
As Andreas Malm ironically writes about the movement in his book, How to Blow Up a Pipeline "admittedly, violence occurred in the struggle against slavery, against male monopoly on the vote, against British and other colonial occupations, against apartheid, against the poll tax, but the struggle against fossil fuels is of a wholly different character and will succeed only on the condition of utter peacefulness." Has nonviolence, even against the machinery of planetary ecocide, devolved from a tactic to a fetish?
The Example of Jessica Reznicek and Ruby Montoya
Consider the case of Jessica Reznicek and Ruby Montoya. In the summer of 2016, Jessica Reznicek, then a 35-year-old spiritual activist following the tradition of the Catholic Worker and the Plowshares movements, and Ruby Montoya, a 27-year-old former preschool teacher and Catholic Worker, carried out multiple acts of sabotage against pipelines and machinery used in the construction of the Dakota Access Pipeline at Standing Rock.
During the night Donald Trump was elected president, the two women trespassed onto the construction site of Energy Transfer, the conglomerate of companies behind the pipeline, and burned down five pieces of heavy machinery. Thereafter they learned how to use welding torches to destroy valves on steel pipes, and during the year 2017 managed to sabotage pipelines up and down the state of Iowa. They also successfully continued their arson attacks against the heavy machinery used in the construction of the pipeline. Both took great care to make sure that no people were ever harmed by their actions, and their campaign of sabotage was not precipitous. In a press release just after their arrests in 2017, Reznicek and Montoya wrote:
After having explored and exhausted all avenues of process, including attending public commentary hearings, gathering signatures for valid requests for Environmental Impact Statements, participating in Civil Disobedience, hunger strikes, marches and rallies, boycotts and encampments, we saw the clear deficiencies of our government to hear the people's demands.

Instead, the courts and public officials allowed these corporations to steal permissions from landowners and brutalize the land, water, and people. Our conclusion is that the system is broken and it is up to us as individuals to take peaceful action and remedy it, and this we did, out of necessity…

If there are any regrets, it is that we did not act enough.

Please support and stand with us in this journey because we all need this pipeline stopped.

Water is Life, oil is death.
Both women had previously locked themselves to backhoes and had been arrested several times for nonviolent civil disobedience, but with little impact. By way of contrast, the organization Stop Fossil Fuels described Reznicek and Montoya's eco-sabotage as "1000 times more efficient than the above ground campaigns," resulting in a two-month delay of the pipeline completion, from their solo actions alone. Their destruction of heavy machinery and steel pipes was impressively effective, but their protection of Earth's biosphere came at a high cost.
Following one of the most aggressive prosecutions of environmentalists in U.S. history, Reznicek and Montoya each faced a maximum of 110 years in prison. After accepting plea agreements, Reznicek expected to get four years, but Judge Rebecca Ebinger added a terrorism enhancement to her sentence which doubled her time in prison to eight years. Subsequently, Montoya was given a terrorism enhancement by the same judge resulting in a sentence of six years. Each has been ordered to pay $3.2 million in restitution.
The severity of the sentences given to Reznicek and Montoya may be contrasted with sentences meted out to January 6, 2021, attackers of the U.S. Capitol. During the January 6 attack, defendant David Judd launched a lit object into a tunnel full of police and others in order to clear a path so that the mob could stop the transfer of power from Trump to Joe Biden. The judge, Trevor McFadden, sentenced Judd to 32 months, barely over a third of what prosecutors had requested, and declined to add a terrorism enhancement requested by prosecutors.
Another January 6 attacker, Guy Reffitt, was shown in court to have "carried a firearm, was a member of a right wing militia group and threatened a witness afterward." The Judge, Dabney Freidrich, rejected a terrorism enhancement and sentenced Reffitt to 7.25 years, less time than Reznicek's sentence.
Based on the decisions of the three federal judges involved in these cases, one may conclude that the U.S. legal system considers defending Earth in the manner of the Plowshares Movement as terrorism, whereas attempting to overthrow the U.S. government via a right-wing coup is not. This conclusion is reinforced by the recent charges of domestic terrorism of 42 forest defenders in Atlanta. Even legendary environmental activist Erin Brockovich has been linked to terrorist threats by Ohio police. The real purpose of lengthy prison terms and the "terrorism" designation is to defend the interests of capital above all else.
Certainly, Reznicek and Montoya are not the only activists who have made major personal sacrifices in the defense of nature. More than 1,700 environmental defenders from around the world have been murdered between 2012 and 2021 for that cause, and more recently, forest defender Manuel Esteban Paez Terán (Tortuguita) was killed by Georgia police. There are also other courageous U.S. activists, including "valve turners" facing prison terms, but they have largely been ignored and neglected by the U.S. environmental movement.
The Future
Using current technology, researchers have unequivocally demonstrated that renewable energy generation, electrified mass transportation, regenerative agriculture, and sustainable building structures are easily within the grasp of humanity. Alternative, eco-socialist systems of human relations that could replace the cancer of capitalism have also been discussed and proposed. Such a future is still possible, but barely so. It is time to put more emphasis on resistance, as opposed merely to protest. Ultimately, saving the planet from the worst effects of the climate crisis will require global working-class leadership and self-emancipation, together with broad support from the middle classes.
At the time of this writing, the environmental movement is losing the struggle to save the biosphere and losing badly. Punishments for civil disobedience are increasing and can be as severe as punishments for property destruction. Republican legislatures in 34 states have introduced 81 anti-protest bills in 2021 alone. These range from criminalizing protests and making blocking traffic on a highway a felony, to granting immunity to drivers who injure or kill protesters.
The kinds of actions carried out by Reznicek, Montoya and others have the potential to capture greater attention, galvanize a broader mobilization, and thus play a critical role in resisting the destruction of the planetary biosphere. As Malm puts it in How to Blow Up a Pipeline:
The immediate purpose of such a campaign against CO2 emitting property, then, would be twofold: establish a disincentive to invest in more of it and demonstrate that it can be put out of business. The first would not require that all new devices be disabled or dismantled, only enough to communicate the risk. Strict selectivity would need to be observed.
Not every environmental activist is willing to risk the long prison terms, or worse, that could result from such actions. Nor should they be expected to. That kind of commitment requires extraordinary courage and self-sacrifice, like that exhibited by Reznicek and Montoya. But the rest of us can at least honor and support those who do take those risks.
These two women, now languishing in prison, deserve more support from U.S. environmentalists than they have received so far (though an online petition is available). Demanding presidential pardons would be a first step. But beyond that, nominations for awards to recognize their sacrifices and contributions would be an important step forward. Nominating Reznicek and Montoya for awards such as the Right Livelihood Award, Nobel Peace Prize, the Congressional Gold Medal, or Presidential Medal of Freedom would go a long way in advancing the movement to save Mother Earth.
If climate justice activists are unable to recognize and offer full-throated support to the most selfless and courageous among us, what chance do we have to reverse the course of destruction of our planet?
[Top photo: Environmental activists chain themselves to construction equipment at a Line 3 pipeline pumping station near Itasca State Park, Minnesota, on June 7, 2021. KEREM YUCEL / AFP VIA GETTY IMAGES]