Socialist politician credits Bernie Sanders after re-election in Seattle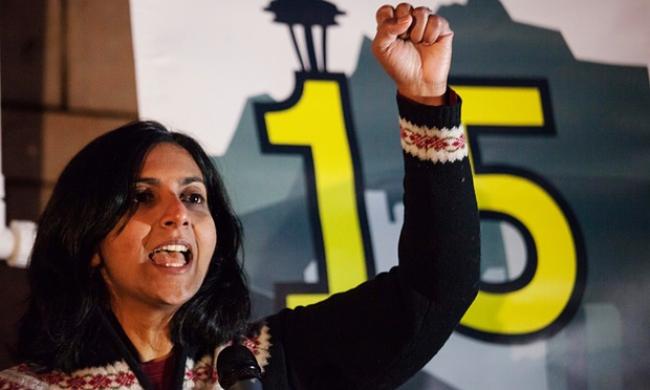 [Webpage editor's note: The momentum for social change in dealing with both the climate and social justice issues.] 
City council member Kshama Sawant says the Vermont senator's candidacy has created 'enormous momentum' for change among young people and workers
Kshama Sawant may be the only elected politician in the US who thinks Bernie Sanders has compromised his socialist principles a little too much to win the White House.
Seattle workers hail 'historic moment' as city sets course for $15 minimum wage
Sawant, a Socialist Alternative party member of the Seattle city council who drew national attention last year by driving resistant fellow councillors to pass a $15-an-hour minimum wage law, was re-elected this week after an unusually nasty campaign which saw corporate money swing behind her Democratic opponent.
Sawant credited her victory in part to Sanders, for creating "enormous momentum" for change that has helped engage young people and alienated workers in politics.
"When was the last time you heard a presidential candidate say we need a political revolution against the billionaire class?" said Sawant. "That is not Hillary Clinton. That is not Barack Obama. That is clearly somebody who is fundamentally different.