Support Simon Fraser University student Zain Haq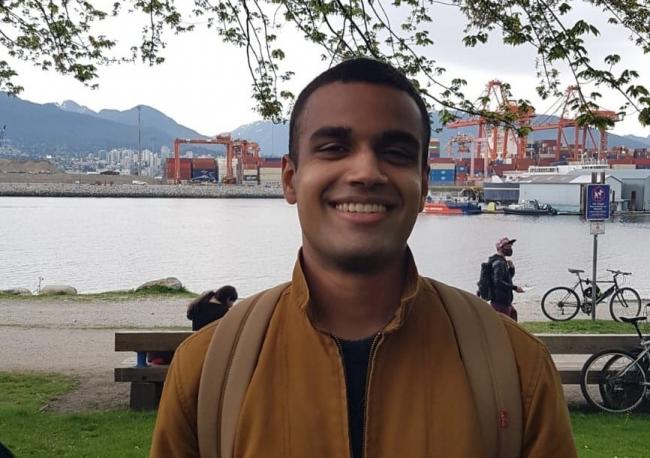 Jan. 24, 2023
 

 

Simon Fraser University student Zain Haq has done more than most Canadians to stop the obscene waste of public money known as the Trans Mountain crude oil pipeline.

At age 20

he laid down in front of machines in Burnaby, halting construction for the day

. After he was arrested, Haq said: "As a young person, I am motivated to do whatever I can to dampen the horrors of the not-so-distant future."

He served 14 days in jail

.

Next, Haq started a hunger strike that

forced SFU to divest entirely from fossil fuels

. Then he helped organize protests against fracking and old growth logging that escalated to blocking roads and bridges.[1]

Now, Zain Haq faces deportation for these nonviolent protests against climate destruction

. His friends started

an open letter to the Immigration Minister

, calling on Sean Fraser to let Haq stay in Canada and finish his degree. The letter now has more than 1,300 signatures.

As an international student from Pakistan, Haq is part of a wave of youth migration driven in part by climate collapse

. Last year floods swept over Pakistan, killing more than 1,700 people. That was after a record-setting heat wave ruined crops.

"We're faced with mass starvation and extreme likelihood of societal collapse over the next few years," Haq said in an interview.[2]

By funding oil and gas megaprojects that fuel destruction and misery around the world, Haq says

Canadian politicians are the real criminals. But he's the one facing sentencing next month – and then deportation

, unless minister Fraser intervenes.

I think Zain Haq's actions show courage, dedication to his principles and care for other people. He's the kind of person I would welcome as a neighbour. But he's not a Canadian citizen, so

when he puts his future on the line to join the fight for climate justice, he doesn't have the protection of the Charter of Rights and Freedoms

.

There are more than 600,000 international students in Canada propping up our economy. Not just by paying exorbitant tuition fees, but working low-paid jobs Canadians don't want to do. All for a one-in-four chance at permanent residency.[3]

Many are here because their families see no future for them back home. But Canada offers these migrants little protection from exploitation, workplace injury, illness and even death. Here I'm thinking of the young workers from Punjab caught up in B.C.'s toxic drug crisis.[4]

These students deserve our solidarity – as community members, as workers, as people displaced by climate change caused by rich countries like Canada

. And in Zain Haq's case, for risking his future trying to wake us up to what's coming next.

Thanks for your time,

Kai

P.S. If you think it's overly harsh for Canada to deport student climate activist Zain Haq, you can

add your name to an open letter

, too. 

[1]

https://the-peak.ca/2023/01/sfss-council-protests-student-facing-deporta...

[2]

https://www.motherjones.com/environment/2022/06/environmental-activist-z...

[3]

https://thewalrus.ca/the-shadowy-business-of-international-education/

[4]

https://pressprogress.ca/international-students-overdoses-british-columb...