Tell Trudeau he can't go into Wet'suwet'en talks while investing in Coastal GasLink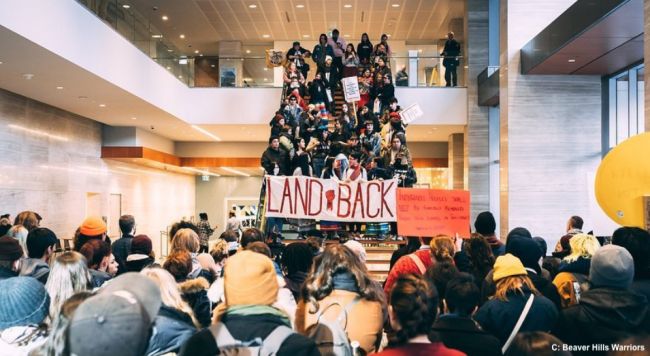 Export Development Canada (EDC) is a little-known federal Crown corporation with a track record of using public finance to back projects that violate Indigenous rights and push past our global carbon budgets.
When EDC acted as a key financier to allow for the government's purchase of the Trans Mountain pipeline in 2018, I thought I had seen the worst.
Turns out, I was wrong by a long shot. This week, as thousands continue to mobilize in solidarity with Wet'suwet'en land defenders facing violence from the Royal Canadian Mounted Police (RCMP), a breaking news story revealed that EDC has listed the 670-kilometer Coastal GasLink Pipeline the Wet'suwet'en are fighting as a 'project under consideration' for public financing. EDC is refusing to disclose how much and what type of financing it is considering, but it could be in the billions. What's worse is that an approval for this transaction could come as early as February 26th.
Send a letter to EDC, Minister of International Trade Mary Ng, and Justin Trudeau to tell them this is unacceptable.
It's not possible for Trudeau or his government to go into talks with Wet'suwet'en in good faith when a federal government institution is considering investing in the fracked gas pipeline they're fighting.
It's critical that people across the country and around the world stand with Wet'suwet'en in this moment that the federal and provincial governments, RCMP, and Coastal GasLink/TC Energy (formerly TransCanada) are openly violating Wet'suwet'en, Canadian, and international law.
Click here to help us cut off a key tentacle of finance for Coastal GasLink. Public finance from institutions like EDC can help 'crowd-in' investments from private actors, because it is ultimately backed by the government's creditworthiness. For a risky project on stolen land like Coastal GasLink that otherwise looks like a financially risky disaster, this government-backed support can be make-or-break.
Once you've sent your letter, please take a look at the Wet'suwet'en Supporter Toolkit and see if there are other ways you can help make sure the federal and provincial governments, RCMP, and Coastal GasLink/TC Energy get their #HandsOffWetsuweten.
In solidarity,
Bronwen Tucker
Stop Funding Fossils Analyst
Oil Change International
---
P.S. There has been lots of misinformation spreading about #WetsuwetenStrong. If you're looking for good explainers on the situation, try this piece in Maclean's, this article from First Peoples Law, and this amazing compilation of resources on the struggle.
P.P.S., If you want to dig more into EDC's record you can read a report we released last month on export credit agencies around the world. Because of EDC, Canada came fourth for the most fossil fuel export credits in the G20. Now they've outdone themselves by trying to invest in a pipeline on stolen land when the entire world is watching. Make sure they don't get away with it.