The Terrifying Warning Lurking in the Earth's Ancient Rock Record - Our climate models could be missing something big.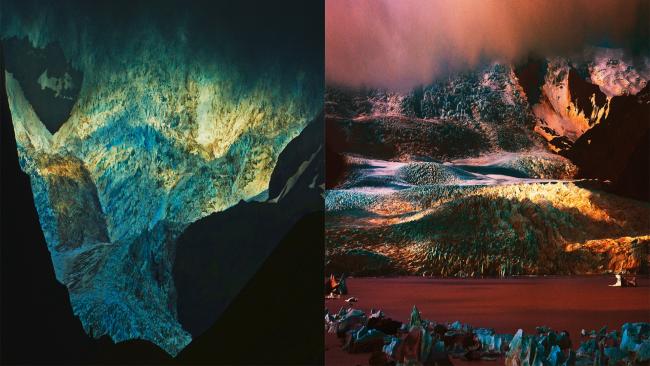 This is not a long article; it's a short book--but comprehensive, frightening, and fascinating. 
            -- Gene McGuckin 
Photo Illustrations by Brendan Pattengale | Maps by La Tigre
Images above: Glaciers from the Vatnajökull ice cap, in Iceland
---
Brendan Pattengale is a photographer who explores how color can convey emotions in an image. In his photo illustrations throughout this article, the colors of the original photos have been adjusted, but the images are otherwise unaltered.
---
March 2021 Issue
The beast has only just begun to snarl. All of recorded human history—at only a few thousand years, a mere eyeblink in geologic time—has played out in perhaps the most stable climate window of the past 650,000 years. We have been shielded from the climate's violence by our short civilizational memory, and our remarkably good fortune. But humanity's ongoing chemistry experiment on our planet could push the climate well beyond those slim historical parameters, into a state it hasn't seen in tens of millions of years, a world for which Homo sapiens did not evolve.
The coastlines that civilization presumes to be eternal were still far beyond today's horizon. But the seas were rising. The doomed vestiges of mile-thick ice sheets that had cloaked a third of North American land were retreating to the far corners of Canada, chased there by tundra and taiga. The roughly 13 quintillion gallons of meltwater these ice sheets would hemorrhage, in a matter of millennia, raised the sea level hundreds of feet, leaving coral reefs that had been bathed in sunlight under shallow waves now drowned in the deep.
Imprinted on top of this cycle were the last gasps of an ice age that had gripped the planet for the previous 100,000 years. The Earth was still thawing, and amid the final approach of the rising tides, enormous plains and forests like Doggerland—a lowland that had joined mainland Europe to the British Isles—were abandoned by nomadic humans and offered to the surging seas. Vast islands like Georges Bank, 75 miles off Massachusetts—which once held mastodons and giant ground sloths—saw their menagerie overtaken. Scallop draggers still pull up their tusks and teeth today, far offshore.
"There is famine in [our] house; we will all die of hunger. If you do not quickly arrive here, we ourselves will die of hunger. You will not see a living soul from your land." This letter was sent between associates at a commercial firm in Syria with outposts spread across the region, as cities from the Levant to the Euphrates fell. Across the Mediterranean and Mesopotamia, dynasties that had ruled for centuries were all collapsing. The mortuary-temple walls of Ramses III—the last great pharaoh of Egypt's New Kingdom period—speak of waves of mass migration, over land and sea, and warfare with mysterious invaders from afar. Within decades the entire Bronze Age world had collapsed.
As Europe emerged from its chill, coal from 300-million-year-old jungles was being fed into English furnaces. Although the Earth was now in the same configuration that, in the previous few million years, had invited a return to deep, unthinkable ice ages, for some reason 
the next ice age never took
. Instead the planet embarked on an almost unprecedented global chemistry experiment. Halfway through the 20th century, the climate began behaving very strangely.
An Antarctica's worth of ice now rests atop North America. Similar sheets smother northern Europe, and as a result, the sea level is now 400 feet lower. The midwestern United States is carpeted in stands of stunted spruce of the sort that would today look at home in northern Quebec. The Rockies are carved up, not by wildflower-dappled mountain valleys, but by overflowing rivers of ice and rock. California is a land of dire wolves. Where the Pacific Northwest edges up against the American Antarctica, it is a harsh and treeless place. Nevada and Utah fill up with cold rains.
Ice is a rock that flows. Send it in massive sterilizing slabs across the continents, and it will quarry mountainsides, pulverize bedrock, and obliterate everything in its path. At the height of the last ice age, along the crumbling margins of the continental ice sheets, the rocky, dusty spoils of all this destruction spilled out onto the tundra. Dry winds carried this silt around the world in enormous dust storms, piling it up in seas of loess that buried the central U.S., China, and Eastern Europe under featureless drifts. In Austria, not far from the site of the voluptuous Venus of Willendorf figurine, carved some 30,000 years ago, are the remains of a campground of the same age—tents, hearths, burnt garbage pits, hoards of ivory jewelry—all abandoned in the face of these violent, smothering haboobs. Ice cores from both Antarctica and Greenland record a local environment that was 10 times dustier than today. All of this dust 
seeded the seas with iron
, a vital nutrient for carbon-hogging plankton, which bloomed around Antarctica and pulled gigatons of CO2 out of the air and deep into the ocean, freezing the planet further.
This was the strange world of the Ice Age, one that, geologically speaking, is still remarkably recent. It's so recent, in fact, that today, most of Canada and Scandinavia is still bouncing back up from the now-vanished ice sheets that had weighed those lands down.
As it turns out, weathering rocks—that is, breaking them down with CO2-rich rainwater—is one of the planet's most effective long-term mechanisms for removing carbon dioxide from the atmosphere, one that modern geoengineers are frantically trying to reproduce in a lab, for obvious reasons.
In Idaho, ice dams that had held back giant lakes of glacial meltwater about six times the volume of Lake Erie collapsed as the world warmed, and each released 10 times the flow of all the rivers on Earth into eastern Washington. The floods carried 30-foot boulders on biblical waves, through what were suddenly the world's wildest rapids. They left behind a labyrinth of bedrock-scoured canyons that still covers the entire southeastern corner of the state like a scar. When the Earth's climate changes, this is what it can look like on the ground.
As the Earth's wobble and orbit conspired to melt more ice than the poles have shed so far today, the planet absorbed more sunlight. As a result, global temperatures were little more than 1 degree warmer than today's Anthropocene chart-toppers—or 
maybe even the same
. But sea level was 20 to 30 feet higher than it is now. (A full third of Florida was sunk beneath the waves.) This is "sobering," as one paper put it.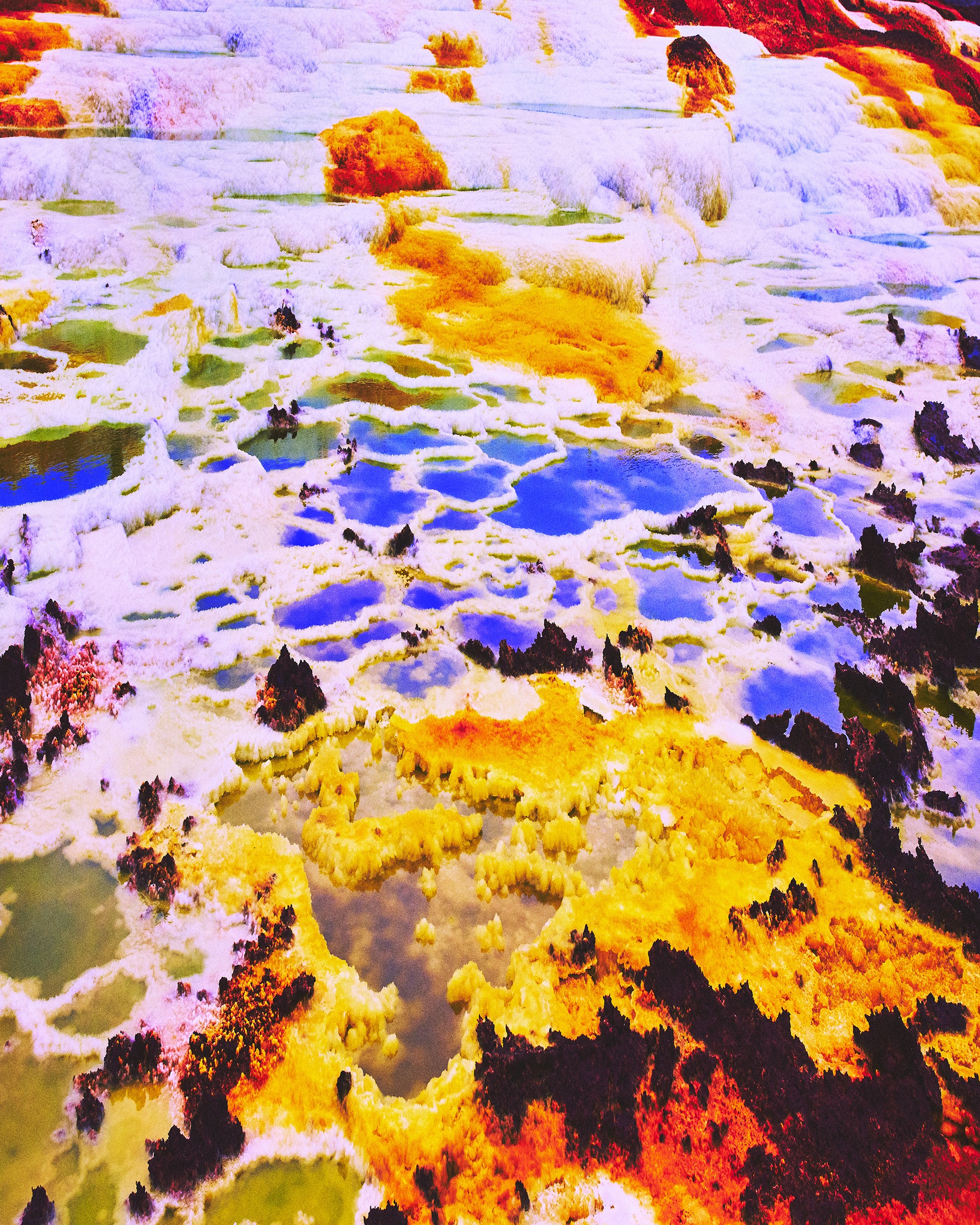 Despite the similarities between our world and that of the Pliocene, the differences are notable. In the Canadian High Arctic—where today tundra spreads to the horizon—evergreen forests come right to the edge of an ice-free Arctic Ocean. Though the world as a whole is only a few degrees warmer, the Arctic, as always, gets the brunt of the extra heat. This is called "polar amplification," and it's why maps of modern warming are crowned by a disturbing fog of maroon. Models struggle to reproduce the extreme level of warming in the Pliocene Arctic. It's a full 10 to 15 degrees Celsius warmer in the long twilight of northern Canada, and the pine and birch woodlands of these Arctic shores are filled with 
gigantic forest-dwelling camels
. Occasionally this boreal world erupts in wildfire, a phenomenon echoed by the blazes that today sweep ever farther north. Elsewhere, West Antarctica's ice sheet may have disappeared entirely, and Greenland's, if it exists at all, is shriveled and pathetic.
So this is the Pliocene, the world of the distant present. While today's projections of future warming tend to end in 2100, the Pliocene illuminates just what sort of long-term changes might inevitably be set in motion by the atmosphere we've already engineered. As the great ice sheets melt, the permafrost awakens, and darker forested land encroaches on the world's tundra, positive feedbacks may eventually launch our planet into a different state altogether, one that might resemble this bygone world. Nevertheless, human civilization is unlikely to keep atmospheric CO2 at a Pliocene level—so more ancient and extreme analogues must be retrieved.
Some LIPs in Earth's history span millions of square miles, erupt for millions of years, inject tens of thousands of gigatons of CO2 into the air, and are responsible for 
most of the worst mass extinctions in the history of the planet
. They live up to their name—they are large. But these mid-Miocene eruptions were still rather small as far as LIPs go, and so the planet was spared mass death. Nevertheless, 
the billowing volcanoes
 raised atmospheric CO2 up to about 500 ppm, a level that today represents something close to the most ambitious and optimistic scenario possible for limiting our future carbon emissions.
As for fauna, we're now so distantly marooned in time from our own world that most of the creatures that inhabited this leafy planet range from the flatly unfamiliar to the uncannily so. There were big cats that weren't cats, and rhino-size "hell pigs" that weren't pigs. There were sloths that lived in the ocean and walruses that weren't related to today's walruses. Earth's largest-ever meat-eating land mammals, African juggernauts like Megistotherium and Simbakubwa, not closely related to any living mammals today, tore early elephants apart with bladed mouths.
In the 16 million years since this mid-Miocene heat, the volcanic hot spot responsible for the Columbia River basalts has wandered under Yellowstone. Today it powers a much tamer kind of volcano. It could cover a few states in a few inches of ash and disrupt global agriculture for years, but it couldn't launch the planet into a new climate for hundreds of thousands of years, or kill most life on the surface. Unfortunately, there is such a supervolcano active on Earth today: industrial civilization. With CO2 likely to soar past 500 ppm from future emissions, even the sweat-soaked, Siberian-parrot-populated world of the middle Miocene might not tell us everything we need to know about our future climate. It's time to go back to a global greenhouse climate that ranks among the warmest climate regimes complex life has ever endured. In our final leap backwards, CO2 at last reaches levels that humans might reproduce in the next 100 years or so. What follows is something like a worst-case scenario for future carbon emissions. But these worst-case projections have 
continued to prove stubbornly accurate in the 21st century so far
, and they remain a possible path for our future.
Today the last dry land one steps on in Canada before setting out across the ice-choked seas for the North Pole is Ellesmere Island, at the top of the world. But once upon a time there was a rainforest here. We know this because tree stumps still erode out of the barren hillsides, and they're 
more than 50 million years old
. They're all that's left of an ancient polar jungle now whipped by indifferent Arctic winds. But once upon a time, this island was a swampy cathedral of redwoods, whose canopy naves were filled with flying lemurs, giant salamanders, and hippolike beasts that pierced the waters. At this polar latitude, on some late-fall evening of the early Eocene, the sun tried and failed to lift itself from the horizon. A pink twilight reached deep into the jungle, but soon the sun would set entirely here for more than four months. In this unending Arctic dark, the stillness would be broken by the orphaned calls of tiny early primates, who hopped fearlessly over stilled alligators that would start moving again when the sun returned from beyond the horizon. In this unending night, tapirs hunted for mushrooms and munched on leaf litter that was left over from sunny days past and that in the far future would become coal.
[Top photos: Glaciers from the Vatnajökull ice cap, in Iceland]