Trans Mountain will be forced to re-drill under Thompson River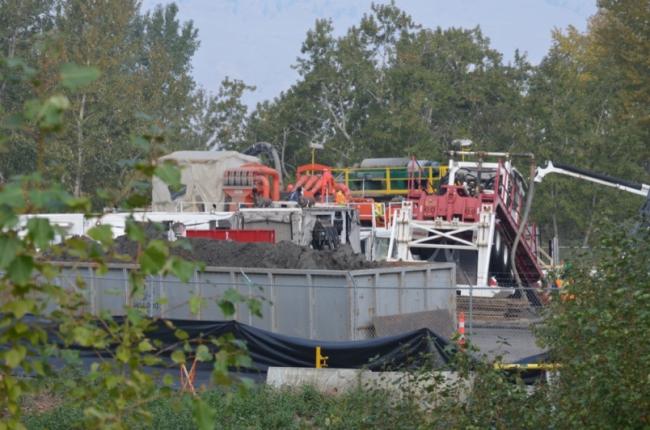 OCTOBER 29, 2020
Trans Mountain will be re-drilling under the Thompson River, following what it called "technical challenges" encountered while installing pipe during its pipeline twinning project.
According to a construction update issued by the company on Thursday (Oct. 29), pipe that has already been installed will be removed and the existing path under the river will need to be re-drilled.
KTW has reached out to Trans Mountain for more information and is awaiting a call back.
Meanwhile, Trans Mountain is warning of more noise to be temporarily heard in the community, due to use of a hammer beginning on Thursday and occurring intermittently for an unknown duration. The company noted it will limit construction work to between 7 a.m. to 10 p.m. and it is also expanding a temporary sound wall to reduce impact.
When the work was initially done, a constant, loud hammering sound that continues for hours into the late evening elicited complaints from residents living in Brocklehurst.
"We apologize for the additional noise associated with these activities and thank everyone for their patience as we work to complete this as soon as safely possible," the company stated.
The pipeline will pass under the Thompson River near Tranquille Road, east of Kamloops Airport, to the south side of the river near the Mission Flats public beach.
Crews are using trenchless crossing techniques in which a drill bores under the river to pull the pipeline through to the other side. One site houses a drilling rig and equipment, while the other site serves as a staging area for the pipe and includes welding and pipe stringing.
The trenchless crossing has been pushed back multiple times this year from its projected start dates, first when the pandemic hit in the spring and then again in July.
There are 28 kilometres of pipeline work in Kamloops. The twinned pipeline route through Kamloops will run along the edge of the Lac du Bois Grasslands above Westsyde and Batchelor Heights before crossing Ord Road and Tranquille Road near Kamloops Airport, then crossing under the Thompson River.
Kamloops is part of Trans Mountain's Interior construction area that begins at Black Pines and runs to the Coquihalla Summit, which includes approximately 185 kilometres of 36-inch pipeline, 18 valve assembly installations and three pump stations.
Prime Minister Justin Trudeau's Liberal government purchased the pipeline and related infrastructure from Kinder Morgan for $4.5 billion in 2018.
But Trans Mountain CEO Ian Anderson announced in February of this yeat that the cost of constructing the pipeline has increased to $12.6 billion, a figure that includes $1.1 billion worth of work done by previous owner Kinder Morgan.
Reasons cited for the spike include increased material and labour costs, legal bills and additional Indigenous consultation work.
[Top photo: A Trans Mountain worksite along Mission Flats Road, where pipe from across the Thompson River at Kamloops Airport will be pulled through. Photograph By MICHAEL POTESTIO/KTW]