Tsleil-Waututh First Nation rejects Kinder Morgan Trans Mountain expansion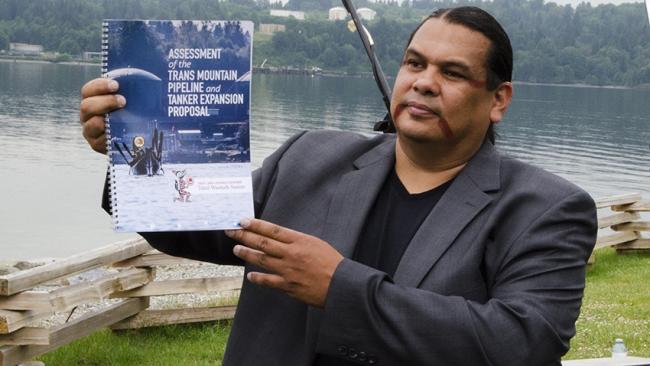 In an old legend from the Tsleil-Waututh First Nation, a two-headed serpent brings hunger and disease to the Burrard Inlet, killing off the salmon. In order to survive, the people had to confront the serpent and slay it.
"We're now facing another long dragon that needs to be slain," Tsleil-Waututh Sacred Trust Initiative member Rueben George told a crowd of 100 gathered at Whey-ah-Wichen Park in North Vancouver on Tuesday.
"That's the Kinder Morgan pipeline."
The Tsleil-Waututh Nation announced that the project would not be allowed to proceed on the Nation's territory. It also released a scathing report on the Kinder Morgan Trans Mountain expansion, outlining the project's risks to health and environment.
Kinder Morgan's pipeline project proposes almost 1,000 kilometres of new pipeline to carry diluted bitumen from Edmonton to Burnaby. If approved, the expansion would bring a five to seven-fold increase in the number of oil tankers through the Burrard Inlet. 
The Tsleil-Waututh report found that the fumes from spilled oil have the potential to make over one million people sick within two hours. It also states that an oil spill would seriously harm all components of the Tsleil-Waututh economy.