UPDATES FROM THE WET'SUWET'EN FRONTLINE Solidarity with Wet'suwet'en Continues and Spreads All Across Turtle Island All Out For Wet'suwet'en!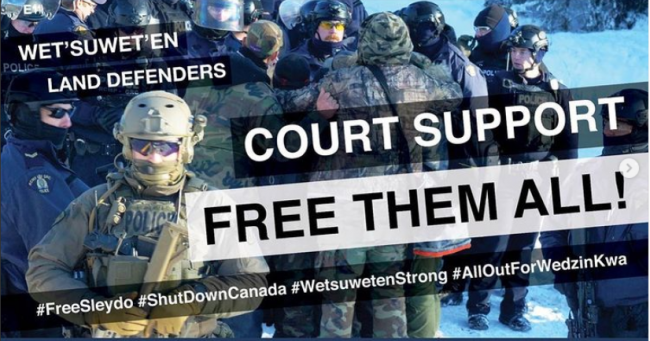 Land Defenders and journalists remain incarcerated in Prince George despite demands for their freedom. 

Across turtle Island people are speaking up and taking action in solidarity with the Wet'suwet'en Struggle in powerful ways! 

Gidimt'en Checkpoint just released this powerful call to action with land defenders still held in jail. 

Below is a compliation of solidarity statements that have come out and some of the actions that have happened. 
Call to Action: Stand with Land Defenders, Stand with Wet'suwet'en
###############################################

COURT SUPPORT: FREE THEM ALL!

Monday November 22, 2021 at 11 am
BC Supreme Court, 250 George Street, Prince George

-----------------------------------
We ask that you organize actions wherever you are!
----------------------------------

ALL OUT FOR WEDZIN KWA, CANCEL CANADA!

Over the past week, the RCMP, escorting Coastal GasLink, have laid siege on our people and our Yintah. Around 32 people have been arrested, and 20 people are still jailed behind enemy lines. This includes Gidimt'en Checkpoint spokesperson Sleydo'; Dinï ze' Woos' daughter Jocelyn Alec; Sleydo's partner Cody Merriman (Haida nation); and journalists Amber Bracken and Michael Toledano.

For the third time in three years, the Wet'suwet'en have faced militarized raids. The RCMP with full military force — armed with assault weapons, snipers, and dog teams — have forcibly removed us from our Yintah, ripped us from our families, terrorized and smeared us, bulldozed and burned down our dwellings, and desecrated our ceremonial items and spaces. All for Coastal GasLink's fracked gas pipeline, which is a death sentence for Wedzin Kwa (our sacred headwaters) and our people, and a carbon bomb for this planet.

The governments of BC and Canada lie, pretending they are innocent and passing the buck to each other. That is because their governments are a fiction. These white supremacist colonizing governments have no jurisdiction to operate on our unceded lands.

Politicians and their corporate lackeys don't fool us. Their police goons don't intimidate us. Their court injunctions don't apply to us. We know that their talk of "reconciliation" is actually an act of war against our people, our children, and our Yintah. Reconciliation does not come at the barrel of a gun.

We are Wet'suwet'en Strong. We have never ceded 22,000 square kilometers of our land. Our 'Anuc niwh'it'ën (Wet'suwet'en law) and feast governance systems govern our people and our lands.

#FreeSleydo #ShutDownCanada #WetsuwetenStrong #AllOutForWedzinKwa
With land defenders and journalists still in jail in Prince Rupert no footage of the millitarized raid on Coyote Camp has made it to the public. As land defenders we're being removed from the territory RCMP arrested Sleydo's husband Cody for observing and documenting the removal. 

Video and Statement from Gidimt'en Checkpoint:
"Illegal Arrest of Sleydo's Husband, Cody Merriman (Haida Nation) After the arrest of Sleydo', Cody was observing police activity at Gidimt'en Checkpoint and was arrested while documenting with a live FB video.

Under Wet'suwet'en law husbands have responsibilities to their wives territory. These include access and providing. Cody has been participating in our bahlats and supporting Sleydo' in protecting the yintah for their children and future grandchildren.

Cody was surrounded by militarized police and arrested with three other supporters who were not in violation of the injunction. We call on everyone to stand up against these injustices."

#FreeThemAll #AllOutForWedzinKwa #ShutDownCanada #FreeSleydo
The courageous resistance of the Wet'suwet'en land defenders and the many actions across the country have finally broken through the mainstream media blackout. See national CTV news coverage.
The following is the latest compilation of statements and actions in support of the Wet'suwet'en. With so much happening it is incomplete but the outpouring of support is powerful and necessary! 

For live updates follow Gidimt'en Checkpoint on Twitter and follow the hashtags shared above! 
 
INDIGENOUS NATIONS AND INDIVIDUALS 
Haida
"The Haida Nation stands firmly with the Gidimt'en Clan as they uphold Wet'suwet'en law in opposition of the Coastal Gaslink pipeline project on their territory."
Read the entire statement
 
Haisla
Haisla members in Kitimat have organized a walkout in solidarity with the Wet'suwet'en as RCMP continue to enforce an injunction on their territory.
Read the entire story
 
 Wet'suwet'en 
 
Chief Gisdayway
Wet'suewet'en Hereditary Chief Gisday'wa of Gidimt'en Clan has a message regarding CGL/RCMP ripping up his Yintah, arrests & tearing down land defender cabins; and to @JustinTrudeau "Had enough of that in the past. This is our land. All of Canada is Indigenous land."
Watch the full video statement
 
Unist'ot'en matriarchs
Our neighbors @unistoten.camp in solidarity as RCMP violently arresting Gidimt'en matriarchs from the territory. ❤️
Watch the full video statement

INDIGENOUS ORGANIZATIONS AND NETWORKS
UNION OF BC INDIAN CHIEFS
BC Pours Resources into RCMP Raid on Wet'suwet'en Territory during Provincial Climate Emergency: "Prioritizing fossil fuel expansion while British Columbians grapple with a climate emergency is an alarming, criminal and incredibly poor decision"
Read the entire statement
 
Indigenous Environmental Network
The Indigenous Environmental Network condemns the actions of Canada as it inflicts settler violence against the Wet'suwet'en peoples, hypocritically breaking both Wet'suwet'en and Canadian law to push TC Energy's illegal Coastal Gaslink pipeline through unceded territories. 
Read the entire statement
 
NGO'S AND PROFESSIONAL ORGANIZATIONS 
 
Amnesty International 
Open letter: Amnesty International urges federal government, BC and RCMP to protect the rights of Wet'suwet'en land defenders
Read the entire statement
 
CAPE (Canadian association of physicians) 
VANCOUVER, November 19, 2021 – The Canadian Association of Physicians for the Environment (CAPE) expresses our alignment with the November 17, 2021, statement of the Union of BC Indian Chiefs calling for an end to violence against Wet'suwet'en people and their allies in Wet'suwet'en territory and peaceful evacuation of Coastal GasLink.
Read the entire statement
 
 
CAJ (Canadian association of Journalists) 
The CAJ is deeply concerned that two journalists reporting from Wet'suwet'en territory have been arrested today by @BCRCMP @BCRCMPMedia
Read the entire statement
 
 
FAITH GROUPS
The Sikh Community of BC (Unceded Indigenous Land)
"Solidarity with Wet'suwet'en Nation."
 

National council of Canadian Muslims 
NCCM is deeply concerned about the situation with the Wet'suwet'en members and the reported arrests of journalists covering the situation. We are reaching out to our Indigenous allies to offer our solidarity and our commitment to stand with them.

OTHER/MISC

Fairy Creek

"The Wet'suwet'en people, under the governance of their hereditary chiefs and matriarchs, are standing in the way of the largest fracking project in Canadian history. Under Wet'suwet'en law, all five clans of the Wet'suwet'en unanimously oppose all pipeline proposals on their unceded territories."