Wet'suwet'en report round-the-clock surveillance and harassment by RCMP and pipeline security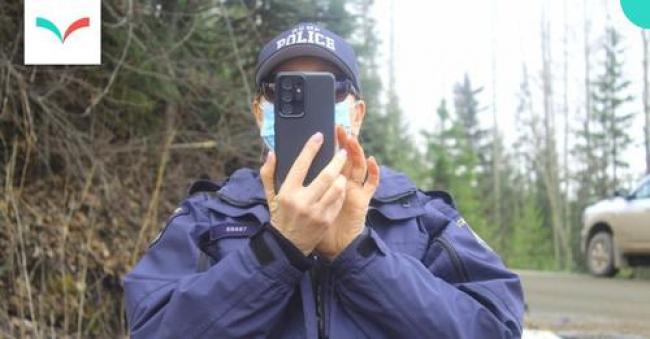 May 2, 2022
Drilling under the Wedzin Kwa river is expected to begin any day
t's mid-afternoon and 67-year-old Wet'suwet'en Elder Janet Williams startles awake from a nap, rushing to put on her jacket and shoes. She's been abruptly woken by unwanted visitors to her remote cabin home. But this isn't the first time the RCMP has marched onto the traditional territories of her Gidimt'en Clan. It's been happening multiple times a day for over two months, she says.
"There's no need for you guys to be here at all," she addresses them sharply once she gets outside. "I'm a matriarch here. This is my land. You keep coming here. None of you are welcome to be here." She's leaning on a long, wooden walking stick carved from a tree that fell in the surrounding forest, which is enclosed by snow-capped mountains approximately one hour outside of Houston, B.C. The sound of the rushing spring waters of a sacred river the Wet'suwet'en call Wedzin Kwa is the soundtrack to this repetitive scene that's become a nightmare to Williams and her husband, Lawrence.
"This is Crown land," another RCMP officer tells Wet'suwet'en Elder Janet Williams.
"You have no legal right to be here. And none of you will answer my questions. You just keep walking around it here like you're zombies." She's gritting her teeth now. Lawrence walks to her side and rubs her back for comfort.
Over half a dozen RCMP officers are combing through the site, which consists of tents, wooden structures, a kitchen and a cabin. They say they're looking for criminal activity.
One officer unfolds a piece of worn paper and reads aloud a statement:
"Since 2019 this location has been used as a base of operations for individuals committing criminal code offences and actions breaching a Supreme Court Injunction. Many of those individuals have been arrested and released by the court on conditions. We are conducting patrols to ensure criminal code offences are not being committed and that individuals with court order conditions are not breaching these conditions."
"This is Crown land," another RCMP officer tells her.
"It's not Crown land," Williams declares. "This is Cas Yikh territory. You guys should know this by now. You keep coming around and reading the same damn script!"
Wet'suwet'en Elder Janet Williams 
Brandi Morin
Expecting another raid at any moment
The RCMP has had a continuous presence on the Wet'suwet'en Yintah (territory) since late 2018, after Coastal Gaslink obtained an injunction against land defenders blocking the right of way for a liquified natural gas pipeline the company is constructing through approximately 190 kilometres of Wet'suwet'en territory.
The RCMP have conducted three heavily armed raids, spending nearly $20 million to police the area near the Morice Forest Service Road, which runs alongside the Wedzin Kwa for part of its route, since 2018. The most recent raid took place in November 2021 at the Coyote resistance camp, about 20 kilometres away from the Gidimt'en camp, where Williams lives. The Coyote camp blocked the roadway leading to Coastal GasLink's drill pad site — where the company is preparing to drill under the river.
The RCMP used attack dogs, sniper rifles, helicopters, and a chainsaw to gain access to a tiny house containing unarmed Wet'suwet'en and supporters. Over two days police arrested, charged and jailed over a dozen land defenders, as well as two journalists. The RCMP have arrested more than 75 land defenders since enforcement of the injunction began.
Then, on February 17, Coastal GasLink security reported acts of violence at a worksite along the Morice Forest Service Road. They said individuals engaged in a violent confrontation with Coastal GasLink employees and police officers.
According to police, around 20 people disguised in masks, some armed with axes, attacked security guards and smashed vehicle windows.
When police arrived at the 41-kilometre mark, the roadway had been blocked with downed trees, tar-covered stumps, boards with spikes, and fires that had been lit amid the debris.
The RCMP said several people threw smoke bombs and fire-lit sticks at police. One officer was reportedly injured.
On February 18 the RCMP deployed 40 officers to the area to investigate, canvassing camps and rural homes along the road.
'They're not protesters'
"We don't know who they are and I would like to say they're not protesters, because this is really quite an amped-up level of violence from what we've seen any time before in and around here," RCMP Chief Supt. Warren Brown told the Vancouver Sun regarding the incident.
RCMP spokesperson Christopher Manseau told Ricochet the investigation is ongoing and that since then the RCMP "has been concerned for the safety of those in the area and has increased our presence patrolling around the industry camps and other camps along the route and interacting with people in the area."
But for Williams, the repeated police intrusions into her home are harassment.
"I'm not happy that you come here all the time and say you're looking after our safety. We are safe," she says scoldingly to an officer. "What about the safety of our missing and murdered women that you're supposed to protect? Why aren't you doing that?"
The officers walk away without answering her.
The red dress hanging in a tree symbolizes missing and murdered Indigenous women and girls along Industry Road near Gidimt'en camp. 
Brandi Morin
Rape threats
Williams is referring to the crisis of missing and murdered Indigenous women and girlsand the nearby Highway of Tears (Hwy 16), where dozens of mostly Indigenous women have disappeared or been found murdered since the 1960s.
And it's hitting too close to home for her. Her niece, Gaylene Morris of the Likhsamasyu Clan, says she was threatened with rape over a CB radio on April 18.
Morris, who visits her ancestral territory regularly, says it happened after she stopped to check on Hereditary Chief Gisday'wa's hunting cabin at around 8:30 p.m. The cabin has been vandalized in the past, and a nearby cabin was burned down in 2020.
"Someone whispered that if I didn't get out of the cabin they would rape me. I wasn't sure if anybody else on the radio frequency had heard it." As she began to drive away from the cabin, the voice repeated the threat, and it was clear others had heard it
.
After returning to the vehicle, she heard a "creepy, eerie" voice address her on the radio. She had seen a Coastal GasLink work truck ahead of her just before she had stopped.
"Someone whispered that if I didn't get out of the cabin they would rape me." She remembers being stunned at what she'd heard. "I wasn't sure if anybody else on the radio frequency had heard it." As she began to drive away from the cabin, the voice repeated the threat, and it was clear others had heard it.
"There was a lot of chatter on that radio frequency, a lot of industry people, and they were conversing back and forth with each other. I responded and stood up for myself," she says.
"I told them it takes a lot of balls for somebody to speak like that to an Indigenous woman on the radio, that Wet'suwet'en women don't scare easily and they're not going to scare me off my territory." That evening, she says, she returned home in a state of shock. She's used to being followed closely by marked Coastal GasLink vehicles and RCMP, sometimes while her young children are with her. The verbal rape threat confirmed the dangers she faces in her homelands.
"I'm an Indigenous woman. I was travelling solely. And I haven't ever felt unsafe in my own territory. I've travelled these roads since I was a baby. I was scared. I was triggered by it."
The following morning, she awoke to a feeling of heaviness and contacted her counsellor to help process what had happened. She didn't head back to the territory as she does almost every day. She did, however, report the threat to the RCMP.
She then resolved to overcome her fears.
"I had to think of this in the sense that these are fear tactics. These are tactics to make me not want to come back and not want to be on the very land that my grandfather raised me on. I wasn't going to allow anyone to scare me to not come back."
Sitting comfortably in her cabin, Williams is reading a book about grizzly bears. But she stops every few minutes to express her worry about Morris and other women out on the territory.
Wet'suwet'en Elder Janet Williams and her husband, Lawrence 
Brandi Morin
"I'm so, so sad that they did that to my baby girl," she says, lifting her eyeglasses to wipe her tears. "That really disturbed me. These are my kids out here; I call them my kids. And I love them so much. That really broke my heart. It's so close to home. I live here and I don't want none of my kids to get hurt. So many women died on this highway. CGL can go up and down the road whenever they want. And the RCMP aren't protecting us — they're protecting CGL. They're working for CGL."
Industry and violence
Gidimt'en Hereditary Chief Woos says the threat of rape is "unacceptable".
"We're not going to tolerate these kinds of comments from anybody," he told Ricochet during a phone interview.
"We've always been talking about these connections between industry and violence, you know, so it has to be monitored. That is a threat, and that is violence. It has to be called out because people [from Coastal GasLink] come in there and they're careless in everything that they do. We as hereditary chiefs need to protect our women and women in general."
The officers walk away without answering her.
"I'm not happy that you come here all the time and say you're looking after our safety. We are safe. What about the safety of our missing and murdered women that you're supposed to protect? Why aren't you doing that?"
Coastal GasLink spokesperson Natasha Westover told Ricochet in an email that the company has not received any complaints and has not been informed by the RCMP of any reports of the threat.
"We take all complaints very seriously and have an independent complaint investigation process that is aligned with the Canada Labour Code," Westover said.
"Our employees and contractors are expected to conduct themselves to the highest standards and in accordance with all applicable laws, regulations, and our policies and rules. It reinforces the company's requirements for employees or contractors when conducting business and expectations for workplace conditions that are all consistent with our corporate values of safety, innovation, responsibility, collaboration and integrity. At Coastal GasLink the safety of our workforce, their families, and the Indigenous and local communities is our number one priority."
Since the alleged February attack against Coastal GasLink workers, the company has stationed two security guards in separate vehicles parked outside of the Gidimt'en camp 24/7.
They're monitoring traffic, a security worker told Ricochet.
The opposite of reconciliation
Williams says the RCMP is "terrorizing" her and the land defenders who live at the camp. It was worse a month ago, she says, when police arrived at various hours in the middle of the night.
"They come here and terrorize us whether it's day or night. Sometimes between 1 and 3 a.m. I have to go out there in my nightie to literally chase them out."
Chief Woos says the hereditary leadership has long been frustrated with police actions on their territory. He calls the relentless patrols "childish," and it's not helping the RCMP's efforts with reconciliation.
"It's self-defeating for whatever their government is trying to do to try to create a good relationship with the majority of Indigenous people," he says. "The heads of government need to come in and talk to us. But then, of course, they say that the RCMP is a different entity. Then that means (RCMP Commissioner) Brenda Lucki needs to come in and talk. Because reconciliation or repairing historical grief doesn't seem to be filtering out with her field workers out here. They're saying and doing the opposite. They're still pointing guns at us. They're still fear-mongering. And that won't work."
A lawyer representing Wet'suwet'en and non-Wet'suwet'en land defenders who are facing charges of breaching the injunction is questioning the actions of police as well. Francis Mahon wonders if the RCMP is legitimately investigating criminal code offences lately.
"If there hasn't been any evidence that people who are subject to bail conditions right now for breaches with the injunction (are there), then why are the police there?" she asked during a phone interview with Ricochet, pointing out the Gidimt'en camp is also a village site used for cultural purposes.
"If the purpose (of the RCMP) is to make it a very unfriendly environment for the clan and their supporters, I'm not sure that that's a legitimate policing purpose. We know that the clan is not just there to protest CGL. This is an effort to re-establish a village site. It's a place of cultural and historic importance."
Sleydo' and Elder Janet Williams 
Brandi Morin
Meanwhile, back in her camp, Williams excitedly prepares a meal of moose stew, rice, and raisin fry bread for guests. Cooking is one of her favourite pastimes. She's expecting Gidimt'en Clan member Sleydo' (Molly Wickham) to show up for dinner. Williams gently shoos her husband from the kitchen, which is in a tent structure next to their cabin and equipped with an oven stove, supplies like canned goods, and tables and chairs.
Not long after, Sleydo arrives and embraces Williams, whom she and everyone else calls "Aunty." There is laughter and storytelling. Sleydo settles into the warm tent heated by a wood stove and visits with Williams and Morris while beading a pair of earrings. Beading is like therapy, she says.
Sleydo' has been arrested at gunpoint twice while standing to protect her homelands and Wedzin Kwa from the Coastal GasLink pipeline project. The wife and mother of three young children who lives in a cabin about 20 kilometres away says she's experienced severe stress and anxiety over the last few years. Spending time with family and friends on the Yintah, and living a traditional lifestyle, provides her with moments of solace.
"We've experienced so much violence by the police, by CIRG specifically," says Sleydo'. CIRG refers to the Community Industry Response Group created by the RCMP in 2017 to deal with Indigenous-led protests against industry projects. It has an operational base on the territory despite multiple requests for its removal by hereditary leaders.
No consent
"The RCMP does not have consent to enter onto our territory. They've been evicted from our territory. But every single day they're coming with six to ten officers and interrupting our ability to be on our territory practicing our way of life," says Sleydo'.
Gayleen Morris looks to see if RCMP have arrived to patrol again 
Brandi Morin
"We absolutely won't stand down; we have every right to be here. This is an occupation of our land. Our ancestors have been here for thousands of years, and they think they can come in here and harass us, intimidate us, fine us, jail us to the point that we're going to get off our own land? They're trying to remove us like they always have from our own territories. And they're doing it at our own costs. "We are the taxpayers that are paying their wages to be here and do this to us," she says while shaking her head in disdain.
Later on that evening Sleydo' plays her drum and sings traditional songs around a campfire. Every now and then she and Morris abruptly stop to listen for the RCMP. The police have been known to barge in at a moment's notice.
Sleydo', Gidimt'en clan spokesperson, plays her drum by the campfire. 
Brandi Morin
About a 20-minute drive away, Coastal GasLink is preparing to drill under the Wedzin Kwa. And it's something Sledyo' and others are dreading. Their life source, used for ceremonial and drinking water and also a critical habitat for salmon, is uncontaminated but in danger. And Sleydo' says the violations of their Indigenous rights for trying to protect Wedzin Kwa are a warning to the rest of the world.
The RCMP and Coastal Gaslink are "setting a precedent for how Indigenous people are to be treated and for how we are going to deal with this climate crisis. This is going to affect everybody who lives downstream. Everybody's sustainability depends on the ocean, the salmon, the animals, our clean air and clean water. Those are things that every human being and every non-human being needs to survive. So, this is not just our fight. This is a fight for survival and anybody who thinks differently is fooling themselves."
'You say you come here to protect us'
The next morning Williams again meets a group of RCMP officers in the middle of her driveway. She asks them to make sure Indigenous women and girls are kept safe.
"I'd appreciate it if you'd try to look it up and to investigate one of our girls who was assaulted on the radio with a threat of rape. We don't trust the CGL here." Her voice trails off as the officers walk away in silence. But she persists.
Visiting Gidimt'en kitchen with Sleydo', Gayleen Morris, and Elder Janet Williams
BRANDI MORIN
"You say you come here to protect us. Please look into it. We don't want these people trying to assault our young women."
When asked about the status of the investigation of the rape threat reported by Morris, RCMP spokesperson Manseau advised Ricochet to direct Morris to the Houston RCMP. Morris then told Ricochet she has not yet heard back from them.
[Top photo: Brandi Morin]