Wet'suwet'en Evict Coastal Gaslink; Re-Establish Coyote CampCoyote Camp Re Occupied Sunday Morning! Week of Action Begins Today!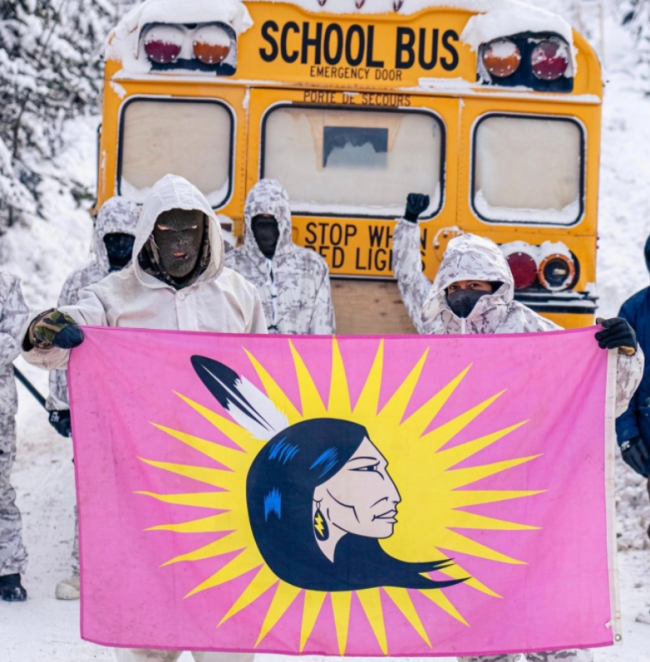 Just as the week of action against Coastal GasLink Financiers begins, land defenders have once again evicted CGL workers from the drill site on the Wedzin Kwa and re occupied coyote camp! 

This comes one month after the militarized RCMP raid which ended with RCMP and CGL burning down the Wet'suwet'en cabin at Coyote Camp. 

Solidarity actions have continued across turtle Island in the lead up to the week of action, with bank protests, rallies, bridge shut downs, and a constant presence at the railway tracks on neighboring Gitxsan Territory. 

The Unist'ot'en Village and Gidimt'en Checkpoint are both still seeking supporters who can come to the territory for short or long periods. There is very low risk of police engagement at the Unist'ot'en Village and a need for people who can support daily operations. See the links for details on what to expect and how to apply. 

Gidimt'en Checkpoint has just released a statement on the Coyote Camp reoccupation, and a recent video on the long and ongoing history of attacks on Wet'suwet'en homes. See them both below as well as details on the week of action! 
 

Statement from Gidimt'en Checkpoint on Reoccupation of Coyote Camp:
FOR IMMEDIATE RELEASE - Wet'suwet'en Evict Coastal Gaslink From Drill Site; Re-Establish Coyote Camp
 
Dec 20, 2021 - Unceded Gidimt'en Territory, Smithers (BC):
 
Gidimt'en land defenders and supporters have once again evicted Coastal Gaslink workers from a key pipeline drill site, protecting Wet'suwet'en headwaters and re-occupying the area known as "Coyote Camp".
 
Early Sunday, in observance of Wet'suwet'en law, land defenders enforced the Wet'suwet'en Hereditary Chiefs' 2020 Eviction Notice to Coastal Gaslink, removing pipeline workers and re-establishing the blockade that ended on Nov 19th after two days of militarized police raids.
 
The eviction took place exactly one month after RCMP made 30 arrests on Wet'suwet'en yintah, marking the third large-scale militarized operation on unceded Wet'suwet'en land since 2019. Approximately 100 RCMP, equipped with assault weapons, sniper rifles, and dogs were deployed while floodwaters raged throughout the province, to facilitate construction of the Coastal GasLink pipeline and the theft of sovereign Wet'suwet'en land.
 
The Wet'suwet'en people have never sold, surrendered, or in any way relinquished title to Wet'suwet'en land.
 
Today's action follows the 24th anniversary of the 1997 Delgamuukw-Gisday'wa court ruling, which proved that Aboriginal title has never been extinguished across 58,000km2 of Wet'suwet'en and Gitxsan lands. The Supreme Court of Canada recognized the Wet'suwet'en Hereditary Chiefs as representatives of the Wet'suwet'en title holding collective, and Anuc 'nu'at'en (Wet'suwet'en law) as the basis of Wet'suwet'en society.
 
In violation of the Delgamuukw-Gisday'wa ruling, the UN Declaration on the Rights of Indigenous Peoples, and Anuc 'nu'at'en, the Coastal GasLink pipeline has proceeded without the Free, Prior, and Informed Consent of the Wet'suwet'en Hereditary Chiefs.
 
In early 2020, Hereditary Chiefs representing all five clans of the Wet'suwet'en nation issued an eviction notice to Coastal Gaslink, leading to a series of blockades across Wet'suwet'en land and sparking nationwide solidarity actions. Today, this eviction is once again in force.
 
"Coastal GasLink does not and will never have the consent of the Wet'suwet'en Hereditary governance system and should expect that Wet'suwet'en law will prevail on our lands. No amount of state violence against us will make us forget our responsibility to protect the water for all future generations", says Sleydo', spokesperson for the Gidimt'en Checkpoint.
 
Media Backgrounder - Wet'suwet'en 101: https://www.yintahaccess.com/media-background
Wet'suwet'en Hereditary Chiefs' Eviction Notice: https://unistoten.camp/wetsuweten-hereditary-chiefs-evict-…/

Take Action:

Come to Camp yintahaccess.com/come-to-camp

Host a solidarity rally or action in your area.

Issue a solidarity statement from your organization or group. Email to: yintahaccess@gmail.com

Pressure the government, banks, and investors yintahaccess.com/take-action-1

Donate yintahaccess.com/donate

Spread the word.
 
More information and developing stories:

Website: yintahaccess.com
IG: @yintah_access
Twitter: @Gidimten
Facebook: @wetsuwetenstrong
Youtube: Gidimten Access Point
TikTok: GidimtenCheckpoint
#ShutDownCanada #WetsuwetenStrong #AllOutForWedzinKwa #ExpectUs
Video from Gidimt'en Checkpoint on the long history of cabin burning in Wet'suwet'en Territory

The history of cabin burning goes back to contact in Wet'suwet'en yintah. The invaders wanted free access to our territory for resources and land. This has not changed in 150 years!

When the RCMP removed our people at gunpoint Coastal GasLink then came in and destroyed what was left, bulldozing our kitchen, wall tents, and burning down our Skiy ze' cabin that was blessed by Dinï ze' Woos.

This is not a thing of the past. Our people remember this happening in our life times. It happened less than a month ago. The tactics are old and we will not stand for them anymore.

Stand with us. Show industry and the RCMP that we will not be burned out. We will not back down. We will continue to do as we have done forever and defend our land and water for all our children.
-Unist'ot'en Solidarity Brigade