Alberta premier addresses steelworkers in Kamloops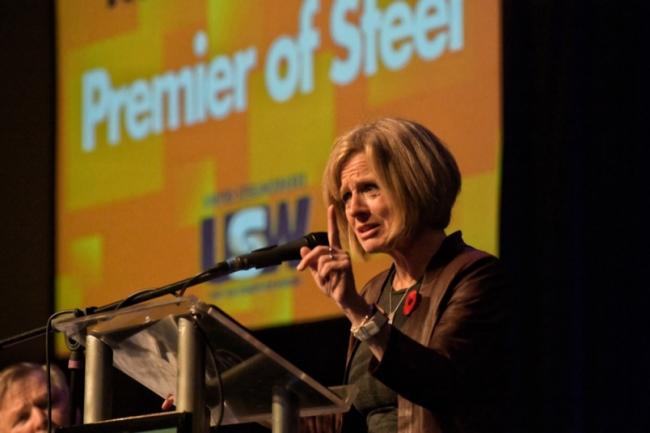 Alberta Premier Rachel Notley sees no need to punish B.C. as her government awaits the completion of a new National Energy Board review of the Trans Mountain pipeline expansion.
Notley was in Kamloops on Wednesday to address a United Steelworkers convention at the Coast Kamloops Hotel and Conference Centre, where she stressed the importance of the project.
Speaking to reporters following her speech, Notley said her relationship with B.C. — and fellow NDP Premier John Horgan, who is staunchly opposed to the pipeline due to environmental concerns — remains the same.
While they disagree on the pipeline, she said, its fate is a decision that rests at the federal level.
"Right now, the matter is being adjudicated through the NEB and will be addressed with respect to the consultations the federal government engages in with Indigenous people prior to taking it back to the executive council for the federal government to make a decision," Notley told reporters.
"It's not really a matter in the scope of decision-making for the [B.C.] provincial government, quite honestly, and we're here to talk to British Columbians so they can hear both sides of the story."
At the end of August, the Federal Court of Appeal overturned the Trudeau government's approval of the pipeline expansion in a unanimous decision by a three-judge panel. That panel determined the NEB's review of the project was so flawed it couldn't relied on as a basis for the federal government's decision to approve the project.
Last month, Natural Resources Minister Amarjeet Sohi ordered the NEB to undertake a new environmental assessment of the impact of increased oil tanker traffic of the B.C. coast, setting a deadline of late February to complete the process. Earlier this month, former supreme court justice Frank Iacobucci was hired to oversee a new round of Indigenous consultations, with no deadline for completion.
"I think the critical part of the process is for the NEB to extend its consideration on to the issue of marine safety. I think they're moving forward on that in an ambitious, but effective timeline," said Notley.
She said a timeline can't be put on the Indigenous consultation component because an arbitrary deadline would undermine the process.
Notley told KTW her government knows it is bound by the federal process and hopes the NEB makes its decisions quickly.
"This is something that's squarely within the federal government's jurisdiction, so what we can do is we can push and we can talk about what matters so much — and that's exactly what we're doing here today and I won't stop doing it," Notley said.
As for the her government's decision this past spring to pass a bill allowing it to restrict oil and gas shipments to B.C. — a move made in response to Victoria's opposition to the pipeline expansion — Notley said there is no point to enact the legislation now.
That bill led to the B.C. government filing a lawsuit against Alberta.
"Right now, what we know is the impediment to Trans Mountain's construction is a function of the Federal Court of Appeal and the work now has to be done as a result of that judicial decision," she said.
The pipeline project has enormous economic implications, not just for Alberta, but the country as a whole, Notley told a packed room in Kamloops.
"It's absolutely what needs to happen to create jobs and build prosperity for all of Canada and what we are doing right now is tying our hands behind our back in a way that just makes no economic sense," she told KTW.
She said the project doesn't have to be a matter of the economy versus the environment, noting the pipeline is a safer alternative to transporting oil via truck and rail and wouldn't increase emissions as Alberta has a hard cap on greenhouse gases that come from its oilsands.
Hundreds of union members from across Western Canada are in Kamloops for the District 3 convention, with Notley speaking just days after confirming her decision to seek re-election in the Alberta election, which will be held on May 31.
In what resembled an election rally — with raucous cheers from a packed room of sign-waving steelworkers — Notley also highlighted the progress her government has made in Alberta since being elected in October 2014.
—with files from Canadian Press
[ Photo By DAVE EAGLES/KTW: Alberta Premier Rachel Notley addresses a convention of Western Canadian United Steelworkers in Kamloops on Oct. 31, 2018.]