The federal election should be fought over climate, not chocolate milk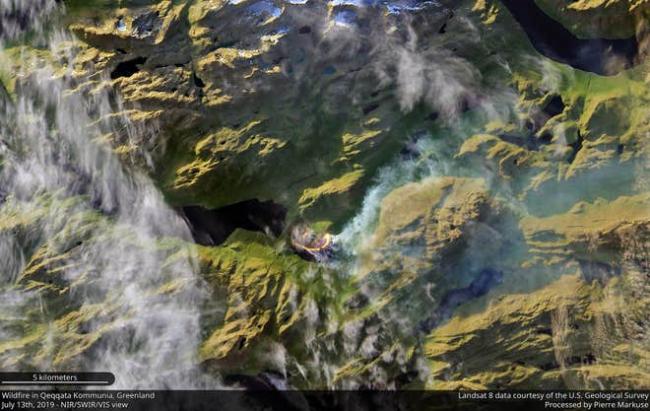 The Arctic's on fire and it's about time our media started focusing on what's really important
The Arctic is on fire.
Newly released satellite images reveal "unprecedented" destruction from massive wildfires in Siberia, Alaska, and Greenland, reported The Independent today:
The pictures show forest fires and burning peat. They also reveal the extent of the damage the fires leave behind. In Alaska wildfires have already burned more than 1.6 million acres of land. Mark Parrington, a senior scientist at the European Centre for Medium-Range Weather Forecast, said the amount of CO2 emitted by Arctic wildfires between 1 June and 21 July 2019 is around 100 megatonnes and is approaching the entire 2017 fossil fuel CO2 emissions of Belgium. Even with a sweltering heat wave blanketing much of North America for the last week, what's unfolding right above us in the Arctic is the most alarming sign of the climate emergency.
Canada is an Arctic country. This story should be near the top of the news every night on every network and platform. Instead the headlines last week were dominated by debates over the healthiness of chocolate milk, thanks to Conservative leader Andrew Scheer's ludicrous and irresponsible attack on the new Canada Food Guide.
With the federal election just three months away, we have to do better. Last week, youth climate organizers held rallies outside CBC offices across the country demanding that our public broadcaster hold a leaders' climate debate during the upcoming campaign. That's a good start, but we should raise our expectations.
When establishment pundits claim the environment will never be a central election issue, they reveal themselves as myopic and out of touch.
We should turn this entire federal election campaign into a climate debate. If CBC and the big corporate networks refuse to host a climate-specific leaders' debate, independent media outlets can step up and do the job. At the riding level, local outlets and social movement organizations should take the initiative to convene climate debates, demand that candidates show up, and amplify the good and bad responses to help shape the national discussion. And of course there's a battle to be waged on social media platforms and through independent publications, where our collective efforts can push climate justice to the top of the election agenda and push cheap personal smears and alt-right disinformation and xenophobia back into the gutter where they belong.
When establishment pundits claim the environment will never be a central election issue, they reveal themselves as myopic and out of touch — and just plain wrong. Back in 1988, the free trade deal with the United States became the issue that dominated the federal election campaign. That's because people felt that single issue would shape the future direction of the country for generations to come. How we respond to the global climate emergency, right now, will shape Canada for generations to come.
Youth stepping up
Although it's taken place mostly beneath the media radar, a new generation of climate activists has stepped up in recent months to transform the conversation in the upcoming federal election. Some have sought and won nominations as candidates, while even more are getting organized to run issue-based campaigns leading up to the election. A youth-led coalition has been signing up thousands of people to a pledge to support candidates who will push for a Green New Deal:
For decades, fossil fuel billionaires and their political allies have put people and the planet in jeopardy. Last fall, scientists confirmed we only have 12 years to cut our emissions in half to avoid catastrophic climate change. While the political establishment continues compromising our future, inequality keeps rising, injustice deepens, and the climate crisis gets worse and worse. Their time is over. The 2019 election is Our Time.
This movement, of course, is inspired by the surge of interest in the Green New Dealproposed by Representative Alexandria Ocasio-Cortez and other democratic socialists in the United States. And it has resonated globally. In Spain, for example, both the traditional social democrats and the new left party Podemos have promoted versions of its call for an ambitious, rapid, and just transition off fossil fuels in that country's recent election.
In the U.K., the opposition Labour Party is developing a set of policies calling for a Green Industrial Revolution, and the new left-wing think tank Common Wealth has started publishing a roadmap for a Global Green New Deal. Although this series of reports is still in the early stages, it represents perhaps the most-detailed policy development and strategic thinking about how Green New Deal–type programs could transform both energy and political systems worldwide.
So forget chocolate milk. There are other dark viscous substances worthy of debate. Big Oil has proven itself unhealthy both for our democracy and life on Earth — the fires in the Arctic are only the latest morbid symptoms.
[Top photo: Huge swathes of the Arctic on fire, satellite images show. https://www.independent.co.uk/environment/arctic-circle-wildfires-climate-change-greenland-alaska-siberia-photographs-a9015851.html]