Notley's slick words won't work in B.C.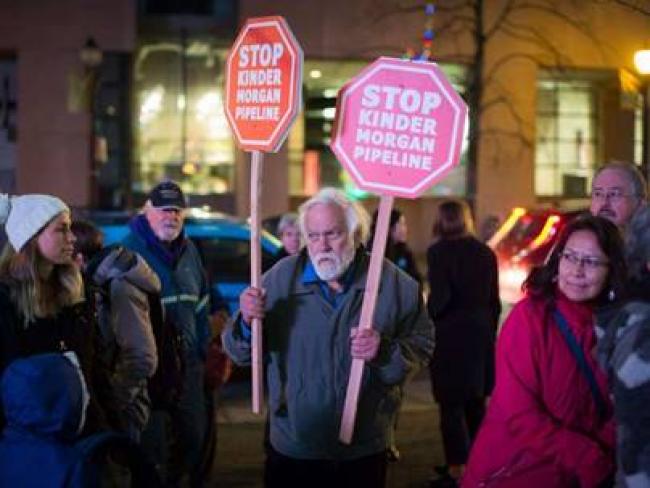 Alberta Premier Rachel Notley's pipeline sales pitch has fallen flat in B.C. People are right to be skeptical when an oilsands champion comes to town and assures everyone that they have our best interests in mind.
There are a few things the Alberta leader and her friends in the fossil-fuel industry should understand about West Coast opposition to Kinder Morgan. On so many fronts it's a non-starter.
Most offensive to coastal residents is putting 35 oil tankers a month through the Salish Sea. Pointing to the federal Oceans Protection Plan doesn't change the fact that when one of those tankers spills heavy oil into the harbour, nobody knows how to clean it up.
An oil spill would ruin the tourism and seafood industries, but it would also impact thriving sectors like construction, tech and film. Who is going to want to live, work and visit the region when 750,000 barrels of oil spilled into the bay?
With City of Vancouver research placing the risk of a spill at 79 to 87 per cent over 50 years, Alberta is asking us to cripple our successful, sustainable industries for a few more years of fossil-fuel development.
Like all the oilsands' impacts, a spill would hit First Nations people the hardest. That's why every coastal nation in the Lower Mainland has come out in opposition to the project.
To come to Coast Salish territory to meet with media, but snub indigenous people is shameful. There is much work to be done toward reconciliation, but people here understand that we don't begin to make things right by repeating one more wrong.
First Nations consent is required by the UN Declaration on the Rights of Indigenous Peoples. For Notley to come here and say, "just saying no is not necessarily an option, nor is it a right," is out of line. She's neither a constitutional scholar nor an expert on indigenous law, and that is not her call.
Notley's climate plan is somehow supposed to achieve support for expanding the tar sands until 2030, when humanity needs to be well on its way to being rid of fossil fuels by then. It might be reasonable if Alberta had started decades ago when scientists first raised the alarm about climate change. Now, we're far beyond the point where slow, incremental change will work.
Kinder Morgan's pipeline has no place in a world that meets its climate goals. It locks in decades of continued reliance on fossil fuels. Vancouverites have not been working to cut carbon pollution — paying more at the pump, composting food scraps and encouraging public transit — so that Alberta can ramp up its polluting pet industry.
All we're asking for is policy that is in line with climate science while meeting the needs of workers and indigenous peoples. That doesn't involve grinding the tar sands to a halt tomorrow, but it means taking an honest look at the math. New pipelines cannot be a part of that equation.
Renewable energy is already eclipsing fossil fuels and many of the skills are transferable. If the sunniest province in the country can't lead the way to a low-carbon economy, it is not due to a lack of talent, resources or viability — but a lack of imagination.
Peter McCartney is the climate campaigner for the Wilderness Committee.
[Top photo: Paul George, centre, holds signs during a protest against the Kinder Morgan Trans Mountain Pipeline expansion in Vancouver on Nov. 29. Prime Minister Justin Trudeau approved the $6.8-billion project that will nearly triple the capacity of the pipeline that carries crude oil from near Edmonton to Burnaby to be loaded on tankers and shipped overseas. DARRYL DYCK / THE CANADIAN PRESS]