Voice of the Wetsuweten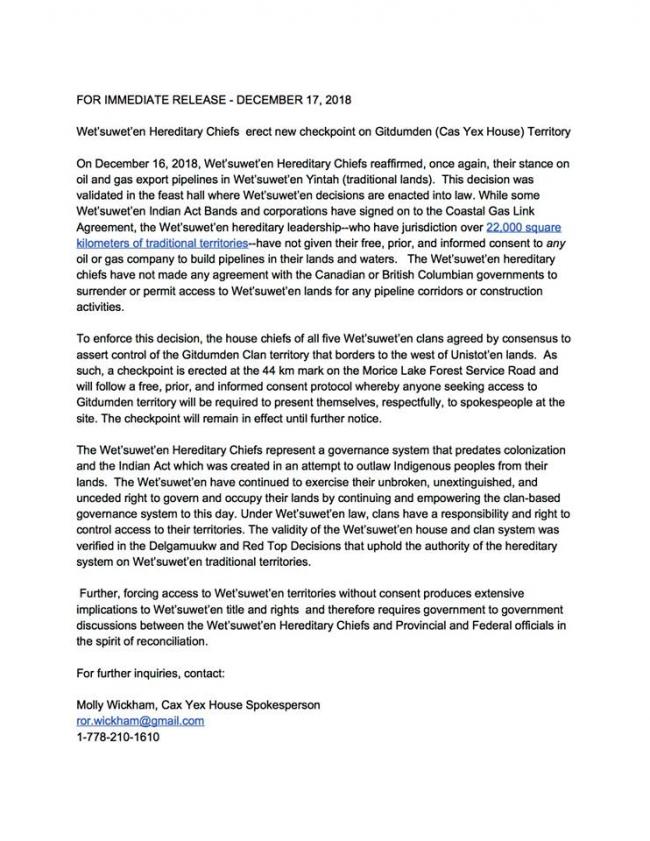 Canada's highest court has affirmed that the Wet'suwet'en hereditary chiefs have jurisdiction over their 22,000 square kilometres of territory. This video explains Wet'suwet'en governance and why our chiefs oppose pipelines.
The latest:
On Dec. 14 a judge issued an interim injunction giving Coastal GasLink the right to enter Unist'ot'en Territory to begin work on its fracked LNG pipeline. This caused great consternation for allies of the Unist'ot'en. But, what has become clear in the last couple of days is that the Wet'suwet'en Nation has no intention of so easily giving up the sovereignty that they have asserted and defended for thousands of years.
Since 2010, the Unist'ot'en Camp has been the most visible example of the Unist'ot'en Clan's occupation its Territory. Now, in the face of the judicial and public relations assault on their sovereignty, other Wet'suwet'en Clans are taking similar action.
The Hereditary Chiefs have been united in their stand and have never wavered. See, for example this short but moving video:
Now, a new check point has been established on their land by the Gitdumden Clan (which is on the road to Unist'ot'en Territory). Gidumden Chief Madeek can be seen in the video noted above making the clearest statement possible about pipelines.
The Wet'suwet'en Hereditary Chiefs  issued the attached Statement with regard to the Gitdumden Checkpoint. It is a clear and beautiful statement of Indigenous sovereignty and well worth reading in its entirety.
[Photo: Gitdumden Statement Dec. 17, 2018]