'A failure of humanity': World's poorest countries contend with climate disasters caused by the richest nations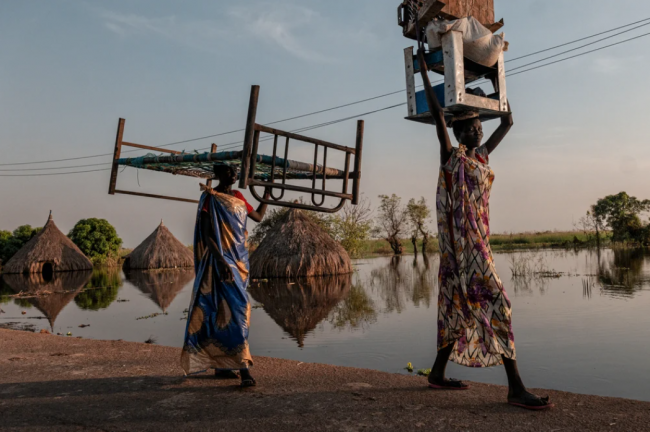 Jun 22, 2022
First, the animals die.
The chickens, cattle, goats — livestock that provides sustenance for people — starve, drown or perish from disease.
Next, the babies.
Children under five are most vulnerable to malnourishment, dehydration and illness. Their deaths are a bellwether of the devastation brought by famine, drought, flood and disaster.
Then, the elderly.
The adults are usually last to go; they watch their livelihoods, their children, their parents die first.
'The biggest problem is the climate crisis'
Dr. Reza Eshaghian had never seen anything like it. The flat, previously fertile land of South Sudan was covered in water that stretched out to the horizon, trees and buildings rising out of the fetid sludge, animal carcasses floating, people wading or canoeing through what had been villages and farm fields before the White Nile spilled its banks in June 2021.
In other parts of the world, the kind of nightmare scenarios the West is anticipating years into the future have already arrived. #ClimateCrisis #NGOs #ExtremeWeather #Drought #Famine #HornOfAfrica - twitter
A year later, the water has yet to recede, as another rainy season begins.
Growing up in London, Ont., Eshaghian had always known he wanted to help people. He went to medical school and as soon as he finished, applied to work with Médecins Sans Frontières (MSF). "They said, 'Well, you know, you should probably work for a year first,'" he said.
So he did and then joined the organization in 2014. Ever since, he's spent three months a year in countries around the world: Syria, the Democratic Republic of Congo, Chad and others, before returning to his job as an emergency room doctor in Vancouver to decompress, process and recover.
He had seen natural disasters before, many times. And conflicts, droughts and famines.
But it was in a prop plane flying from South Sudan's capital Juba to Bentiu — to work at a clinic tending to tens of thousands of people displaced first by conflict and then by flooding — that he was struck by how climate change was affecting those in developing countries.
"It really hit me," said Eshaghian. "The biggest problem right now is the climate crisis."
'Increasing instability, violence and displacement'
Climate change is now palpable in the West: droughts, wildfires and floods are increasing. Hundreds have died, mostly in heat waves. Strange weather is now a routine topic of conversation.
But in other parts of the world, the kind of nightmare scenarios the West is anticipating years into the future have already arrived.
Developing countries contribute minuscule amounts to the global greenhouse gas emissions that cause climate change and have never reaped the benefits of fossil fuel exploitation. But it is the poorest and most-fragile nations that are paying the heaviest toll as they face unprecedented floods, famine, droughts, sea-level rise and intensifying conflict over diminishing resources.
"Climate change is already one of the top drivers of humanitarian need and human suffering alongside conflict and disease — both of which, by the way, are exacerbated by climate change," said Mark Lowcock, UN under-secretary-general for humanitarian affairs, in April 2021. "That will result in unpleasant consequences for everyone, everywhere, increasing instability, violence and displacement."
Not only are these nations bearing the brunt of a climate crisis they did not create, they have far fewer resources to respond and adapt. Around the globe, humanitarian organizations are increasingly shifting to respond not just to conflict but to climate change. But while the needs are ever-growing, the funding is not.
The majority of the 124 million people worldwide facing crisis levels of food insecurity are affected by climate extremes, according to the UN Food and Agriculture Organization. Warmer temperatures are exposing a billion people to infectious diseases like dengue fever and Zika, as well as a higher risk of malaria, cholera and other diseases. The World Bank estimates climate change will push another 100 million people into poverty by 2030, undoing decades of development, and will lead to conflict over food and water that threatens to displace 143 million.
The world's 74 poorest countries account for less than a 10th of global greenhouse gas emissions. And yet, those most vulnerable countries have seen natural disasters increase eightfold since the 1980s.
'It's becoming clearer'
Rich countries have dallied with the notion of financial aid and compensation for those nations bearing the brunt of climate change. They have been reticent — and slow — to pay billions in promised support for climate adaptation, and have frequently blocked the topic from even being raised in international discussions.
Brittany Lambert, a women's rights policy and advocacy specialist at Oxfam Canada, said climate-related humanitarian crises have been increasing over the past decade. "It's becoming clearer, and the statistics prove it, there are more and more natural disasters," said Lambert. "We're noticing it because these are the disasters that we [are] called to respond to: huge storms, floods, droughts."
Funding requirements for UN humanitarian appeals linked to extreme weather are eight times higher now than 20 years ago, said Lambert. "The funding has not grown by eight times," she said. In the past five years, only half of the funding appeals have been met.
And as the war in Ukraine has captivated the attention and resources of the West, other needs are increasingly neglected. "The Ukraine crisis appeal was quickly and generously funded," said Lambert. "But then we're seeing a lot more neglected crises, especially in Africa… Donors have more interest in some places than others, unfortunately."
The UN predicts the number of disasters worldwide per year will rise from 400 in 2015 to 560 by 2030.
'Impending sense of doom'
In South Sudan, the prop plane that brought Eshaghian to Bentiu landed on an airstrip in what is called a civilian protected area — a large camp for displaced people within the borders of their young, troubled country, which separated from Sudan in 2011. The camp was surrounded by dikes, hastily built when the floodwaters rose, creating an island of sorts in a land underwater.
Outside the dikes, higher than the runway where his plane landed, he saw people paddling canoes through the floodwaters. "There's something very unnerving about landing on an airstrip that's below water," said Eshaghian. "I had this impending sense of doom."
The floods brought disease and contaminated drinking water, rendered sanitation systems inoperable and drowned animals, crops and people. Entire communities lost their homes and livelihoods and were forced to move to civilian protected areas or informal camps established on high ground. Nearly a million livestock have died, and more than 800,000 people are affected. Children who were in school, adults who were working, people who were living their lives are now perched precariously, waiting for the water to go back, wondering if it ever will.
Prior to the floods, the World Food Program was only able to distribute half the food needed in South Sudan. That hasn't increased, though the flood has taken away other forms of sustenance that made up some of the difference.
And people are starving. Admissions to MSF's feeding centre increased by 80 per cent in the aftermath of the floods.
'One person starving to death every 48 seconds'
People are starving, too, in nearby Somalia, Kenya and Ethiopia, several years into a severe drought that has laid waste to agriculture, a food shortage exacerbated by the war in Ukraine, high fuel prices, inflation and the economic fallout of COVID-19.
More than 23 million people are facing crisis levels of hunger, more than double the number last year. Humanitarian organizations Oxfam and Save the Children estimate someone is starving to death in the Horn of Africa every 48 seconds.
It didn't have to be so. Early warning systems were sounding alerts in 2020 of an impending multi-year drought that, without prevention, could cause a famine. Kenya officially declared the drought a national disaster last fall, and Somalia declared a state of emergency in November.
But less than 10 per cent of needed funding has been delivered, leaving the response to a rapidly deteriorating crisis grossly inadequate.
"We're not good yet as a global community funding these responses before they become a critical humanitarian emergency," said Lambert. "And by then, the worst has happened, people are literally dying of hunger. They've lost all their crops, they've pulled their kids from school. When you say an ounce of prevention is worth a pound of cure, it would cost a lot less and we'd save a lot more lives if we could just invest early."
'A failure of humanity'
Projections now point to the drought continuing for a fourth season, the longest in four decades. While crises like droughts can be anticipated, some natural disasters such as typhoons are harder to predict, and those are becoming more common, too.
"As we move deeper into the climate crisis, shocks from extreme weather and related factors — including the interplay between climate and conflict — will increase further," noted a recent report by Oxfam, Save the Children and the Jameel Observatory. The organizations are tracking changes in response after a 2011 famine in Somalia killed a quarter-million people, half under the age of five, when the international community failed to act in time — a failure multiple governments and international organizations vowed never to repeat.
Now, the UN predicts 350,000 Somali kids may be dead by summer unless there is a massive — and immediate — response.
"Over and over, we're raising the alarm, we're saying that we need to invest in this preparedness, we need to make sure the population can be resilient," said Patrick Robitaille, head of humanitarian affairs at Save the Children Canada. "And the funding is just not there.
"It's a failure of humanity."
[Top photo: Residents carry their belongings away from the floodwaters that have engulfed a swath of South Sudan for almost a year, uprooting nearly a million people. Climate change is causing catastrophes throughout the developing world. Photo courtesy of MSF]