'On life support': 2021 in climate politics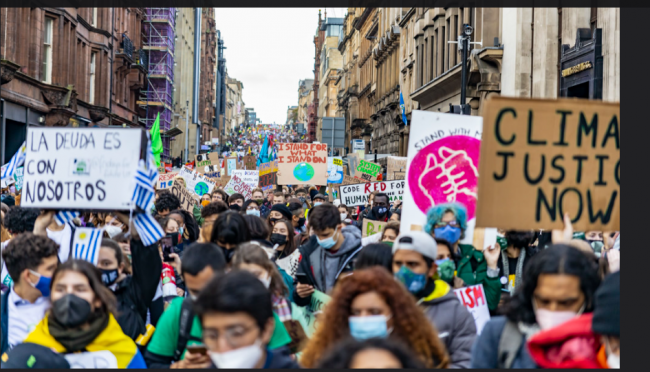 Dec. 28, 2021
As powerful countries keep sinking climate goals, activists likely to escalate tactics rather than accept an increasingly unlivable world
1.5, barely alive
Shortly before the close of this year's United Nations climate negotiations in Glasgow, UN Secretary General António Guterres offered a sobering summary of the global efforts to address the climate emergency.
The vital goal of preventing the planet from warming more than 1.5 C relative to preindustrial times is, he said, on "life support."
The emission reduction pledges that the governments of the world put forward in advance of COP26 were so frightfully weak that global emissions in 2030 would be roughly two times higher than if the 1.5 C goal were met. They set the world on track for 2.4 C of warming by the end of the century.
It was resolved that countries would reconvene next year, at COP27, with ratcheted-up pledges.
The dysfunctions of American democracy are now severe enough to endanger the entire world.
Those pledges will need to be unlike anything we've seen before. The Intergovernmental Panel on Climate Change reminded us this year that the total amount of carbon dioxide that can be emitted and still offer a two-thirds chance of preventing the earth from warming more than 1.5 C is small enough to be spent around 2030.
But progress is slow.
As many observed, this was actually the first year that any fossil fuel was explicitly named in a climate agreement. Let that sink in.
The initial wording of the Glasgow Climate Pact would have committed signatories to "accelerating efforts towards the phaseout of unabated coal power and inefficient fossil fuel subsidies." Though the agreement contained neither targets nor timelines, the phrasing was nevertheless changed at the last minute to "coal phasedown" under pressure from heavy coal users India and China.
This occurred the same year that the historically staid International Energy Agency reported that, beyond those already approved for development, no new oil or gas fields should be given the go-ahead beyond 2021.
Intolerable new normal
The slow pace of progress under the United Nations Framework Convention on Climate Change negotiations contrasts disturbingly with the pace of change in our climate.
As every year does now, 2021 set a series of new records. July was the hottest month since humans began keeping track as well as the worst July for wildfires globally. The summit of Greenland received rainfall instead of snow for the first time on record. Europe saw an all-time highest temperature as Sicily hit 48.8 C and the continent experienced its hottest summer.
And, as every year does now, 2021 saw many disasters. In February, Texas faced a punishing and costly cold spell due to the warming Arctic, which drove the frigid jet stream southward. Brazil contended with its worst drought in 90 years. As I write this, parts of the United States are recovering from a rash of December tornadoes, the Philippines from super typhoon Rai, and Malaysia from sudden massive floods. Scientists are now nervously eyeing the massive "Doomsday Glacier" in Antarctica that recent studies suggest might be disintegrating, an event that has the potential in the long term to trigger a cascade of glacier collapse on the continent.
Manchin's decision was probably always a foregone conclusion because he is only a semi-autonomous creature.
And here in Canada, British Columbia offered nightmarish visions of what the world looks like as it warms beyond the conditions to which life and civilization are adapted. In late June, temperatures soared lethally under a cruelly unmoving heat dome. Almost 600 people died. A billion sea creatures roasted to death. For three straight days, the village of Lytton, B.C., broke the record for hottest temperature measured in Canada, on the last day reaching 49.6 C.
And then Lytton burned, swallowed by another one of the province's worst wildfire seasons. Across interior B.C., thousands were issued evacuation orders.
That was summer. In late fall came the floods. Record-obliterating rains fell on the province. The flooding wiped out crops and killed livestock, causing hundreds of millions of dollars in damage. At least 200 highway sites were affected, with some commentators noting that parts of the Coquihalla — a stretch of road essential for the province's supply chain — had simply snapped.
The man who sold the world
The dysfunctions of American democracy are now severe enough to endanger the entire world.
The Build Back Better Act was poised to not only expand the American social safety net but also and at long last take the climate emergency head-on. The continuing dominance of the United States on the global political and economic stage gave reason to believe that the passage of the historic act would pressure other countries to follow suit.
And then came Joe Manchin.
Due to the 50–50 split in the Senate between Democrats and allied Independents on one side and the Republicans on the other, all members of the former group would need to get behind the act for it to pass (with the vice president casting the deciding vote).
Suzuki's point — that there will be activists more likely to escalate tactics than accept an increasingly unlivable world — still stands.
This was how the generally unremarkable conservative-leaning Democratic senator for West Virginia came to hold the future of the planet in his hands. As long as Manchin threatened to withhold his vote, Democrats would need to try to appease him. The details are better told elsewhere, but in short Manchin spent half of the year hacking away at the most important climate legislation ever proposed in the country before finally going on Fox News in mid-December to announce he would sink it at the vote. Without the US$555 billion for climate initiatives the act offered, President Biden's goal of reducing U.S. emissions by half in a decade is almost certainly unreachable.
Manchin's decision was probably always a foregone conclusion because he is only a semi-autonomous creature. His fortunes, both personal and political, require of him a certain subservience to the fossil fuel industry and its needs. To take but one example, in the last election cycle, he received more in donations from the fossil fuel industry than any other senator, receiving more than double the funds of the next top recipient.
And so, unless something dramatic changes in the few weeks before the bill goes to the Senate floor in early 2022, Manchin's vote will also be his cold reply to the activists who confronted him in November in Washington, D.C., chanting on behalf of youth everywhere, "We want to live!"
"No."
The incendiary politics of pipelines
Christmas came early for those still trying to make anything like a defensible case for keeping Canada indefinitely committed to producing fossil fuels.
"We're in deep, deep doo-doo. And the leading experts have been telling us for over 40 years. This is what we've come to," remarked veteran environmentalist David Suzuki in a November interview. "The next stage after this, there are going to be pipelines blown up if our leaders don't pay attention to what's going on."
That last sentence gave the usual oily suspects a chance to make a frenzied charge for something resembling the moral high ground.
The National Post whipped up a piece about environmental activists' dangerous contempt for the law. The Canadian Energy Centre — perhaps hoping to redeem itself after its embarrassing attack on an animated show for children in March — also shot its shot. Alberta premier Jason Kenney quickly pounced on the affair, tweeting, "This incitement to violence by David Suzuki is dangerous, and should be condemned universally. In Canada we resolve our differences peacefully and democratically, not with threats of terrorism or acts of violence."
Predictably, Kenney made no such remarks when the RCMP used actual acts of violence to clear out camps of Indigenous land defenders blocking the construction of the Coastal GasLink pipeline in B.C. And, of course, none of Suzuki's more eager critics seem concerned that climate change is itself violence and a worsening threat to human rights.
But the larger matter is that Suzuki's point — that there will be activists more likely to escalate tactics than accept an increasingly unlivable world — still stands.
It was resolved that countries would reconvene next year, at COP27, with ratcheted-up pledges.
Because as much as Kenney and people like him insist on the immorality of attacking pipelines, they are the ones using their positions of power this deep in the climate emergency to willfully and fanatically promote the very policies that have pushed environmental activists to consider whether to disrupt fossil fuel physical infrastructure.
It's hard to imagine there are many who want to make that decision. But the conversation is already underway — 2021 saw the release of historian Andreas Malm's How to Blow Up a Pipeline. In it, Malm asks readers to imagine what would happen if a few years from now everyone wakes up to realize that, despite all the peaceful protests and demonstrations, the world emits carbon as usual. "What do we do then?" Malm asks. "Do we say that we've done what we could, tried the means at our disposal and failed? Do we ... slide down the side of the crater into three, four, eight degrees of warming? Or is there another phase, beyond peaceful protest?"
We find no answers to these questions on Kenney and co.'s Potemkin moral high ground, particularly at a moment when plans for further fossil fuel production in Canada and around the world would annihilate the 1.5 C goal.
But perhaps with the right kinds of political wins in 2022, no one will need to ask them.
[Top photo: Mídia NINJA - Climate March during COP26 • 05/11/2021 • Glasgow / Scotland (UK)]