Action against RCMP Violence at Blockades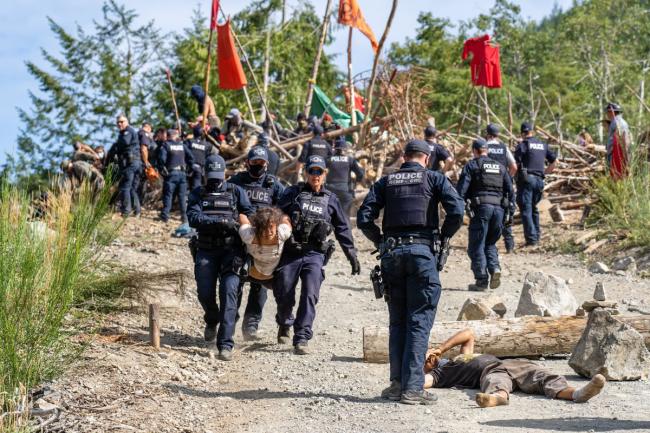 For Immediate Release
August 21, 2021
Province-Wide RCMP Stand Down Actions
Monday, August 23
1:00-3:00 pm Pacific
Where: RCMP detachments and offices across British Columbia (and Toronto, as of August 21).
These actions take place on unceded Indigenous lands. See locations at bottom of media release.
Grassroots organizers across BC are calling for a province-wide protest against the illegal and violent actions of the RCMP in the ancient forests of Ada'itsx/Fairy Creek.
We gather to demand that the RCMP stand down immediately.
We are witnessing the actions of a police state. During a time of intense national and global connected crises (climate crisis, extinction crisis, overdose crisis, pandemic, housing crisis, and a crisis of almost zero honourable reconciliation with Indigenous people as t he "discovery" of deaths of residential school children rises into the 6000+ range), t he RCMP is enabled by our governments to facilitate business as usual for the primary benefit of already rich people.
THIS IS A FEDERAL ELECTION ISSUE.Background:
Since enforcement began at Ada'itsx/Fairy Creek in May, t he RCMP have arrested ~700 UNARMED PEACEFUL VOLUNTEERS doing the job Premier John Horgan made an election promise to do: protect the VERY VERY VERY LAST of the old growth forests in the province (less than 3% of the ecologically important ancient forests). The court injunction the RCMP are enforcing specifically emphasized the constitutional right of protest in Canada. A second judgement in the BC Supreme Court in July upheld this right and admonished the RCMP for acting illegally.
As the BC NDP government has ducked and stalled with misleading statements, ancient trees across the province are still in danger of being logged and, in fact, are being logged: raw log exporting ships l eave our ports regularly.
More than 1500 forest fires have been recorded in BC this year. People in the Okanagan have been on evacuation notice. Clearcutting and the use of glyphosate in "forestry management" practices lead to climate change and forest fires. The BC government enables disastrous deforestation and calls it "forestry management." Who benefits? The primary beneficiaries are already rich people.
It is worthwhile to remember that the First Peoples stewarded the lands that encompass Canada for millennia, understanding that l and and people were part of a larger living being. In a couple hundred years: almost complete destruction.
The forest protectors at Ada'itsx/Fairy Creek are there by invitation of Elder Bill Jones and Hereditary Chief Victor Peter of the Pacheedaht nation. The Fairy Creek Blockade, as it is known, is a decentralized movement but many key people are Indigenous.
RCMP Illegal and Brutal Actions
● The RCMP go out of  their way to target and hurt Indigenous people and people of colour. Two young Indigenous people may not have died if they hadn't first been maltreated during their violent arrests at Ada'itsx/Fairy Creek by t he RCMP. One, a young man with a pre-existing heart condition, had his seizure medication taken away during his arrest and died of sudden cardiac failure weeks later. Another, a minor, overdosed after leaving camp. The RCMP had smashed her phone. She might not have used or might have been safe if she had been able to call or text someone.
● They have injured and traumatized many innocent people; thousands by now have been hurt or witnessed atrocities.
● There have been many incidents of officers sexually assaulting women. Specific examples include touching women's breasts and twisting women's nipples.
● This week a young Indigenous person was kicked in the head by an RCMP officer.
● There have been several incidents where RCMP officers have choked people.
● They used a police helicopter dangerously close to a crowd of people, violating Transport Canada safe flight regulations, to stir up a cloud of dust.
● They have pepper sprayed a crowd of nonviolent people.
● They leave people for hours with no heat or sun protection—not only people in police wagons or locked up in blocks to deter police—but they have purposefully made elderly people wait on the sunny side of the road. Many people have endured serious heatstroke.
● They use heavy machinery and other dangerous methods to extract people in hazardous ways. Several people have been seriously injured, including broken bones and concussions.
● They put plywood over people in blocks in the ground then drove excavators precariously close to them.
● They continue to create arbitrary "exclusion zones" even though two BC courts have ruled these illegal. They arrest people who are inside these lines. Often, these arrests are pretend, resulting in "catch and release" (no charges).
● They have illegally arrested journalists and legal observers.
● While logger violence has been recorded and witnessed by many, no arrests have been made of those men.
● They destroyed most of Fairy Creek headquarters (and other camps) and built roads around people in blocks, then said the protesters made the messes.
● The RCMP and Teal Jones (the company that is legally enabled by the BC government to log the last of the ancient trees in the Ada'itsx/Fairy Creek area), along with various contractors, work together to tow and impound forest protector vehicles, as well as take and/or destroy forest protector items. How is it possible that taxpayer money supports RCMP-industry collusion?
● They hide their name badges but wear banned thin-blue-line patches.
● The pension fund f or the RCMP owns TimberWest, part of Mosaic Forest Management. Financial company corruption of the highest order and technically legal.
● The ONLY people who have been violent are RCMP officers, loggers, and contractors hired by the RCMP or Teal Jones. The RCMP are ordered and paid for by the BC and Canadian governments: Premier John Horgan and Prime Minister Justin Trudeau have final say. The amount of money spent since May to illegally and brutally (in most cases) arrest nonviolent people is easily into the many tens of millions of taxpayer dollars. When capital investment of materiel and equipment is accounted for, as well as personnel training, that figure easily surpasses $100 million.
Any person who cares even slightly about democracy should be outraged.
Some Evidence:
● @fairycreekblockade August 21, 2021: escalation of RCMP violence continues
https://www.instagram.com/p/CS2DjPzlSPk/?utm_source=ig_web_copy_link
● @bozosapien August 20, 2021: video of RCMP using chainsaw 1 ft from forest protectors' heads
https://www.instagram.com/p/CSw4sJDAMmw/?utm_source=ig_web_copy_link
● @arvinoutside August 20, 2021: raw photos from arrests on August 18, 2021
https://www.instagram.com/p/CSxDJZqJ4vn/?utm_source=ig_web_copy_link
● @fairycreekblockade August 20, 2021: young Indigenous woman talks about officer pulling a knife on her and elder choked and groped
https://www.instagram.com/tv/CSzRT6khQf8/?utm_source=ig_web_copy_link
● @shebites_media August 18, 2021: grader driver hits young Indigenous woman with gradershovel
https://www.instagram.com/p/CSvQisDlpro/
● @shebites_media August 18, 2021: RCMP injure two young people, one reportedly a minor, by improperly removing them from tripods and letting them f all 15-20 feet
https://www.instagram.com/p/CSuYWbKpk_m/?utm_source=ig_web_copy_link
● @collectivemdia_ has a video of the same dangerous extraction on August 18, 2021, shot by @independentblackmedia
https://www.instagram.com/p/CSuNFKPFTcU/?utm_source=ig_web_copy_link
● @collectivemedia_ August 13, 2021: RCMP grope woman's breast and twist her nipple
https://www.instagram.com/p/CSitSH5rEbl/?utm_source=ig_web_copy_link
● @fairycreekblockade posted a video by @mommehalbe of the helicopter violating Transport Canada standards deliberately stirring up dust on August 16, 2021
https://www.instagram.com/tv/CSpWc7_hi4F/?utm_source=ig_web_copy_link
● @oracogan_photo posted a photo of the same event on August 16, 2021, where she explains that families with small children and a baby were there
https://www.instagram.com/p/CSvp2w_rCZD/?utm_source=ig_web_copy_link
● @fairycreekblockade May 20, 2021: Kati George-Jim is tackled by 2 RCMP officers. They also pull her hair and choke her.
https://www.instagram.com/tv/CPHXaUKAF7e/?utm_source=ig_web_copy_link
Links to Facebook events so far:
● Vancouver-Burnaby
https://fb.me/e/Y6oCKDBQ
● Greater Victoria
https://fb.me/e/UFkcZ9O7
● Toronto
https://fb.me/e/1lzKamE4L
● Nanaimo
https://fb.me/e/2FNf8hCht
● Courtenay
https://fb.me/e/1Ni8kBgoI
● Cowichan Valley
https://fb.me/e/1F4oxzwSF
● Nelson  ttps://fb.me/e/14hFCYttW
● Parksville
https://fb.me/e/1HnQaAjXQ
● Powell River
https://fb.me/e/1HwGGljyX
● Salt Spring Island
https://fb.me/e/1BRDbd1n
● Sechelt
https://fb.me/e/1Fv3JHfP8
● Sooke
https://fb.me/e/2zCtq7Im6
● Squamish
https://fb.me/e/1GwwZIPIO
● Vernon
https://fb.me/e/4jHumvUG0
Press Contact:
Que Banh 250-816-9640
-end