Alberta Hospital Workers Strike Illegally Amid Pandemic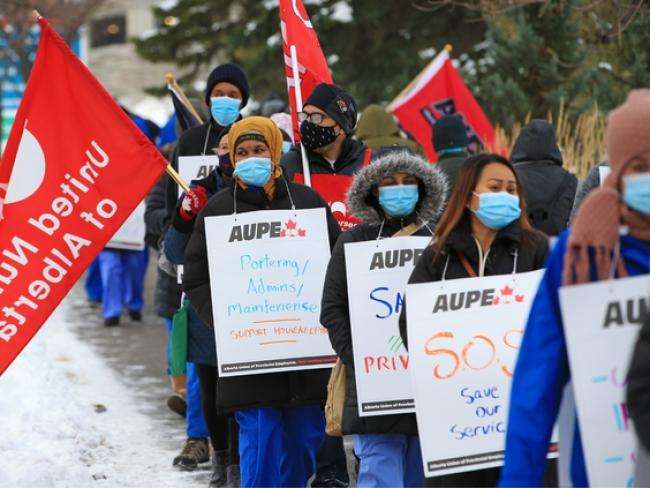 Oct 27, 2020 
But even if this unrest is quashed, the root causes aren't going away
Here is your definition of a messed-up province.
Chief medical officer of health Dr. Deena Hinshaw describes a deepening pandemic with 1,440 new cases of coronavirus confirmed over the weekend.
At the same moment, some hospital workers are staging illegal wildcat walkouts around the province.
Nothing like this is happening anywhere else in Canada. Nowhere else would people even imagine it.
Late Monday evening the Labour Relations Board ruled that the strikes are illegal and ordered employees to "cease and desist" and return for their scheduled shifts.
The order, requested by Alberta Health Services, will be filed with Court of Queen's Bench. Any violations are considered an offence that could result in civil or criminal penalties, including contempt of Court.
The public reaction to the strikes has been bitterly divided — many people either support the strike or blast the workers.
NDP Leader Rachel Notley took heat for not appearing to fully endorse the strikers.
She said on Twitter: "The wildcat strikes occurring across Alberta are deeply concerning.
"Like all Albertans, our caucus believes patient safety must always be top priority."
Of course, it's possible to have every sympathy for the strikers' cause while feeling that the strikes themselves are an extremely bad idea.
Walking out of a hospital during a pandemic is a hard case to argue.
But even if this unrest is quashed (and strikes like this, once they start, can keep popping up like bush fires), the root causes aren't going away.
The frustration many health workers feel is unprecedented over many decades of health-care conflict.
These workers are, after all, caring for the sick, cleaning the floors, delivering the food and supporting the whole system — all at a time when they too face risk from COVID-19.
But they learn that the government is going to cut 11,000 jobs over time, that the pay dispute with doctors continues, and that many workers will eventually be pushed either into the private sector or out to the streets.
Health Minister Tyler Shandro says AHS is free to spend as usual during the pandemic.
But the typical worker thinks, "Great, I get to work to exhaustion until the risk is done, and then I get laid off."
It's easy to comprehend why the government must cut health costs gradually. And maybe there should be gradual, humane staff reductions through attrition over time.
There are deep philosophical differences, obviously, but the main job is to keep the system working smoothly and fairly.
What's harder to grasp is why the government is so hostile and aggressive in its dealings with almost every union.
The reason, it seems, is that many UCP members and politicians really are hostile.
At the party convention held over the past two weekends, members passed with an 80 per cent majority a "right-to-work" motion, which would strip unions of their automatic right to collect dues.
They also passed, by 52 per cent, a motion calling for a private health care system to be set up parallel to the public one. This would include not just private ownership of facilities, but private pay for services.
Premier Jason Kenney quickly disowned both motions as contravening government policy. But for the unionists, his party showed its true colours.
And so, many of them went to the street. This could pass or it could quickly become a trend. A year ago, Alberta Federation of Labour president Gil McGowan said there could even be a general strike.
Individuals who strike illegally and defy return orders face possible fines of up to $5,000 under labour law.
Union officials who foment an illegal strike could be fined $10,000 each. The unions themselves could be dinged for up to $100,000.
And then, on top of that, AHS said in a memo to all employees: "Staff who choose to participate in an illegal job action will be subject to disciplinary action and will not be granted amnesty."
This will end very badly without some spirit of compromise, starting with the government.
Meanwhile, we're in a pandemic here. And the rest of Canada must think we've gone completely nuts.
Don Braid's column appears regularly in the Herald
[Top photo: Healthcare workers protest during a walkout at the Foothills Hospital in Calgary on Monday, October 26, 2020. PHOTO BY GAVIN YOUNG /Postmedia]