Another massive LNG plant on the West Coast?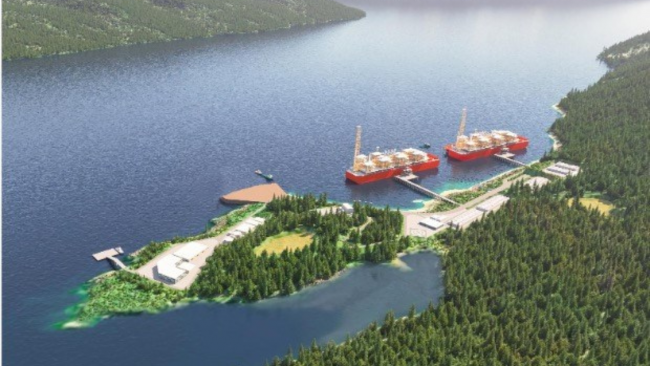 Nov. 6, 2023
Ksi Lisims LNG is a proposal in Nisga'a territory to liquefy almost as much gas as LNG Canada. Although the proponent wants to use hydroelectricity to do so, that will only happen if BC Hydro — and its ratepayers — build it a brand new transmission line. Even then, the fracking required to fill it will make the facility among the province's worst polluters.
While the project's backers, the Nisga'a Nation, Rockies LNG and Western LNG, claim their "net-zero" LNG will combat climate change, experts say otherwise. When the UN Secretary General tasked a group to define net-zero to avoid greenwashing, it found "Net Zero is entirely incompatible with continued investment in fossil fuels."
Link to write to the Minister of Environment and the BC Environmental Assessment Office to highlight the climate impacts of a new LNG megaproject: https://www.wildernesscommittee.org/take-action/another-massive-lng-plan...
More detail here:
Ksi Lisims LNG is a proposal to extract and export more of the fossil fuels which are mostly responsible for climate change. Therefore its claims around reducing global greenhouse gas emissions must be given the highest level of scrutiny.
When the UN Secretary General's High-Level Expert Group was tasked to define net-zero to prevent government and industry greenwashing, it found "net zero is entirely incompatible with continued investment in fossil fuels." This suggests there is no credible net-zero plan for a brand new liquefied natural gas terminal. 
The proponent relies on forecasts from Shell in 2021 when it claims gas demand will double over the next 20 years. But the International Energy Agency's most recent World Energy Outlook report suggests it will peak and decline by the end of this decade under any of its three scenarios. It also highlights significant uncertainties in demand for additional gas in Asia, as developed countries have largely sourced their LNG and emerging markets make net-zero pledges.
Ksi Lisims LNG relies on its aspirations to have the lowest carbon intensity in the world to claim it will result in a net benefit for the climate by displacing more polluting LNG from other countries. But it would also be the most expensive proposed in the world, which means its LNG would instead be in addition to other producers.
Floating temporary power barges would significantly increase the climate impacts of the facility and essentially force BC Hydro to build a transmission line to the project. Without an agreement in place to cover those costs with a detailed timeline for construction, the proponent's assumption that this will take place in the short term appears unfounded. 
From the wellhead to the consumer, Ksi Lisims LNG would create pollution that will only make it harder for the world to meet its climate commitments. Any claims otherwise rest on assumptions that are, at best, impossible to verify. Multiple credible sources show the time for gas as a transition fuel is over and projects like Ksi Lisims LNG will be unnecessary in any scenario where the world limits global warming to safe levels.