Biden's Tepid Emission Plans May Be Opposed by GOP, SCOTUS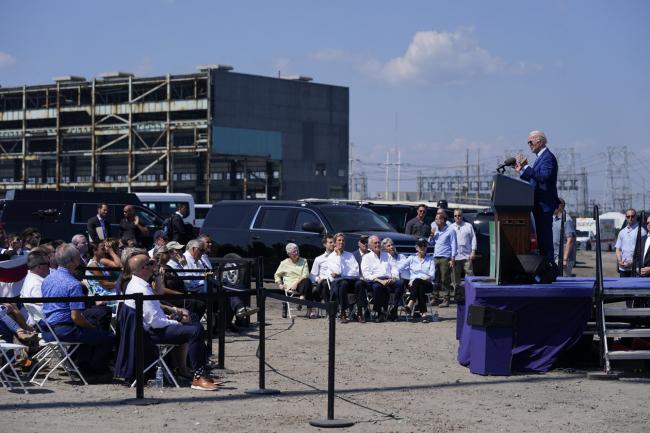 May 5, 2023
'No other way to do it': Biden about to go big on power plants
Historically strict EPA regulations on coal- and gas-fired power plants are due out. They face legal and political peril.
The Biden administration is poised to unveil its most ambitious effort yet to roll back planet-warming pollution from the nation's thousands of power plants — an effort that's certain to bring a legal and political attack from conservatives but may disappoint some supporters of the president's climate agenda.
The proposal from EPA, expected to be formally unveiled next week, makes key trade-offs in its efforts to slash the power industry's greenhouse gas output without running afoul of a skeptical Supreme Court, according to four people briefed on the upcoming regulations.
EPA is expected to rely on advanced technologies rarely if ever employed in the U.S. power industry, such as capturing coal plants' carbon pollution before it hits the atmosphere or blending hydrogen into the fuel mix at natural gas plants.
But it could also exempt hundreds of the nation's dirtiest gas plants from strict pollution limits, these people said. That may lessen the rules' legal peril and keep more units online, but it may also provide fewer benefits to the low-income, Black or Hispanic communities where the dirtiest plants are disproportionately located.
The proposal will be a capstone of President Joe Biden's climate efforts before he faces voters next year and follows the historically aggressive pollution standards his agencies have proposed for oil and gas, cars and other industries. Its fate will likely determine whether the U.S. comes within reach of meeting his pledges to cut carbon pollution. It could also help Biden win support in 2024 from climate-minded voters turned off by some recent administration decisions favoring fossil fuel production.
If it succeeds, the rule would transform the U.S. economy by accelerating the dwindling of coal as a major power source, just as EPA's proposals to limit car and truck pollution aim to spur a rapid shift to electric vehicles.
But the effort faces dangers. One is from the courts, which rejected both the Obama and Trump administrations' attempts to enact climate rules for power plants. And Biden's rule is coming so late in his term that if a Republican wins the White House next year, the new administration could sweep it away.
Supporters say Biden has no choice but to go big.
Biden will need both the power plant and automobile rules to reach his climate goals, said Bob Perciasepe, who was EPA's deputy administrator under then-President Barack Obama. "You have to do these things. There's no other way to do it."
Opponents are eager to pounce. West Virginia Attorney General Patrick Morrisey, a Republican who led a Supreme Court fight last year that constrained EPA's ability to tackle carbon emissions at power plants, last week vowed: "We'll be ready."
'We need to go further
 
EPA Administrator Michael Regan testifies on Capitol Hill in March. His agency is taking steps to reduce carbon emissions from the transportation and power sectors. | Francis Chung/POLITICO
As a presidential candidate, Biden promised to cut the economy's carbon emissions in half by 2030, compared with 2005. That's now the U.S. commitment to the rest of the world in the Paris climate deal.
But the U.S. can't reduce its climate pollution that sharply without much steeper, faster cuts from the power grid, the nation's second-largest carbon source. (Transportation is No. 1.)
Zero-carbon wattage is needed to provide power to new corners of the economy, including electric cars. And the power sector is a comparatively easy target for cuts that can buy extra time to bring down emissions from other sources, such as industry and agriculture, that are even more practically and politically challenging.
The grid has already shed more than a third of its greenhouse gas emissions since 2005, mainly thanks to the fracking boom that helped cheap natural gas gobble market share from coal.
Then last year, Congress approved $369 billion in clean energy investments and incentives in the climate law Democrats have dubbed the Inflation Reduction Act. Analysts said that moved the U.S. economy within striking distance of the 50 percent target — to about a 40 percent reduction by 2030, according to the research firms Energy Innovation and Rhodium Group.
The power plant rule could help make up the difference.
"When it comes to carbon pollution, the IRA made a significant down payment," said Sam Ricketts, a co-founder and senior adviser at Evergreen Action. "But we need to go further."
With Republicans now controlling the House and another presidential election on the horizon, EPA's standards are the administration's last, best chance of narrowing that gap before his term ends.
The administration's environmental allies are demanding no less, saying EPA must propose game-changing rules for the power sector — both to address the climate emergency and to avoid dampening climate-minded voters' enthusiasm. Biden has taken heat from climate activists lately in the wake of his administration's approval of the massive Willow oil and gas project in Alaska.
"We applaud the positive steps Biden is taking with EPA regulations, but it's not enough," said Michael Greenberg, a spokesperson for the youth-led group Climate Defiance that protested at the White House Correspondents' Association dinner last weekend. "He needs to step up to the plate and stop extraction on federal lands and stop approving new projects."
Rule may spare the dirtiest plants
The specter of SCOTUS

But EPA is now working in the shadow of a very different Supreme Court — a bench dominated by six conservative justices, many of them extremely skeptical of federal agencies' ability to take aggressive action on issues like climate change.
"EPA has done just about everything it can do to pass muster with the Supreme Court," said Jennifer Rushlow, dean of the Vermont School for the Environment at Vermont Law and Graduate School. "But with this lineup of justices, it may still not be enough."
The effort may indeed work, said former Biden White House climate official David Hayes, who called the Obama-era approach "its own animal."
It appears that the Biden effort will take "a much more traditional approach that's technology-based, that's facility-based," Hayes added. "So folks at this point would be, I think, foolish to suggest that this thing is immediately in jeopardy in the courts."
But the rule may still be in legal jeopardy if the justices don't agree with EPA's reasons for selecting a given technology.
The technologies the Biden administration is said to be considering, including carbon capture and co-firing with hydrogen, were studied and rejected by the Trump-era EPA in its own bid to regulate power plant carbon, said Jonathan Brightbill, a partner at the law firm Winston & Strawn LLP.
In his former role as a top Justice Department environment attorney during the years of then-President Donald Trump, Brightbill defended that administration's power plant rule against legal attack. He also argued in court against the Obama regulation.
Brightbill said EPA had appeared to get the memo on the major questions doctrine. But the agency still has to make its case that carbon capture meets the Clean Air Act's dictates.
"EPA will have a hard time showing that [carbon capture] is adequately demonstrated sufficient to use it as a basis for regulation," said Scott Segal, a partner with Bracewell LLP, in an email. He predicted that the fact that a plant may have to store its captured carbon offsite might be a complication.
"The Court will likely be on high alert for a power plant regime that pushes the envelope of its previous decision," he said.
A chill from the Hill?
The Biden EPA must also grapple with political threats to its climate policies, which are already facing repeal demands from congressional Republicans and are embedded in the standoff over the federal debt limit.
Trump's EPA scrapped Barack Obama's rules for oil and gas and put forward weaker rules for both power plants and vehicles. A similar reversal would likely happen again if Biden were to lose to a Republican next year.
And greens worry that if EPA waits to finish its the power rules until June 2024 — as its regulatory agenda now indicates — that could allow a Republican Congress and president to use a procedural tool called the Congressional Review Act to instantly undo the standards without a lengthy rulemaking process. The act allows simple majorities in both the House and Senate to reverse recently enacted regulations, a step GOP lawmakers used to 
quash more than a dozen late-Obama-era rules
 during Trump's first few months in office.
[Top photo: President Joe Biden speaks about climate change at Brayton Power Station in Somerset, Mass., last year. His administration is preparing to announce carbon regulations on power plants. | Evan Vucci/AP Photo]