Braided Warriors attacked by police at protest against AIG insuring Trans Mountain pipeline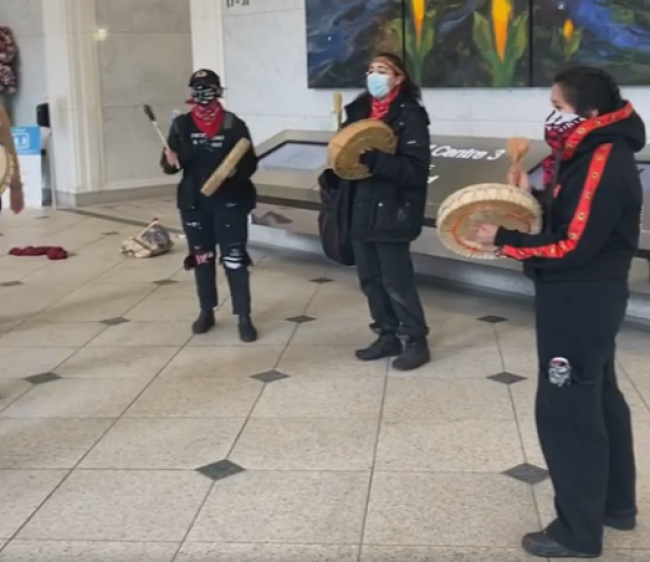 February 20, 2021
Braided Warriors were attacked by the police on Friday February 19 in the lobby of the Vancouver branch of AIG Canada, a transnational finance and insurance company that is insuring the Trans Mountain tar sands pipeline in violation of Indigenous rights.
About half of the 1,150 kilometre-long pipeline is set to cross unceded Secwepemc territory without their free, prior and informed consent.
Secwepemc land defender Kanahus Manuel has tweeted: "@BraidedWarriors were violently arrested at #stoptmx #stopinsuringGenocide at AIG Insurance to demand insurance companies stop underwriting #TransMountain pipeline."
Manuel asks that funds be e-transferred to Braidedwarriors@gmail.com.
Four youth were charged with mischief and obstructing a police officer. At about 11 pm PST the Braided Warriors tweeted: "The four youth who were arrested at the BMO tower have been released. A sacred fire is being held outside police station."
For a first-hand account of the police violence and arrests, please see this 11-minute Braided Warriors video on Instagram.
The Braided Warriors had also occupied the lobbies of Liberty Mutual Group and Chubb Insurance Co. of Canada earlier in the week.
Eleven companies, including AIG, have been providing about $508 million in liability insurance for the Trans Mountain pipeline.
Kukpi7 Judy Wilson of the Union of British Columbia Indian Chiefs has stated: "The companies insuring Trans Mountain are complicit in Indigenous rights violations."
When those insurance policies were set to expire on August 31, 2020, AIG Canada was sent this letter asking that it not renew their coverage of the pipeline.
That letter stated: "Human rights groups and communities along the Trans Mountain route have cited concerns over the expansion of tar sands pipelines through communities because of the risks that pipeline workers housed in temporary 'man camps' pose to Indigenous women in rural communities. Man camps have been recognized by the United Nations to bring increased sexual violence to communities."
And it highlighted: "We call on you to adopt, as part of your insurance policies, a requirement to obtain and document the Free, Prior and Informed Consent of impacted communities, especially Indigenous communities."
Similarly, the United Nations Committee on the Elimination of Racial Discrimination passed this resolution in December 2019 that calls on Canada "to immediately cease construction of the Trans Mountain Pipeline Expansion project and cancel all permits, until free, prior and informed consent is obtained from all the Secwepemc people, following the full and adequate discharge of the duty to consult."
The Tyee now reports: "The 11 companies currently insuring the Trans Mountain Pipeline expansion project to the tune of US$508 million are set to renew their involvement with the project this summer."
The Braided Warriors describe themselves as: "Indigenous youth in səl̓ilw̓ətaʔɬ, sḵwx̱wú7mesh, and xʷməθkʷəy̓əm territories defending the land and the people from capitalist colonial violence."
You can follow them on Twitter, Instagram and Facebook.
Video of the attack posted by Secwepemc land defender Kanahus Manuel as well as other video here.
[Top photo: Still from Braided Warriors video.]