Callout for Supporters at Unist'ot'en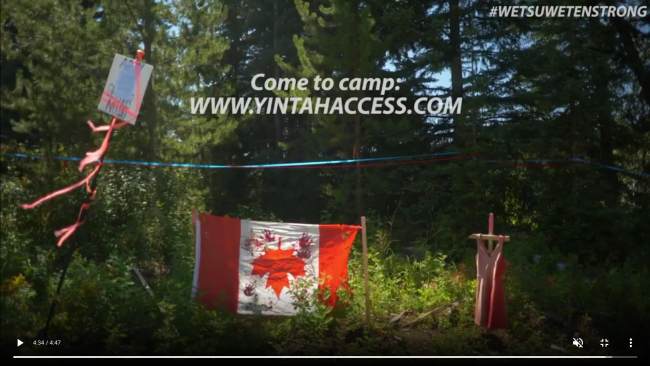 CGL is attempting to bulldoze a Gidimt'en Archaeological site right next to the Gidimt'en camp. Callout for supporters to take action!
"Last Friday, on August 6th 2021 we learned that Coastal GasLink wants to destroy one of our archeological heritage sites. They have obtained a "Site Alteration Permit" from the Oil and Gas Commission with approvals through the Archeology branch. The site is 200 meters from camp, adjacent to an ancient village site where our ancestors would harvest lamprey eel, now known as Lamprey Creek.

This violates our right and responsibilities to uphold our laws, goes against UNDRIP, and is an attempt to erase us from our land!"

Video update from Gidimt'en Checkpoint

"Coastal GasLink and the BC Oil and Gas Commission, along with the Archeology Branch of the BC Government need to be held accountable. We have not and will not give permission for them to destroy our artifacts and erase us from the yintah.

The site is not isolated but part of an ancient village site where our people would go to harvest lamprey eels, which are now on the species at risk list. We are still here! We refuse to become a species at risk as well. We are strong and proud and will fight for our children and future grandchildren. Join us.

Help us put pressure on the people that are doing this. Come to camp. Keep watching and take actions where you stand. The fight is far from over and we are fighting for all of us.

Misiyh.

For more info and to apply to come to camp visit yintahaccess.com also follow us on Twitter @Gidimten and Facebook @wetsuwetenstrong"
TAKE ACTION

CONTACT ECOFOR

Demand that they "cease and desist all work and stop the continued genocide of Wet'suwet'en people":

EcoFor: 1-888-659-7774    Stacy.mcconnell@ecofor.ca

CONTACT THE BC GOVERNMENT AND DEMAND: 

1. the return of Gidimt'en artifacts to Chief Woos
2. Immediately revoke site alteration permit 2020-9014 

FLNR
250-387-6240     
FLNR.Minister@gov.bc.ca

Archaeology Branch
250-953-3334   

BC Oil and Gas Commission 
250 419 4411
Paul.Jeakins@BCCOG

Come to Camp: Yintahaccess.com 
   
Full background on the proposed site destruction from Yintah Access Instagram

"Last Friday, on August 6th 2021 we learned that Coastal GasLink wants to destroy one of our archeological heritage sites. They have obtained a "Site Alteration Permit" from the Oil and Gas Commission with approvals through the Archeology branch. The site is 200 meters from camp, adjacent to an ancient village site where our ancestors would harvest lamprey eel, now known as Lamprey Creek.

This violates our right and responsibilities to uphold our laws, goes against UNDRIP, and is an attempt to erase us from our land!

There have been two different assessments done, one in 2015 and one in 2019, with recommendations as follows: 2019.OCT.28 00:00:00,GbSs-8 is located with the boundaries of the Coastal GasLink Pipeline project. Site avoidance is recommended. If avoidance is not possible, a Section 12.4 HCA Site Alteration Permit will need to be acquired prior to construction activities.,2016-0131: The site will be impacted during construction of the Coastal GasLink Pipeline Project.
2015.JUL.20 00:00:00,Avoidance is recommended. If avoidance is not possible, mitigation options will be determined in consultation with the client, Archaeology Branch, and relevant First Nations. A site form update will be provided once mitigation recommendations are determined.

The mitigation plans did not happen. Our people were never consulted and when they were told this was a significant place we were ignored.

In the most recent assessment "Sixteen (16) additional lithics were collected in total including 1 dacite utilized flake fragment, 1 obsidian scraper, 4 tertiary flakes, 4 tertiary flake fragments, and 6 pieces of shatter. A small unidentifiable mammal bone fragment was also recovered and the site typology was updated as a result."

We need your help in putting pressure on them to revoke the permit and stop the destruction of our yintah, our artifacts and the physical evidence of our occupation critical for our Rights & Title.

They plan to start work Aug 12. We need your help now! Call/Email info in graphics. More ways to support link in bio.

#DefendtheYintah #StopCGL #WetsuwetenStrong
Consider traveling to Gidimt'en territory to support on the ground. Volunteers are needed now and year round!

Yintahaccess.com/come-to-camp

Donate funds by buying some sweet back to school tote bags, shirts and hoodies on the Solidarity Art Space online shop! All sales go directly to the Gidimt'en clan and Unisti'ot'en house group of the Wet'suwet'en.

Visit SolidarityArtSpace.com