Did North Dakota police use water as a weapon against #NoDAPL supporters? Depends on which police force you ask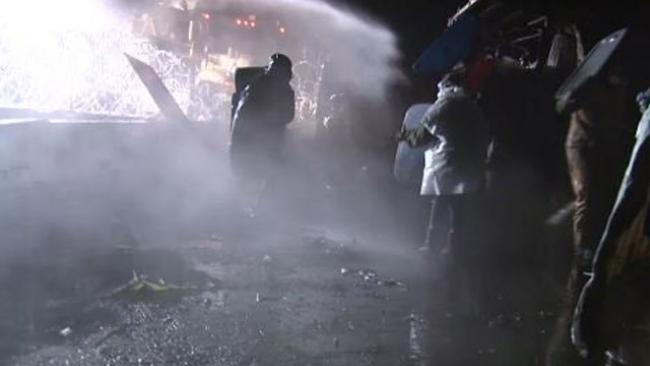 Jorge Barrera
APTN National News
Senior North Dakota law enforcement officials said Monday the use of a makeshift water cannon in sub-zero temperatures against supporters of a Native American-led anti-oil pipeline movement was "effective" and could be used again.
County and state police blasted a fire hose mounted on the gun turret of an armoured personnel vehicle during a seven-hour, all-out assault which lasted from Sunday evening to early Monday morning.
Police moved against about 400 demonstrators, known as water protectors, on Backwater Bridge, which is a few hundred meters from the Oceti Sakowin Camp, the nexus of opposition to a multi-state, $3.78 billion pipeline known as Dakota Access (DAPL). Authorities also fired tear gas and rubber bullets, the officials confirmed Monday.
See video of the police assault here: Backwater Bridge
The police barrage was triggered early Sunday evening after a group of water protectors, using chains and a half-ton truck, removed one of two burnt-out military cargo trucks that had been left at a barricade erected just north of Backwater Bridge on Oct. 27, following a similar law enforcement operation.
Mandan Police Chief Jason Ziegler, whose officers are involved in law enforcement activity against the water protectors, told local reporters Monday the use of water—despite the sub-zero temperatures that have settled in the region for the season—is now one of several weapons police will employ going forward.
"It was effective, wasn't it," said Ziegler, with a slight smirk, according to a video of the press briefing posted on the Morton County Sheriff Department's Facebook page. "We can use whatever force is necessary to maintain peace. When they are throwing rocks, burning logs, shooting sling shots with projectiles at our officers, that would fall under what we would call less lethal, same things as rubber bullets, which doesn't hurt as much."
"It was effective wasn't it," said Mandan Police Chief Jason Ziegler when asked about using a water cannon Sunday night.
Mandan is a small city that sits across the Missouri River from Bismarck, the capital of North Dakota.
The city is in Morton County and is about 53 kilometres north of the Backwater Bridge.
APTN reporters who were at the scene for several hours from late Sunday evening into the early hours Monday witnessed only a couple instances when water protectors hurled objects at officers. For most of the evening, water protectors either braced themselves against blasts from the gun turret-mounted fire hose or fled from tear gas.
See a full timeline of the North Dakota conflict here: #StandingRock, the Players and how did we get to here. 
Police would arc tear gas over the heads of water protectors on the narrow, two lane Backwater Bridge and then blast them from the gun turrets, trapping people between the gas and water.
Morton County Sheriff Kyle Kirchmeier denied police used water cannons. He claimed the water was fired from firetrucks.
"We don't have water cannons. I don't know where the term water cannons comes from. This is just a fire hose. Basically, the firetrucks were called down there to fight the fires that were started before," said Kirchmeier.
Video images clearly show an officer sitting in the gun turret of an armoured personnel carrier using a fire hose like a water cannon against the demonstrators.
"We don't have water cannons," says Morton County Sheriff Kyle Kirchmeier. Photo: APTN
APTN reporters saw only one small bonfire on the bridge which water protectors were using to keep warm and a larger bonfire on the north bank of Cantapeta Creek to the right of the Backwater Bridge facing the barricades. Water protectors were witnessed gathering around that fire for warmth.
Kirchmeier said the below-freezing temperatures that evening were briefly considered by the field commanders before firing on the water protectors.
"Yes, it was a consideration, but the number one thing as you are going along here is the safety of everyone involved," said Kirchmeier. "We are not just going to let people or protesters and large groups come and threaten officers. That is not happening. As this was going on, the water was used as a tool to help quell the situation."
The senior law enforcement officials also denied they've received any reports of injuries inflicted on water protectors as a result by law enforcement tactics that evening.
The Standing Rock Medic and Healer Council released a statement Monday saying medical personnel treated about 300 injuries. The statement said about 26 people were taken by ambulance to three area hospitals over the course of 10 hours.
The council said some of the injuries included: an Elder who lost consciousness during the police barrage and was revived at the scene; a young man who suffered a seizure; a woman who was shot in the eye by a rubber bullet; a young man who suffered internal bleeding and vomited blood after being hit by a rubber bullet in the stomach; a man who suffered blunt force trauma after being shot by a rubber bullet in the back; and multiple fractures caused by "projectiles fired by police."
A woman from New York City, Sophia Wilanski, was airlifted to County Medical Centre in Minneapolis where she is undergoing surgery that is expected to lead to the amputation of her arm, according to various activists, including Clayton Thomas-Muller, from 350.org's Keep it in the Ground campaign. Wilanski was reportedly handing out water when she was hit in the arm by what is believed to be a projectile fired by police.
The statement said every medical unit from the Standing Rock Sioux Tribe was used during the hours-long confrontation. Additional ambulances came from the Cheyenne River Sioux Tribe in South Dakota, Kidder County and Morton County.
Standing Rock Sioux Tribal Chair David Archambault said it was "disturbing" to see law enforcement purposefully trying to inflict harm on the water protectors.
"They are trying to hurt somebody," said Archambault, in an interview with APTN Monday. "This is the first time we have seen the use of water…. It is just escalating, getting more and more serious, more and more dangerous."
Archambault draws a direct link between the firm behind the Dakota Access pipeline, Energy Transfer Partners, and pressure from the North Dakota government on law enforcement to quash opposition to the project.
"The oil company and pipeline company has influenced the state government who is giving orders to law enforcement to do what they can and law enforcement has taken it to another level," he said. "Every time something like this happen it is interesting to see the escalation of force that is being used. Last night with using water in freezing temperature putting people at risk at serious risk of hyperthermia, using rubber bullets and targeting the heads of people."
Standing Rock sparked a continent-wide, Native American-led movement through its opposition to the Dakota Access pipeline. A portion of the pipeline will pass beneath Lake Oahe, a reservoir on the Missouri River.
They say the pipeline threatens the area's water supply and construction has already destroyed sacred sites and burial grounds.
While Standing Rock never signed a treaty, the pipeline traverses the treaty territory of the Sioux Nation.
The Energy Transfer Partners, the Houston-based firm behind the project, still needs to be granted an easement from the Army Corp of Engineers to drill beneath the lake and complete its North Dakota portion.
The Army Corps is expected to continue discussions with the Standing Rock and Cheyenne River tribes before making a final decision on whether to grant the easement.
Energy Transfer Partners and Sunoco Logistics recently launched court action against the Army Corp over its decision to launch a deeper review on whether to grant the easement for the project.
Sunoco Logistics announced Monday it was buying Energy Transfer as part of a $21 billion deal expected to be finalized next year, the Associated Press reported.
Kelcy Warren, the chairman of Energy Transfer, will become the CEO of the new energy firm, the wire service said. The CEP of Sunoco Logistics, Michael Hennigan, will also have a management role in the new company, said AP.
[Top photo: (Police would blast #NoDAPL supporters with water and then arc tear gas behind them on the bridge, trapping them. Photo: Jorge Barrera/APTN) ]