Ecuadorians vote against oil drilling in protected area in the Amazon in historic decision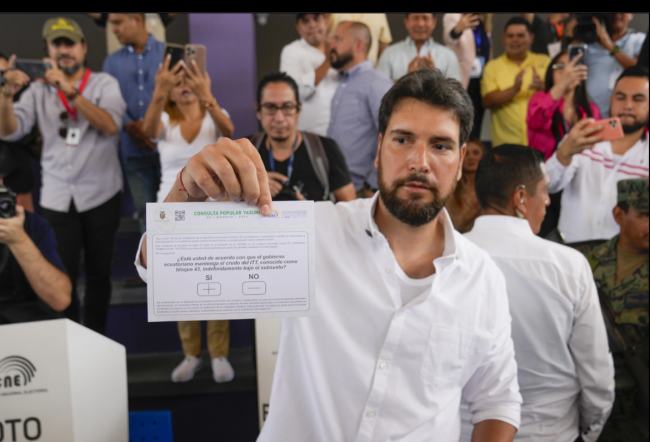 Aug. 21, 2023
RIO DE JANEIRO (AP) — Ecuadorians voted against drilling for oil in a protected area of the Amazon, an important decision that will require the state oil company to end its operations in a region that's home to isolated tribes and is a hotspot of biodiversity.
With over 90% of the ballots counted by early Monday, around six in 10 Ecuadorians rejected the oil exploration in Block 43, situated within Yasuni National Park. The referendum took place along with the presidential election, which will be decided in a runoff between leftist candidate Luisa González and right-wing contender Daniel Noboa. The country is experiencing political turmoil following the assassination of one of the candidates, Fernando Villavicencio.
Yasuni National Park is inhabited by the Tagaeri and Taromenani, who live in voluntary isolation, and other Indigenous groups. In 1989, it was designated, along with neighboring areas, a world biosphere reserve by the United Nations Educational, Scientific and Cultural Organization, also known as UNESCO. Encompassing a surface area of around 1 million hectares (2.5 million acres), the area boasts 610 species of birds, 139 species of amphibians and 121 species of reptiles. At least three species are endemic.
"Ecuadorians have come together for this cause to provide a life opportunity for our Indigenous brothers and sisters and also to show the entire world, amidst these challenging times of climate change, that we stand in support of the rainforest," Nemo Guiquita, a leader of the Waorani tribe, told The Associated Press in a phone interview.
The referendum is the result of a long and winding process. It started in 2007, when then-President Rafael Correa announced that Ecuador would refrain from oil exploration in Block 43 if rich nations compensated the poverty-stricken country. This was to be accomplished through establishment of a $3.6 billion fund, equal to 50% of the projected revenue from the block.
However, the fund drew in only a small fraction of the intended amount. As a result, in August 2013, Correa declared Ecuador's intention to proceed with oil exploration in the block. In response, Indigenous and environmentalist movements initiated a campaign under the banner of the Yasunidos movement, seeking to amass signatures for the referendum. After almost one decade of legal battles and bureaucratic hurdles, the Supreme Court ruled in May that the measure must be incorporated into this year's election.
The outcome represents a significant blow to Ecuadorian President Guillermo Lasso who advocated for oil drilling, asserting that its revenues are crucial to the country's economy. State oil company Petroecuador, which currently produces almost 60,000 barrels a day in Yasuni, will be required to dismantle its operations in the coming months.
The South American country started exploring oil on a large scale in the Amazon in the 1970s when it became an Organization of the Petroleum Exporting Countries member —membership it withdrew in 2020. For decades, oil has been Ecuador's main export. In 2022, it represented 35.5% of total exports, according to the country's Central Bank. Block 43 alone contributes $1.2 billion annually to the federal budget.
In a statement Monday, Petroecuador said it would await the conclusion of the ballot counting before commenting on the referendum. The company added that it would comply with the decision of the Ecuadorian people.
The referendum applies only to Block 43. Within the Amazon region, oil production extends to other sections of Yasuni park and into Indigenous territories. Accidents are commonplace, mostly through oil spills into the rivers.
"It's not that we're going to feel relieved. We can breathe a moment of calm, we're happy, but there are many more oil wells in Waorani territory causing harm," says Indigenous leader Guiquita. "We hope that with this public consultation, there will be a path marked by the fact that the decision belongs to the people and that we can remove all those who are extracting oil and polluting our land."
A previous version of this story was corrected to reflect the referendum was on oil exploration in Block 43, not 44.
[Top photo: Presidential candidate Jan Topic, of the Country Without Fear Coalition, shows his ballot in a referendum on whether the country should ban oil operations in the Amazons during a snap election in Gyayaquil, Ecuador, Sunday, Aug. 20, 2023.  In a historic decision, Ecuadorians voted on Sunday against the oil drilling of Yasuni National Park, which is a protected area in the Amazon the home to two uncontacted tribes and serves as a biodiversity hotspot. (AP Photo/Martin Mejia, File)]