Extinction Rebellion Protest on Granville Bridge - Eight Arrested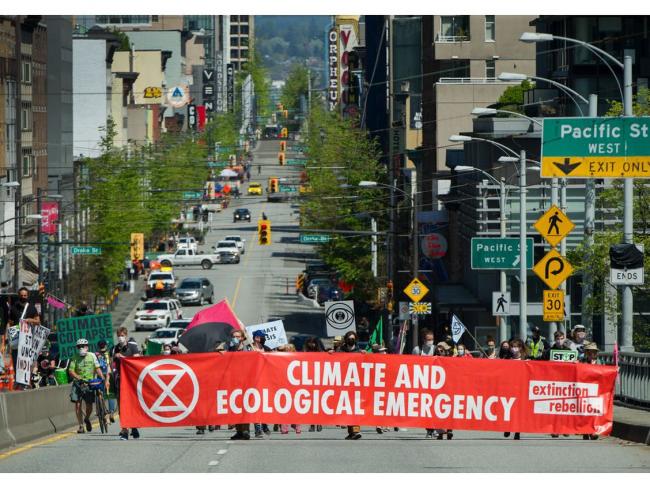 May 02, 2021
The arrests were made after activists refused to leave the bridge on Sunday afternoon
Eight people have been arrested after a group of environmental protesters shut down the Granville Bridge Sunday, one day after the same band of activists disrupted traffic by occupying one of the city's busiest intersections.
Extinction Rebellion occupied Granville and Georgia intersection on Saturday PHOTO BY JASON PAYNE /PNG
The bridge was closed to all traffic Sunday afternoon and Vancouver police asked motorists to avoid the area while members Extinction Rebellion staged a sit-in in the middle the eight-lane span that leads into downtown. The bridge has since reopened as of Sunday afternoon.
Extinction Rebellion, a global environmental movement, occupies the Granville Bridge in Vancouver, BC, May 2, 2021. PHOTO BY ARLEN REDEKOP /PNG
TransLink said a number of buses were also rerouted due to the protest. The arrests were made after activists refused to leave the bridge.
The bridge occupation comes on the second day of Extinction Rebellion's Spring Rebellion, a five-day campaign in protest of what the group calls government inaction to address the climate crisis.
crisis.
"This bridge is a good analogy for where we find ourselves — stuck somewhere in the middle between where we've been and where we want to be," Extinction Rebellion volunteer Nate Lewis said in a release. "As a millennial, I'm terrified. I'm stopping my own routine because without pressure from people in the streets there won't be meaningful change. I'm terrified that short-sighted resource extraction will continue until the life support systems that actually keep us alive have totally collapsed."
On Saturday, costumed protesters rolled a 15-foot pink boat painted with the words "tell the truth" into the intersection of Granville and Georgia streets yesterday.
The protest shut down the area to traffic for hours before Vancouver police eventually broke up the demonstration, asking those gathered to clear the intersection. Most demonstrators cooperated, but five people, aged between 22 and 65, refused and were arrested for "mischief and intimidation to block a roadway," according to a statement from Vancouver police.
At its peak, police say Saturday's rally attracted 150 people.
Vancouver firefighters assisted with removing the boat.
Extinction Rebellion activists assembled again at noon Sunday outside the Vancouver Art Gallery before they marched to the Granville Bridge.
[Top photo: Extinction Rebellion, a global environmental movement, occupies the Granville Bridge in Vancouver, BC, May 2, 2021. PHOTO BY ARLEN REDEKOP /PNG]