Fight over old-growth logging in Caycuse Valley heats up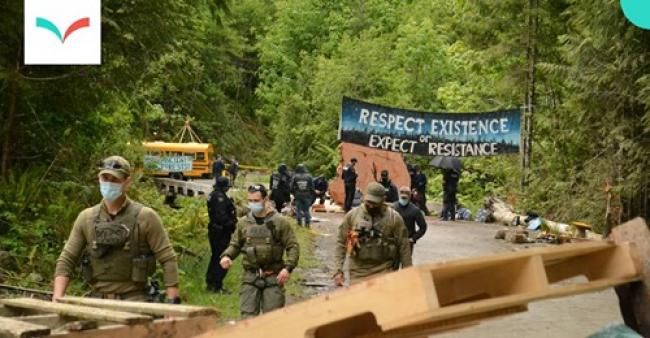 MAY 21, 2021
21 arrests have been made in three days, as RCMP continues to limit press access
Thursday was another day of confrontation on a remote logging road in southwest Vancouver Island, including the violent arrest of a young Indigenous woman by the RCMP. Police are enforcing a court injunction granted to forestry company Teal-Jones.
The past three days have seen RCMP enforcement actions taking place in Caycuse Valley, unceded Ditidaht territory. On Monday, the RCMP established an exclusion zone — now rebranded as a "temporary access control area" after an oversight report found exclusion zones to be illegal and beyond the authority of the RCMP — around an isolated series of roadblocks on a logging road leading to stands of old-growth forest. A total of 21 people have been arrested so far this week, some of whom had to be literally dug out of the ground or removed from elevated platforms and wheeled off by police.
RELATED:
Six people were arrested on Wednesday, including five members of the Rainforest Flying Squad — the activist group responsible for a series of camps and barricades in the area — who were blocking the road, and a documentary filmmaker who tried to get closer to the arrests.
Jerome Turner, on assignment in the area for Ricochet over the past week, reported that on Wednesday RCMP kept approximately 20 media members and observers penned into a small area, approximately 15 by 30 feet, surrounded by police tape. Even bathroom breaks for reporters required a police escort.
Throughout the day, several journalists attempted to challenge the police restrictions on media access including objecting to the penning of the media hundreds of feet away from the sites where arrests were taking place. When one journalist raised safety concerns about the small and crowded media pen area, an officer replied: "If you don't want COVID, you can go further up the road."
More arrests followed on Thursday. Video posted to social media documents the RCMP's arrest of Kati George-Jim, a Pacheedaht woman, at Caycuse.
Meanwhile, a couple of hours away in Victoria, B.C., protesters rallied and marched to the steps of the provincial legislature building to show solidarity with those arrested for opposing the logging of ancient forests.
The arrests this week could be just a preview of a long hot summer in British Columbia, as the NDP government led by John Horgan faces growing calls to act on its promises to overhaul forestry practices in the province.
Some veterans of past battles over old-growth logging have begun to compare the situation to the historic 1993 protests and mass civil disobedience against logging in Clayoquot Sound.
Tzeporah Berman, a central figure in the Clayoquot Sound protests, will be arriving at the Rainforest Flying Squad's River HQ site Friday morning. A Ricochet team will be there to cover the event, so follow Ricochet on Twitter for updates.
Also this week, a professor from the University of British Columbia recorded protected screech owls in the area and local Green MP Paul Manly has written to the federal environment minister calling for logging to be halted until the impact on the at-risk species can be assessed.
With files from Jerome Turner, Michael Simkin and Kyle Darling.
A member of the Rainforest Flying Squad arrested on Wednesday, May 19 at Caycuse.
[Top photo: The view from the media pen as our reporter attempted to cover Wednesday's RCMP injunction enforcement against anti-logging blockades in Caycuse Valley. - Jerome Turner]