First Nations, forestry reform and old growth activists are inviting BC Premier John Horgan and cabinet to a press conference, Friday June 11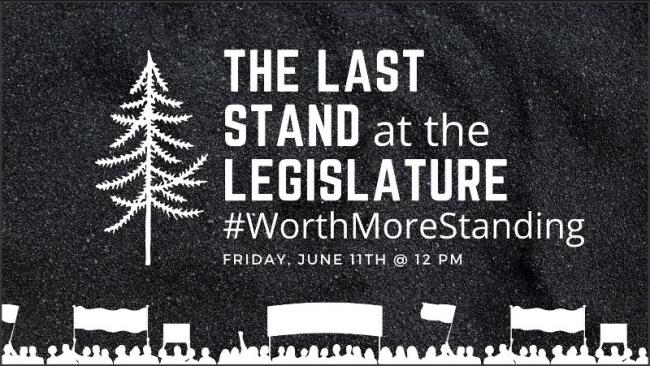 LAST STAND AT THE LEGISLATURE
June 11, 2021
June 7 2021
FOR IMMEDIATE RELEASE

ELDERS, PROTECTORS OF OLD GROWTH, DEFENDERS OF FAIRY CREEK, AND OUTRAGED CITIZENS ORGANIZE A PRESS CONFERENCE AND "LAST STAND AT THE LEGISLATURE" RALLY TO IMPLORE PREMIER HORGAN TO HIT PAUSE!

It's almost a year since Fairy Creek Defenders threw down the gauntlet on clear-cutting old-growth and established blockades to protect the watershed.  This flash-point ignited a province-wide movement for system-wide change against the forestry corporate industrial complex.   British Columbians, outraged citizens and academics now invite Premier Horgan to listen to their concerns demanding a 'circuit breaker' in forest management; HIT the PAUSE button on old-growth clear cutting!
 
Vancouver Island, British Columbia. A coalition of First Nations, forestry reform and old growth activists (find members here: https://www.forestmarchbc.com/#june-11-press-release) are inviting BC Premier John Horgan and cabinet to a press conference on Friday June 11 at noon, to initiate a dialog about old growth forests they say should have taken place years ago.

Despite the arrests of over 160 peaceful protesters, escalating demonstrations all across BC, in Canada and beyond,  all calling for an immediate halt to old growth logging in BC, John Horgan and his government have been mute on Fairy Creek. At a press conference last week Horgan's NDP finally broke silence unveiling an intentions paper outlining proposed policy changes to modernize BC's forest policies. There's a huge glaring problem, though: the plan doesn't include any new protections for old-growth forests or a shift to a sustainable, second-growth forest sector. According to Green Party MLA, Adam Olsen, "this illustrates how deeply disingenuous the government has been as the tension in our forests continues to grow. Rather than offer conservation solutions, the BC NDP are effectively using BC Liberal policy to put Indigenous Nations in the centre of conflicts and use the language of reconciliation to cover for their inaction. Clearly, colonialism is alive and well in Premier Horgan's government."

Today a  stunning but welcome acknowledgement of the flawed approach to the preservation of old-growth occurred, a deferral for Fairy Creek watershed announcing the Huu-ay-aht, Pacheedaht, Ditidaht First Nations are taking back decision-making responsibilities over ḥahahuułi, or territories. While we greet the news of the declaration of the three nations, we eagerly await details and clarifications. The organizing group is pressing on with a media conference and solidarity rally, in hopes the personal plea to Premier Horgan from concerned Constituency will help him understand the urgency of the old growth situation and persuade him to do his job. The time has come for a paradigm shift that places community equity, traditional indigenous knowledge, and the ecological integrity of our lands FIRST.

Media conference spokespersons and rally presenters include: messages from Bill Jones, and Victor Peters, T̓łaliłi'lakw Brandi Lancaster, Grandma Rose, Will O'Connell, Andy McKinnon, Vicky Husband, Shawna Knight, Cam Shiells, Gregg McElroy, Kathy Code, Saul Arbess, Bobby Arbess, Carole Tootil.

This deferral announcement does nothing to address the systemic crisis in the way our forests are managed. Premier Horgan must act rapidly to defer logging across the 1.3 million hectares of at-risk old growth identified in BC. "No, we must not stand down, as all First Nations are locked into unfair contracts that tie their hands," Pacheedaht Elder Bill Jones stated. The province must come to the table with conservation financing and economic alternatives for First Nations, and create a just transition to a second growth industry. 

As Grand Chief Stewart Phillips says put down your chainsaws and HIT PAUSE!  85% of British Columbians agree want to save the OLD GROWTH for the future.
 
More information at https://www.forestmarchbc.com/#june-11-press-release

Contacts:

Spokespersons:      
Saul Arbess 1-250-383-5878       sarbess@shaw.ca
Sally Glover 1-250-704-9733       sallyeglover@gmail.com

Media Contact Info: 
Kathy Code  1-250-418-5313        codekat999@gmail.com
Taryn Skalbania 1-250-767-6456 tarob@shaw.ca
 
Please wear your mask and respect all current COVID-19 measures so that we can keep this action safe for everyone. Visit: https://www2.gov.bc.ca/gov/content/health/about-bc-s-health-care-system/office-of-the-provincial-health-officer/current-health-topics/covid-19-novel-coronavirus to read the latest health measures.
Photo credit: Colin Smith @colinsmithtakespics