This is the future of pipeline protests: How a tiny campout grew into a global movement and why it's coming to Canada next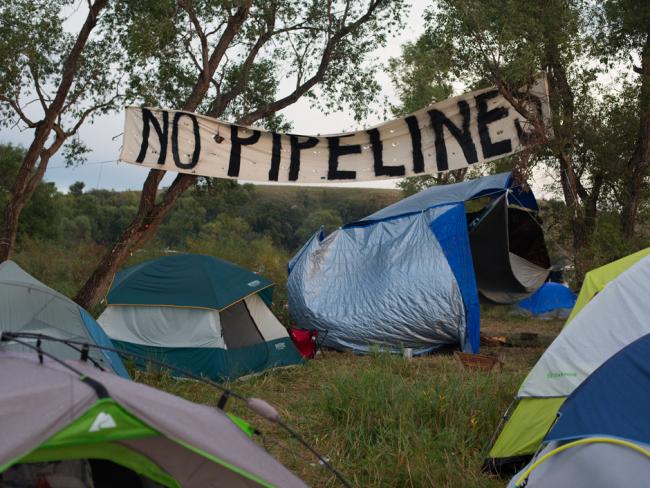 CANNON BALL, NORTH DAKOTA — The caravan rumbled east on a back road in rural North Dakota, pickup trucks and hippie vans inching through the grey-green hills, searching for a passage through the shifting blockade. Overhead, a helicopter circled. Police trucks whipped by on the ground. They kicked up dust that streamed over the fields where black cattle roamed and protesters, desperate for a pee, ducked behind hay bales or hid in the taller grass.
The Water Protectors of the Oceti Sakowin, Red Warrior and Sacred Stone spirit camps, near Cannon Ball, ND, set out that day to shut down construction on the Dakota Access Pipeline, a US$3.8-billion project that aims to connect the Bakken oil fields with a transport hub near Patoka, Illinois. If completed, Dakota Access could handle some 570,000 barrels of oil per day. That's nearly half of North Dakota's entire daily production. But though much of the pipe is already in the ground, the project itself—like Keystone XL before it—is in jeopardy.
AMBER BRACKEN FOR POSTMEDIAA sentry's car lights shine on signs along the highway near Cannonball, ND on Saturday, September 10, 2016.
While the world watches as their movement is live-streamed on social media, indigenous protesters have banded together with major environmental groups like the Sierra Club and 350.org to fight Dakota Access. For now, they've battled the pipeline's owners — including Canada's Enbridge Inc. — to a standstill. Protesters have confronted construction teams on pipeline sites near the Standing Rock Sioux Reservation, south of Bismarck. Lawyers for the tribe have tied the project up in litigation and campers are now clashing with police.
On Thursday, police in riot gear used sound cannons, bean bag guns and pepper spray to drive protesters from a camp on private land directly in the pipeline's path. The hours-long confrontation, watched live on Facebook by tens of thousands of viewers, was the most heated yet of the increasingly prominent occupation. More than 140 people were arrested, according to the Morton County Sheriff's office. Several cars were set on fire. Despite the setback, the protesters have vowed to carry on. "We won't step down from this fight," Dave Archambault II, one of the organizers, said in a statement Thursday night.
ROBYN BECK/AFP/Getty ImagesProtestors march to a construction site for the Dakota Access Pipeline to express their opposition to the pipeline, at an encampment where hundreds of people have gathered to join the Standing Rock Sioux Tribe's to protest against the construction of the new oil pipeline, near Cannon Ball, North Dakota, on September 3, 2016.
The protests against the Dakota Access Pipeline are in many ways an outgrowth of the ones fought against Keystone XL. But they are also something bigger and something new. The camps that have sprung up in the Plains south of Bismarck have drawn what some are calling the largest gathering of Native American tribes in history. Thousands of people, from what organizers say is more than 200 tribes, have come from all over the United States — and some from much further — to join the occupation. Hundreds have vowed not to leave until they win.
One organizer has called this moment the beginning of a new Native Civil Rights Movement. Whatever is happening here, organizers are hoping it will spread. They want Standing Rock to become the new normal on pipeline sites — in the United States, and in Canada too.
§§§
AP Photo/Blake NicholsonLoren Bagola, from the Sheyenne River Reservation in South Dakota, helps handle security Monday, Oct. 24, 2016, at the Dakota Access oil pipeline protest in southern North Dakota.
The Standing Rock Sioux Reservation begins 40 minutes south of Bismarck in a hilly stretch of the Great Plains where actual tumbleweeds still blow across the roads. The protest camps straddle the reservation's northern border. Oceti Sakowin, the largest of the three camps, sits in a hollow between two hills on the banks of the Cannonball River. From the highway it appears as if from nowhere—a riot of colour in a sea of yellowing grass.
The camps have drawn as many 8,000 people at a time, according to organizers. But the pipeline protests started modestly. In fact, according to Jonathan Edwards, they all began with a video game.
Edwards lives in McLaughlin, SD, the largest town on the Standing Rock reservation. Last December, he was hanging out with friends, "and we were playing Call of Duty or something, and somebody was scrolling through Facebook and saw a small little article about the (pipeline)."
By that point, plans for Dakota Access were in their final stages and construction was nearly underway. The pipeline is a catch-up of sorts. Oil production in North Dakota has exploded in the last 13 years, from fewer than 30 million barrels a year in 2003 to more than 429 million barrels in 2015. But the infrastructure didn't keep up. For years, more than half the crude oil leaving North Dakota has moved by rail. Dakota Access, owned by a consortium of energy companies, including Enbridge and Energy Transfer Partners out of Texas, was supposed to solve that problem.
The pipeline company held public hearings in North Dakota starting in May 2015. But Edwards said he had never heard of the project before reading about it last December. He was shocked to discover that if completed the pipeline would cross under Lake Oahe, on the Missouri river, just a few kilometres outside the Standing Rock border. "So we did a little research about it, found out it's an actual thing, and just basically started organizing a few local people to see what we could possibly do to … defeat it."
Mike Mccleary/The Bismarck Tribune via APLaw enforcement officers line the street in front of the Morton County Courthouse in Mandan, N.D., as Dakota Access Pipeline protesters stand on the opposite side of the street on Monday, Oct. 17, 2016.
Indigenous opponents of Dakota Access have two broad complaints. One is that the pipeline crosses through traditional tribal territory, home to sacred sites. The other is that, by passing under the Missouri River, the pipeline would put the tribe's water supply at risk. The protest's main slogan, whispered among supporters like a benediction, is "Water is life."
Edwards and his friends were well positioned to make a stink. His uncle Vernon runs the local radio station. His sister Honorata works for the local newspaper. But in the early going, interest was paltry. "Not a lot of people showed up at the local meetings," he said. That began to change after his sister reached out to Joye Braun, an activist from a nearby reserve who played a significant role in the fight against Keystone XL.
AP Photo/James MacPhersonIn this Wednesday, Sept. 14, 2016, photo, paramedic Jonathon Edwards fills out forms for medical supplies near the Standing Rock Sioux Reservation in southern North Dakota.
Braun, in her words, "heard the call" from Standing Rock in late January. The grassroots of the tribe, she said, felt they weren't getting enough information about the project. "So we sold a bunch of cinnamon rolls and got gas money and all headed up here to Standing Rock to see what we could do."
Tom Stromme/The Bismarck Tribune via APA Morton County Sheriff's deputy officer arrests actress Shailene Woodley at a protest against the Dakota Access Pipeline
At a meeting in late February, Braun pitched the idea of a 'spirit camp' — a hub for prayer and action that could serve as a focal point for opponents of the pipeline. Ladonna Brave Bull Allard, who now runs the Standing Rock tribal historic preservation office, offered a chunk of land that directly abuts the nearest pipeline site, to the campers. And on April 1, Braun and her cousin Wiyaka Eagleman pitched their tents and the Sacred Stone Spirit Camp was born.
There are several theories on how that tiny campout of two people grew into the large occupation it is today. Ruth Hopkins, a columnist for Indian Country Today, thinks coverage in Native media contributed, as did a series of protest runs—including one from Cannon Ball to Washington D.C.—put on by local youth.
By the summer, several large environmental groups helped "amplify" the message, according to Josh Nelson, campaign manager for Credo Action. The movement gained celebrity support, including from actress Shailene Woodley (who was arrested while protesting in North Dakota in October) and Leonardo DiCaprio.
The camps grew steadily through the summer. The original Sacred Stone Camp on Allard's land eventually sprouted two shadow camps on land owned by the Army Core of Engineers outside the reservation. But they only truly mushroomed in September. The major reason for that influx, organizers believe, was a violent clash between protesters and private guards that went viral online.
Mike McCleary /The Bismarck Tribune via APJournalist Amy Goodman, left, speaks with supporters in Mandan, North Dakota before learning the rioting charge filed against her was dismissed by a SouthCentral district judge Monday, Oct. 17, 2016.
§§§
On Sept. 3, Ladonna Allard was speaking to a journalist when her phone rang. "Amy Goodman (from Democracy Now) was sitting in the camp interviewing me…when they called me and said 'Ladonna! The bulldozers are here'," Allard said. Dakota Access crews were digging up a pipeline site on a ranch just north of the reserve. "I said 'I'm on my way. And I hung up my phone and Amy said 'I'm following you.' "
Cody Hall, a spokesman for the Red Warrior camp, was also there that day. "We had one of the elder ladies come driving by," he said. "She saw the bulldozers. She yelled, 'We need everybody to come out! The bulldozers are on sacred land!' So, the campers scrambled onto horses and into cars and raced up the highway."
ROBYN BECK/AFP/Getty ImagesProtestors march to a construction site for the Dakota Access Pipeline to express their opposition to the pipeline, at an encampment where hundreds of people have gathered to join the Standing Rock Sioux Tribe's to protest against the construction of the new oil pipeline, near Cannon Ball, North Dakota, on September 3, 2016.
What happened next was captured on film and posted online from multiple angles, but it remains nonetheless the subject of bitter dispute. Protesters from the camps confronted the workers, first from outside the fence, with shouts like "Criminals!" and "Go get your money somewhere else." Eventually, they surged through the wire and came face to face with a team of private security guards.
After everything was over that day, the Morton County Sheriff's office released a statement decrying the protest as an "unlawful … riot." The sheriff said guards were attacked with wooden posts and flagpoles, and a dog was trampled by a horse. The protesters maintain the guards attacked them, and they were sprayed with some kind of caustic chemical. Hall said dogs bit about 12 people. One worker threw a demonstrator to the ground.
Regardless, the footage — of snarling dogs straining toward men and women with their hands in the air — provided a defining visual for the growing camp. "What I saw was (like) the images of America from the 1950s and 1960s, where they used dogs on black people," said Hall. "It threw me right back to that time in history."
Wulff Cole, a member of the Confederated Tribes of Grande Ronde, in Oregon, drove 25 hours to join the camp because of that footage. "When I first heard about that I said, 'I have to be there or I'll never forgive myself.'" Organizers say that after the confrontation with the dogs, the camps ballooned in size.
AMBER BRACKEN FOR POSTMEDIAOceti Sakowin Camp near Cannonball, ND on Friday, September 16, 2016.
§§§
By mid-October, Oceti Sakowin looked like a cross between a summer camp and a music festival. White tipis shared space with green army tents and flags in a cavalcade of shades. There were converted buses, port-a-potties, a legal clinic, horse paddocks and campfires. Near the central hub, heaps of donated clothes sat near stacks of wood and supplies of rice, beans and other staples.
"The first night I was here, I sat at the fire, listened (to the speeches) came back to my tent and I cried all night," said Lavina Lawrence, who has been living at the camp for more than six weeks. "It's just…the love of the people, the healing, the energy, is just so strong. It's overwhelming."
AMBER BRACKEN FOR POSTMEDIAA family sits by their fire at Sacred Stone Camp near Cannonball, ND on Saturday, September 10, 2016.
Organizers of the Standing Rock movement insist the camp and the protests are peaceful. Not everyone agrees. One judge in a civil suit filed by Dakota Access wrote in a recent ruling that "to suggest all of the protest activities to date have been 'peaceful' and law-abiding defies common sense and reality." 
AMBER BRACKEN FOR POSTMEDIAAn American flag is tattered by the wind on a home near the pipeline route in ND on Monday, September 12, 2016.
In the communities surrounding the camps, meanwhile, there's a sense of fear. Several people said they were afraid to speak on the record because they feared retaliation from the camps. One woman said her friends were organizing a class on concealed weapons for those intimidated by the protesters. Santana Hettich, who lives nearby, actually spent several weeks at the camp this summer, but she said she wouldn't go back now. "I supported it…I wanted to stand with them because I'm Native American," she said. "Now I just think there are too many people there for the wrong reasons."
Camp organizers blame those fears on local media and local police.
AMBER BRACKEN FOR POSTMEDIAMembers of the Pikuni Blackfeet Nation march into Sacred Stone Camp near Cannonball, ND
The sheriff's office did not return a request for comment. But in recent press conferences the sheriff and other county officials have defended their officers as "incredibly professional and unbelievably restrained."
What is clear is that it wouldn't take much—from either side—for something truly awful to happen here. The police are heavily armed and overworked; sheriffs have been called in from all over North Dakota, and now eight other states, to bolster the Morton County crew. "I think the whole county is on edge," said Jeremy Stenerson, who lives in nearby Flasher. "Emotions are escalating and I think that just increases the chances of an accidental trigger pull or some silly accident that sets it all off."
AMBER BRACKEN FOR POSTMEDIAJesse Jaso, 12, enters the Unity Teepee, at the Sacred Stone Camp near Cannonball, ND on Saturday, September 10, 2016. The teepee is signed by camp supporters from all over North America and around the world.
§§§
Last Saturday, protesters slipped from the camps, up the highway and into the fields where the pipeline will go. They popped the tires on a pickup truck then used bike locks and chains to attach themselves to the vehicle, hoping to block the construction path. A few hours later, hundreds more demonstrators marched up the highway and into the fields where they met a line of officers armed with pepper spray and other weapons.
Marching with the protesters that day was Kabale Niquay, a member of the Atikamekw Nation in Quebec. Niquay drove down to Standing Rock from Manawan, northwest of Quebec City, in mid-September. His Facebook page is full now of photos from inside the camps and at the demonstrations. In one, he poses in a camouflage jacket, a bandana pulled over his face. "A good day," he wrote in French, "to go the front."
Niquay said he came to support this protest in solidarity with the local Dakota and Lakota people. "All nations are rising up," he said. But he's also hoping to drum up support for a spirit camp of his own next summer, in Quebec, in opposition to the Energy East pipeline.
AMBER BRACKEN FOR POSTMEDIARiders of all ages gather on the hilltop at Sacred Stone Camp near Cannonball
Niquay isn't the only Canadian to have joined the Standing Rock protests. Cars with Manitoba, Ontario and Alberta plates are littered throughout the Oceti Sakowin camp. Others, meanwhile, have noticed from afar. Jonathan Edwards spoke recently with a First Nations group in British Columbia. They were looking for advice, he said, on setting up their own anti-pipeline camps.
Edwards hopes this does launch something larger, all across North America. But he hasn't lost site of his original goal. "I know what my role is here, which is to do whatever I have to do to stop the Dakota Access Pipeline."
Vicky Granado, a spokeswoman for Energy Transfer Partners, said the plan is still to have the pipeline ready for service by the end of this year. Meanwhile, the company has always maintained that it did everything right here. Dakota Access obtained all necessary easements and rights of way, its lawyers wrote in one court filing, it obtained all federal, state and local permits to cross the Missouri River at Lake Oahe, and it conducted extensive consultations with affected tribes.
AMBER BRACKEN FOR POSTMEDIATyler Fourth, a Standing Rock Sioux, dances while working a checkpoint at Sacred Stone Camp near Cannonball, ND on Friday, September 9, 2016. Fourth is cautiously optimistic about the situation but has no intention of leaving yet, saying "it's not over till it's over."
Despite that, the federal government still ordered a temporary halt to pipeline construction within two miles of Lake Oahe in September. That moratorium remains in place, for now.
As for the campers, some have vowed to stay through the winter, if necessary. Last Saturday, police arrested more than 120 protesters after a day of heated clashes that saw several people pepper sprayed. The next morning, the campers pushed out again, moving out in the pink dawn to set up a new camp on private land, directly in the pipeline's path.
The company vowed in a statement that trespassers who refused to leave would be removed — and on Thursday they made good on their promise. 
The protesters are unbowed. "I don't think they really understood who the people are descended from who they're trying to lay this pipeline through," said Edwards. "I mean my mother's last name was Shoots The Enemy. She's deceased now. But I don't think she got that name weaving baskets."
AMBER BRACKEN FOR POSTMEDIACountry roads northwest of Cannonball, ND on Friday, September 16, 20
[Top photo: Sacred Stone Camp near Cannonball, ND on Friday, September 9, 2016.]