Greta Thunberg: German police deny protest detainment was staged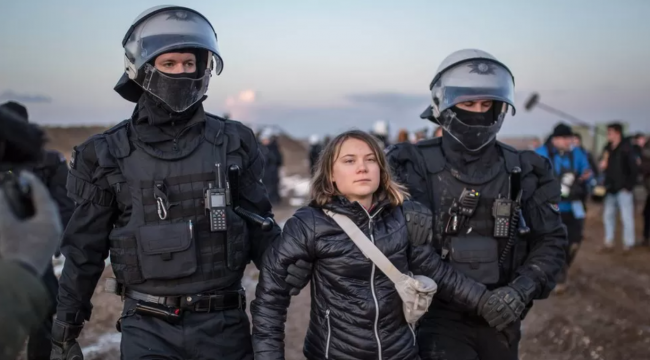 Jan. 18, 2023
German police have denied being "extras for Greta Thunberg" after false claims that her detainment at a protest in western Germany was staged.
A viral post falsely claimed the climate activist being held by police was "all set up for the cameras".
Ms Thunberg and other activists were seeking to stop the abandoned village of Lützerath from being demolished for the expansion of a coal mine.
The video of her being removed by police has gained millions of views.
"We would never give ourselves to make such recordings," a spokesperson for local police told the BBC, denying allegations that Ms Thunberg's detainment was fake.
But it is important that the police enable reporting and guarantee the protection of media workers, they added.
The viral video shows the climate campaigner flanked by police officers on either side.
Meanwhile a few photographers can be seen snapping photos and moving around her, as Ms Thunberg smiles.
Several other police officers who were also standing nearby appear to be waiting with her before walking her away from the scene.
Some online have jumped onto these moments of officers and Ms Thunberg waiting around, to falsely claim that it is part of a staged photo opportunity.
However the interior ministry of the western state of North Rhine-Westphalia told the BBC that the police officers and Ms Thunberg were waiting for logistical reasons.
"They had to wait for a couple of minutes before they could bring her to a certain police car," said the spokesperson.
They added that "the whole situation has been used by those with political motives and the real reason is entirely practical and mundane."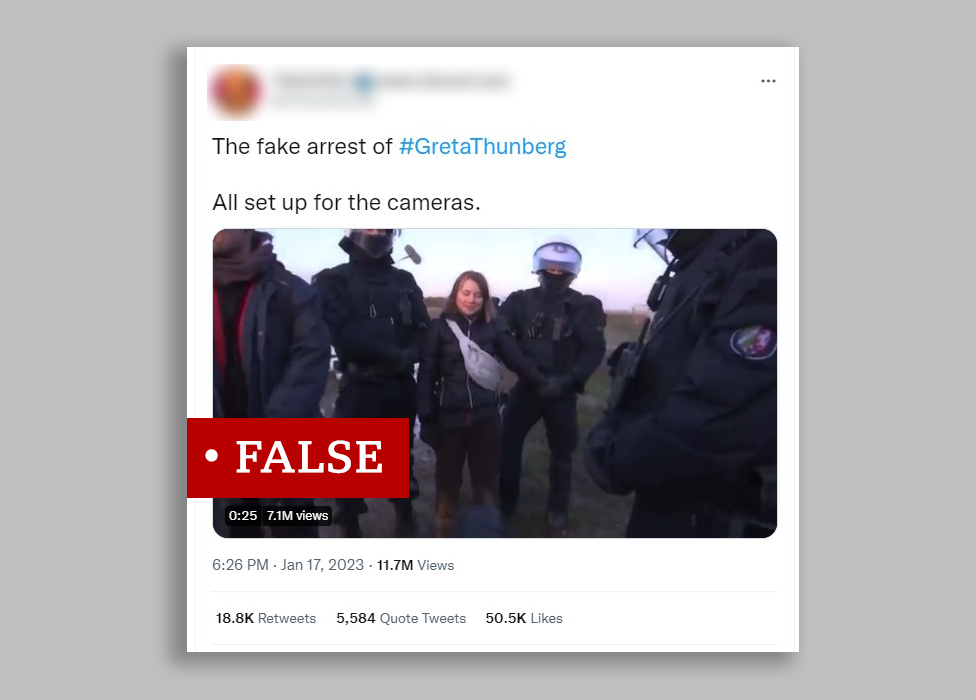 IMAGE SOURCE,TWITTER/SCREENSHOT Image caption,
The viral post with the video of Greta Thunberg and police officers at the protest
Christian Wernicke, a journalist from German news outlet Süddeutsche Zeitung who was there at the time, said the police officers "were deciding how they would proceed with the identity check and waiting to take Greta to the police vehicle."
"My impression was that there was confusion. Greta was not the first protester who had been taken away from the sit-in," Mr Wernicke added.
"I've seen different reactions to the video. Some say that the footage looks like the police are setting her up to embarrass her and others say that it is all part of some propaganda.
"People are interpreting and using this footage for their own motives."
Many online also falsely claimed it was a "fake arrest" but police clarified that Ms Thunberg had not been arrested but had been briefly detained.
The group of activists were detained after they "rushed towards the ledge" of the Garzweiler 2 mine, police had said on Tuesday.
Officers also confirmed all of those detained would not be charged.
Ms Thunberg has frequently been the target of conspiracy theories and false claims online, often by those who deny the existence of man-made climate change.
She tweeted: "Yesterday I was part of a group that peacefully protested the expansion of a coal mine in Germany. We were kettled by police and then detained but were let go later that evening.
"Climate protection is not a crime".
[Top photo: False claims about German police arresting Greta Thunberg have been circulating online]