A growing movement demands free, expanded public transit in Canada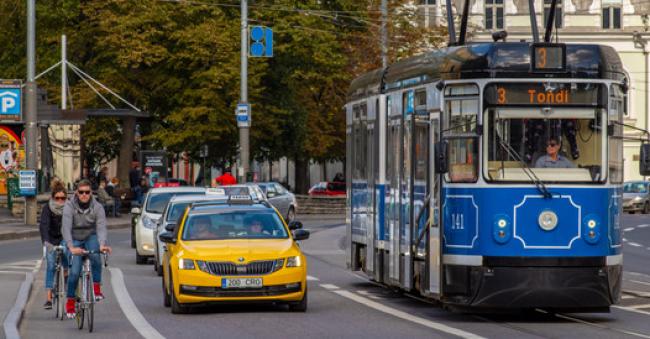 Aug 10 2021
Grassroots organizers in several cities are laying out the social, environmental and economic benefits of making public transit accessible to everyone
Laura Shantz's youngest child turns six next year, the age cutoff for free bus and train rides in Ottawa. This means a roundtrip ride on Ottawa's transit system will cost the mother and her two children $15. During a city council Finance and Economic Development Committee meeting last month, Shantz shared her concerns over Ottawa's proposed 2.5% transit fare increase. 
"People are saying, I want free transit, I want this, I want that," Mayor Jim Watson said later in the meeting, responding to Shantz's and others' concerns. "Well I'm sorry but someone has to pay for it." 
A growing movement of activists in cities across Canada agrees that someone should indeed pay for it, but not the poorest. While acknowledging the costs of building transit infrastructure, they argue it must not fall on marginalized members of society, who often rely on public transit to access work and essential services. The Free Public Transit movement believes fares can be eliminated entirely and funded by progressive taxation measures that shift the burden to corporations and the most wealthy.
They're already clocking small victories. Earlier this year the City of Victoria introduced a free transit pass for youth 18 and under. The City of Halifax made free transit passes available to anyone receiving income assistance. And in March 2020, at the beginning of the COVID-19 pandemic, cities across Canada temporarily abolished transit fares for essential workers. 
Free public transit is often framed as an expensive, impractical proposition. But advocates say dependency on personal vehicles is even more expensive and impractical. Expanded, efficient, and free public transit could radically reduce the need for cars. Relying on a car to engage with city life commonly costs upwards of $10,000 a year. Any tax increase associated with free public transit would pale in comparison.
Ottawa: Building an inclusive community
On top of their financial burden, single-occupancy vehicles create more congested cities. When people ride one or two at a time, rather than 30 at a time in a bus or train, cities become less accessible for everyone, as car traffic trickles down to affect transit routes.
Josh McEvoy, an organizer with Free Transit Ottawa (FTO), views better transit design as a critical step towards a more equitable city. "Whether to work, engage in political activity, attend events, or participate in leisure activities, mobility is key," he says. "But without a robust, accessible, and affordable (ideally free) transit system, partaking in those things and the cultural life of the city becomes dependent on car ownership."
FTO believes public transportation should be a free service, like a library. Before the pandemic, the group canvassed at transit stations and encouraged commuters to sign petitions. Organizers invited community members to imagine a city where neighborhoods are connected by a web of transit lines. 
Recently, they began seeking out like-minded organizations and service providers in the city to help propel the movement forward. Together with the Somerset West Community Health Centre, the groups are calling on the City of Ottawa to make transit free for social assistance recipients. 
The work draws on the health centre's recent Building Community Together report, which features consultations with over 500 residents living in Ottawa's West Centretown and advocates for affordable, reliable transit as "a necessary component of an inclusive community."
This model of advocacy, bridging community consultation with urban development, has also been adopted by organizers in Toronto. 
Toronto: Fare enforcement a barrier to dignity and access
In June 2021, TTCriders, a transit advocacy organization, released its report, Pandemic Recovery Fare Policies for a Thriving Transit System. Facilitating focus groups known as "transit story circles," organizers held meetings in English, Tamil, Marathi, Hindi, Gujarati, and Mandarin, soliciting perspectives on transit accessibility and potential changes to transit design.
Jasmine Mohamed, who serves on the TTCriders board, emphasizes the importance of bolstering transit users' facilitation and organizing skills: "TTCriders has been pressing hard to ensure the member base is organizing and building the political power of transit users so they can influence [Toronto Transit Commission] decisions." 
On September 15, TTCriders will deliver to the Toronto Transit Commission (TTC) a list of recommendations based on their report in an attempt to influence the TTC's 5-Year Fare Policy.
Toronto transit riders reported unaffordable fares and infrequent, crowded buses as their top concerns. Many described racist fare enforcement as another barrier to access. Less than one percent of Toronto residents are Indigenous, but they make up three percent of TTC enforcement incidents. Black people are 2.2 times more likely to be stopped by TTC enforcement officers than the general population. 
Free transit, organizers argue, would eliminate the need for fare evasion officers and make public transit safer for people of colour, specifically Black and Indigenous passengers.
Beyond reducing unnecessary police interventions, some see free and expanded transit as part of an avenue towards greater economic equity and climate justice. 
Edmonton: Framing free transit as climate justice
In Alberta, Climate Justice Edmonton presented Edmonton City Council with a petition—signed by 1800 community members—demanding the city freeze its proposed 25-cent fare increase. The Free Transit Edmonton campaign's efforts were successful. In April, City Council voted 12-to-1 to freeze the fare increase.
Free Transit Edmonton promotes climate justice on a municipal level, advocating for infrastructure that puts people, rather than cars, first. Organizer Sol Bobier describes this shift in urban planning: "If you build an expansion to the Anthony Henday, the ring road in Edmonton, you're going to have an increase in cars; you're not going to have an increase in public transit users, cyclists, and pedestrians." 
Climate Justice Edmonton started its free transit campaign to promote a just transition away from fossil fuels and towards greener modes of transportation. It envisions a city that encourages public transit and swaps car-centric infrastructure, like parking lots and freeways, for pedestrian bays, paved bike lanes, and easy-to-access bus terminals.
"People need to go to work, to important doctor's appointments, and there's some things you just can't be late to. You need a form of transportation that's going to get you there," says Bobier.
"By making transit reliable, good, free, we're lowering the barriers to using it and being able to rely on it in a way that doesn't leave you stranded in the worst time possible."
A growing global movement
Free public transit is not a new idea — cities around the world have fostered healthier, greener and more accessible communities by implementing fare-free transportation. In 2013, Tallinn, Estonia made public transportation free. Luxembourg also offers free public transportation for all residents, in hopes the country can mitigate traffic congestion and create less polluted urban centers.
Last January, Washington's state capital, Olympia, introduced a zero-fare demonstration project. Along with eliminating fares, Olympia's Intercity Transit increased the bus fleet by 51 percent and hired 130 new transit workers. In its first month of operations, weekend ridership increased 50 percent compared to the previous year, while weekday ridership rose by 15 percent. This pilot project will span five years, giving the city a chance to "measure the impacts of moving to zero-fare." More study is needed to evaluate the economic impacts of free transit, but increased ridership points to positive outcomes for local businesses.
The blueprint for free public transit exists, and the environmental, social, and economic benefits are clear. A growing movement says it's time for Canada to hop on board. 
TOP | Tallinn, the capital of Estonia, has offered free transit since 2013.