Liberal and Conservative climate policies signal to their bases the issue isn't urgent in any meaningful way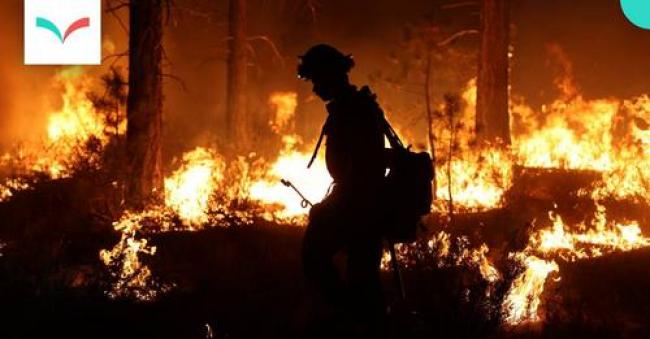 Pleased with her good fortune, the woman remarked, "We'd planned to go to Mexico this summer, but we didn't need to. It was hot enough here!"
In a different time, it wouldn't be such an unsettling comment to have overheard while out and about in Alberta, where summers were short and often cool.
But in the midst of a season marked by climate extremes and disasters, it made me wonder how well it's understood that what we're seeing is not some temporary aberration; this new summer heat is the sign of a lasting condition. And it isn't one we should delight in.
If even the environment minister says we can exacerbate climate change to fight it, how much of a crisis can it be?
All that seething excess energy, sufficient to have warmed an entire planet by 1.1 C — to have made Canada feel more like Mexico — doesn't just sit idly. It quickens molecules, for centuries ordered as ice, into flowing and flooding water. It entices moisture from the soil and trees and turns them into wildfire kindling. It intensifies the fury of cyclones and hurricanes.
That same heat is what's behind the events that have struck the globe over the past few months faster than most of us could keep up with.
The blistering heatwaves across Canada that, in B.C., killed hundreds of people and cooked alive an estimated billion seashore creatures. The blazes that drove evacuations of entire communities across the world in the worst wildfire season on record. The ongoing famine in Madagascar after the worst drought in a generation. The sudden violence of Hurricane Ida.
These are just the latest signs of how climate change imposes not only a novel environmental condition on our world, but also a dire political one. But, like the people able to take pleasure in this new kind of summer, it's a condition that our mainstream politics is not acknowledging.
Elite cues of delay
The complex nature of politics creates a difficult challenge. People need to put very significant time and effort into becoming well informed on contemporary issues. For citizens wanting to know the best responses to political matters — ones that also fit with their ideological values and beliefs — that can be a prohibitive cost.
But there's a solution of sorts. "Elite cues" are the variety of signals that prominent political figures — politicians, media figures, writers and partisan public intellectuals — provide about how to think about major political issues. Through speeches, media comments, personal actions, campaigns, and policy platforms, they offer easily accessible models of thought and behaviour to the "cue takers" in their intended base.
It's an imperfect approach with often unpredictable results; respected figures even on the same side can contradict one another or misjudge what messages and framings will take root. But when it works, the effect can be powerful, validating once-marginal ideas, or closing off responses that risk veering too far from elites' preferred policies.
When it comes to climate change, the elite cues that have been directed towards mainstream Canadian opinion have consistently indicated that the issue is not urgent in any meaningful way.
The ideologies of both the Liberal and Conservative parties forbid the transformative policies now needed.
Take the Liberal party, for instance. For the last six years in power, their climate change policies have been adopted alongside enormous concessions to the fossil fuel industry, primarily in the form of support for new tar sands pipelines. In 2016, the same year they announced their federal carbon pricing framework, they also approved Line 3 and Trans Mountain. In 2019, the party declared a climate emergency, and then only a few weeks later reapproved the Trans Mountain pipeline after Indigenous groups had convinced a court to reject the initial approval. It is hard to detect much crisis or urgency here.
The concessions continue even now, as we saw last month with Canada's minister of environment and climate change.
Speaking to the CBC, Jonathan Wilkinson defended the government's continued support for Trans Mountain even in light of the alarming newest report from the Intergovernmental Panel on Climate Change, arguing the project is necessary for financing the shift to a post-carbon economy. "Part of the transition is being able to raise the revenues that enable you to actually make the investments that are required to go there," he said.
It's a powerful cue to potential Liberal voters. If even the environment minister says we can exacerbate climate change to fight it, how much of a crisis can it be? How urgent is it really if it's the kind of problem we will attend to only when and if we can afford to?
Right on cue
Still worse comes from the federal and provincial Conservative parties, who have long ignored the crisis altogether and consistently opposed legislation with any potential to combat it (remember "The Resistance"?). That has left fertile soil for some dangerous ideas to have set deep roots on the right, as revealed by an Angus Reid survey conducted just this past April.
Only about one-third (34 per cent) of people who voted Conservative in the 2019 election correctly stated that climate change is a fact and is driven by human activity. (For comparison, around 90 per cent of voters for other parties said the same.) The rest believed either that it was natural (43 per cent) or an unproven theory (17 per cent). When Erin O'Toole's effort this March to include "climate change is real" in the party's policy book was voted down by Conservative delegates, it showed how difficult it can be to reverse what older cues allowed to set in.
What happened a couple of years ago in the U.S. might offer some hope for turning things around.
And even now, O'Toole's Conservatives are promising that, if elected, they will lower Canada's 2030 emission reduction target and turn to a fully unserious climate policy, inspired, it seems, by brand loyalty rewards programs. The party won't even denounce a member tapping into the anti-lockdown movement by scaremongering about a "climate lockdown."
New cues
The political cues being directed at the large swell of voters in the Canadian centre about how we should respond to the climate crisis range from deprioritization and delay to denial, and there isn't much reason to expect that to change; the ideologies of both the Liberal and Conservative parties forbid the transformative policies now needed. People may continue to delight in apocalyptic summers for a while longer.
What happened a couple of years ago in the U.S. might offer some hope for turning things around. The Green New Deal, a movement-authored effort to respond to the climate crisis through a justice-based national economic mobilization, swept into the American mainstream thanks to backing by principled and prominent political figures in Alexandria Ocasio-Cortez and Bernie Sanders. From there, a new generation of progressive Democrats has kept it alive and used it to attempt to reconstitute a staid political party.
There could be opportunities to set the stage for something similar to happen in Canada right now.
In B.C., respected climate movement figures Avi Lewis and Anjali Appadurai are campaigning for seats in Parliament this election. With a strong movement behind them in coming days, perhaps Canadians will be in for a new, more just set of cues.
[Top : Photo: Firefighter working the Dixie wildfire in California, taken August 2021. (California Department of Forestry and Fire Protection / Flickr)]