Oil and gas in western Canada divides Indigenous communities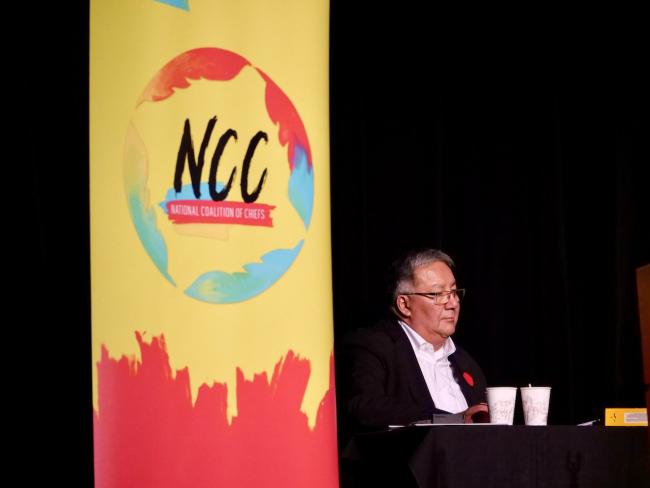 November 6th 2019
The conference room applause faded as Chief Roy Jones Jr. walked on stage to address the Natural Resource Summit, hosted by the National Coalition of Chiefs.
"I just have one question for anybody. Is there any Liberals out here?" he asked the crowd.
A split second silence gave way to laughter from the crowd — a mix of Indigenous leaders and representatives from Canada's oil and gas sector.
"Come on, don't be afraid to show yourself because we're going to send a message to Trudeau with ya," he, and the crowd, laughed.
Western alienation has made a lot of headlines as of late, but that is hardly the only political and ideological division at play in Alberta right now.
The conference took place on Monday and Tuesday and hosted 81 Indigenous leaders from across the country and hundreds of representatives from the natural resource sector, according to Dale Swampy, president of the National Coalition of Chiefs, an organization formed to show support for the oil and gas sector, and to bring revenues from the industry on to reserves.
The speaker who wrapped up the conference, Chief Roy Jones Jr., highlights just how deep the divides run in Indigenous communities on the subject of resource development. Jones Jr. was a Haida hereditary chief before his status was revoked in 2016 by the matriarchs of his community for supporting the Northern Gateway Pipeline.
Preceding Jones Jr. on stage was Delbert Wapass, the former chief of the Thunderchild First Nation in Saskatchewan and the founder of Project Reconciliation, an organization supporting Indigenous ownership of the Trans Mountain Pipeline, calling it a reconciliation pipeline.
"Protecting our traditional land is not negotiable," Wapass told the crowd.
Wapass, in his address, talked about how he felt pitted against pipeline protesters last year when he spoke to them about his project and vision.
When it comes to oil and gas in western Canada, it divides Indigenous communities too. Should they capitalize on the opportunity to have industry money flowing into their communities? Or focus on decarbonization and the risks of climate change?
"Indigenous people, in my mind, did not create the situation we are experiencing in energy. Because we were not invited to be significant players within that field. But we are here today," Wapass said.
​​At the summit, the National Coalition of Chiefs unveiled a new group called Indigenous Strong, which is meant to support and mobilize the Indigenous workers in the oil and gas sector. Swampy said support for the oil and gas sector has been there for decades but emphasis on the duty to consult with Indigenous communities has changed the conversation.
"We are getting louder now because we are getting tired of a small minority of activists and protesters speaking for all First Nations. Most Indigenous communities are engaged in resource development in one way or another. The energy industry is an important source of jobs and revenues for many First Nations," Swampy said.
"We want to change the conversation about natural resource development. For many of us, this is the best, even the only, pathway to meaningful economic development and defeating on reserve poverty."
Meanwhile, Eriel Deranger did not attend the summit and is at the other far end of the spectrum from the oil and gas industry supporters in that conference room. Deranger is the executive director of Indigenous Climate Action, and a member of Athabasca Chipewyan First Nation in northern Alberta.
"It's disappointing that the Indigenous identity is being leveraged in a way to promote these things that are really counterintuitive to a lot of the positions that our communities have taken for decades," she said.
​​​​Deranger said that support of the sector – especially in light of the effects climate change is and will have on Indigenous people – is a side effect of colonization and the "erasure of Indigenous values and knowledge system."
"As we see the recognition of the rights of Indigenous Peoples emerge, what should be happening is, I think, there should be reparations for the losses that we've incurred — not us brokering deals for future royalties or incentive from the success of these projects. These so-called leaders and chiefs in our communities have got it backwards."
Certainly, the scene at the Natural Resource Summit was a far cry from the one witnessed when Greta Thunberg visited Edmonton a few weeks ago. On the steps of the Alberta Legislature, young Indigenous leaders led the way as thousands marched for action on climate change and a move away from fossil fuel dependence.
The waters are muddied further from here because while Chief Roy Fox – chief of the Blood Tribe, Canada's largest First Nations reserve – stood before Alberta's Energy Minister Sonya Savage on Monday, he said he supported the oil and gas development, but he expressed serious concern over the province's understanding of Indigenous jurisdiction.
In reference to the provincial government's threat to launch a constitutional challenge over Bill-C69, Fox said, "There is some sort of legal action against Ottawa telling them that: in Alberta all of the natural resources belong to Alberta. That is not true."
"I've dealt with many politicians in the last 45 years and all of them say good words, you know, but when it comes down to the crunch, most of them cannot deliver," he said.
Savage encouraged Fox to watch the progress with the constitutional challenge.
Adding to the mix is the Alberta government, aligning to support Indigenous communities in favour of natural resource development. On Oct. 30 Bill 14 passed, creating a Crown corporation called the Alberta Indigenous Opportunities Corporation, which over the next four years will have $1 billion allotted from provincial funds to "facilitate investment by indigenous groups in natural resource projects and related infrastructure."
Additionally, $10 million has been set aside in the Indigenous litigation fund to "support Indigenous voices in legal actions that affect responsible resource development in Alberta."
Amnesty International has expressed concerns that the Alberta government's "Fight Back Strategy" including its war room would target the rights of Indigenous people to speak out against oil and gas development.
Premier Jason Kenney responded by saying he pitied the author, "I understand it must be hard for you. When you look around the world and see the rise of authoritarian governments, civil war, human trafficking, genocide, and other gross violations of human rights, it must be a tall order to find something, anything to denounce here in our gelid but placid Dominion."
To Deranger, the increasing focus of oil and gas companies and the provincial government on relations with Indigenous communities represents a public relations shift, rather than something more fundamental.
"There's this really, really clever way in which these companies are being like, 'Look, we're recognizing the sovereignty and autonomy of these communities, to do what's best for them, by incentivizing them with massive amounts of money,'" Deranger said. "A lot of these leaders have bought in to these systems and structures but so has a lot of the public. I mean, climate change is still a difficult subject in Alberta, period. It doesn't mean that climate change doesn't exist. It just means that people have bought into the rhetoric and the narrative."
"And to try and be like, "Oh, every single indigenous person is connected to the land and hold those values.' It's also just foolish. It's a foolish idea."
In response to Deranger's criticism that the leaders associated with the National Coalition of Chiefs had in some way lost touch with Indigenous values, Swampy responded, "Resource development leads to self-determination and own-source-revenues that provide us with the capacity to support our own languages, our own schools, our own cultural programs, and services for Elders. Poverty is not an Indigenous value."
Michelle Robinson is an Indigenous rights advocate who lives in Calgary. She also happens to be the second generation in her family to have worked in the oil and gas sector — but she considers herself to be somewhere in the middle of the divide here.
"We're going to have imposed fossil fuels and imposed Canadian governance — like we're handcuffed no matter what. So the decision is to either beat them or join them and a lot of folks already have skill sets to just join it. So from an economic point of view, of course, it's a smart thing to do because a lot of times we just don't get choice," Robinson said.
"But it's not a legitimate form of reconciliation or a legitimate form of equity."
[Top photo: Dale Swampy is the president of the National Coalition of Chiefs, which hosted its Natural Resource Summit on Tsuut'ina First Nation, found in Calgary city limits, on Nov. 4 and 5. (Sarah Lawrynuik)]