Over 200 Indigenous youth and allies gather for "lockdown" at the B.C. Legislature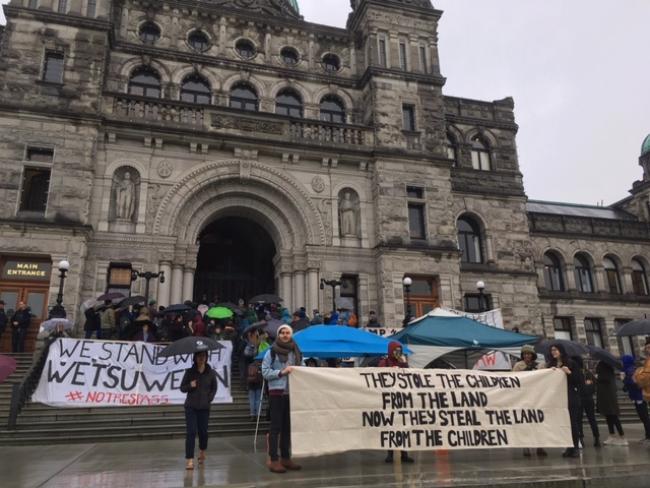 Feb. 6, 2020
Locked arm-to-arm in front of the ceremonial entrance of the B.C. Parliament Buildings in downtown Victoria, dozens of Indigenous people and over 200 allies gathered around noon on Feb. 6 to show solidarity with the Wet'suwet'en hereditary chiefs against the Coastal Gaslink pipeline. 
"We are shaming the Canadian government right now," said Ta'Kaiya Blaney of Tla'amin First Nation to the crowd of supporters.
The youth-led Indigenous group, in response to the international call for solidarity from Unist'ot'en Camp and Gidimt'en Checkpoint, asked for provincial leaders inside the building to meet with Wet'suwet'en hereditary chiefs. They intend to stay, arms secured together in lockboxes, outside the building until their demands are met.
Among the assembled allies were more than 100 students from the University of Victoria, who walked out of classes at noon in solidarity with the Wet'suwet'en hereditary chiefs.
Greg Nelson, acting Sergeant-at-Arms at the B.C. Legislature, said that the security respects and supports the Wet'suwet'en supporters' intent to protest peacefully. At the time of writing, they have no immediate intention to intervene.
The demonstration comes in the wake of multiple arrests this morning at a camp of Wet'suwet'en land defenders, as the RCMP enforced an injunction order against those blocking construction of the Coastal GasLink pipeline on traditional Wet'suwet'en territory. 
An Indigenous youth-led sit-in at the Ministry of Energy, Mines, and Petroleum Resources in Victoria on Jan. 21 ended after 18 hours in 13 arrests, as over 30 members of the Victoria Police Department forcibly removed the demonstrators between 3:00 a.m. and 6:00 a.m. The Indigenous youth — many of whom are among those at the B.C. Legislature — have since filed a complaint against the Victoria Police.
Throughout the afternoon, Indigenous youth spoke about the situation on Wet'suwet'en territory, their recent arrest, and the unceded claims to Wet'suwet'en territory recognized by the Supreme Court of Canada with assembled crowds. 
"If you believe this is the rule of law, then you live in a fantasy land," said Kolin Sutherland-Wilson, a member of the Gitxsan nation, in reference to B.C. Premier John Horgan's defense of the injunction order against those blocking the Coastal GasLink pipeline. "What is happening right now is a national disgrace."
Around 2:00 p.m., a sacred fire was started on the legislature steps, smoke rising up among the sea of umbrellas.
The gate in which the group has locked themselves in front of is the ceremonial entrance to the legislature reserved only for members of the British Royal Family — a symbol of colonialism not lost on those gathered before it.
"When we stand with the Wet'suwet'en, we are standing for all Indigenous people — this is not unique to Wet'suwet'en territory," said Sutherland-Wilson. 
"This is the legacy of colonialism."
With files from Joshua Ngenda.
[Top photo: by Emily Fagan, Editor in Chief]