Robots Multiplying--Helping or Replacing Workers?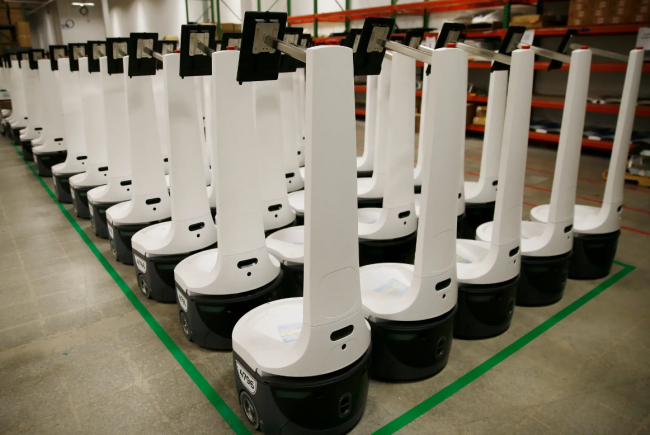 This article reminds me of a cartoon I saw 50+ years ago: Henry Ford and a union leader are overlooking an assembly line. Ford says, "No workers here are going on strike!" The union leader replies, "Nope, and none who will buy Fords either."
                    -- Gene McGuckin
Sept. 7, 2022
The companies behind e-commerce are embracing automation as the means of transcending the limitations of humans.
The people running companies that deliver all manner of products gathered in Philadelphia last week to sift through the lessons of the mayhem besieging the global supply chain. At the center of many proposed solutions: robots and other forms of automation.
On the showroom floor, robot manufacturers demonstrated their latest models, offering them as efficiency-enhancing augments to warehouse workers. Driverless trucks and drones commanded display space, advertising an unfolding era in which machinery will occupy a central place in bringing products to our homes.
The companies depicted their technology as a way to save money on workers and optimize scheduling, while breaking down resistance to a future centered on evolving forms of automation.
"It's hard to get people motivated to do this work," said Kary Zate, senior director of marketing communications at Locus Robotics, a leading manufacturer of autonomous mobile robots — carts that roll through warehouses, accompanying humans who select goods off shelves. "People don't want to do those jobs."
PANDEMIC'S TOLL
Some labor experts challenge such claims, while reframing worker shortages as an unwillingness by employers to pay enough to attract the needed numbers of people.
Peter Goodman, who has covered the supply chain breakdown since 2020, reported this article from Philadelphia.
[Top photo: LocusBots at Locus Robotics, a Massachusetts company that aims to automate warehouses with robots.Credit...Jessica Rinaldi/The Boston Globe via Getty Images]