'Scale is important' Cenovus CEO says of massive deal for Husky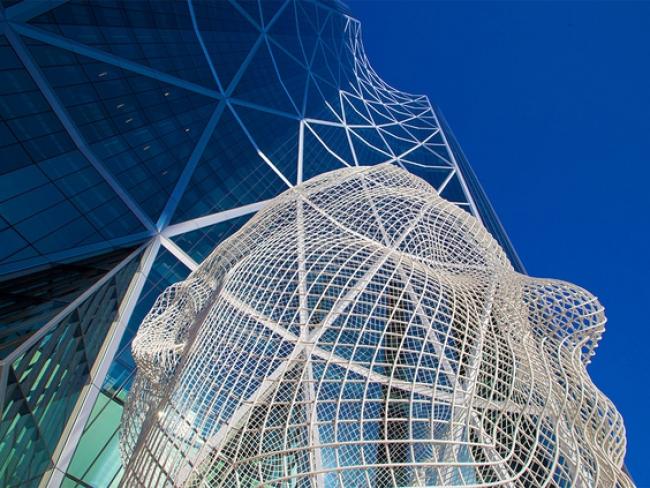 Oct 26, 2020 
A new wave of oilpatch consolidation has been widely expected since oil prices cratered this spring, undercutting share prices and piling debt onto Canadian petroleum producers.
Some smaller deals have unfolded this fall, but Cenovus Energy's mammoth $3.8-billion acquisition of integrated producer Husky Energy on Sunday lit the fuse on the biggest corporate takeover in Canada's oilpatch in several years.
And there will likely be more deals to come.
"Scale is important," Cenovus CEO Alex Pourbaix said in an interview Sunday.
"So many people in our industry right now are looking at consolidation, both to cut their costs and to improve their balance sheet. So we are going to see more."
The all-stock transaction will lead to a $23.6-billion union (including debt) that will see Cenovus investors owning 61 per cent of the merged entity.
Hong Kong billionaire Li Ka-shing, whose Hutchison Whampoa has been Husky's majority shareholder dating back to 1991, will own about 15.7 per cent.
The friendly transaction has both short and longer-term ramifications that will ripple across the Canadian oil and gas sector, the city and the province.
It creates a bigger domestic oil and gas champion based in Calgary, making Cenovus the country's third-largest petroleum producer, behind only Canadian Natural Resources and Suncor Energy.
It will lead to more job losses in the field and in Calgary office towers, as Cenovus has pledged to find $1.2 billion in annual cost savings.
And it could spark more mergers and acquisitions as competitors look to bulk up while driving down operating costs to survive volatile oil prices and a global pandemic.
"The consolidation phase has started," said Rafi Tahmazian, a senior portfolio manager at Canoe Financial.
"You have got to decide, are you going to be one of the consolidators and one of the large producers that end up in the basin, or will you end up as the prey? Or will you be left behind, just blowing in the wind?"
Cenovus said half of the expected cost savings will come from the combined company spending less on capital investment, and the other half from reductions to staffing and overhead expenses.
Once completed, Pourbaix said the transaction will create a more resilient company, allowing Cenovus to lower its costs and reduce its exposure to Alberta oil-price differentials through Husky's midstream and downstream operations.
Husky Energy CEO Rob Peabody said the importance of companies increasing their size in this environment "weighed on our minds."
"As the whole sector has been getting less investment going into it, it becomes more and more important that you have a company that actually is relevant to the global investor and to the Canadian investor," he said in an interview.
"It's really important that there are key companies in this sector that have the sort of scale to attract capital on a global basis."
Pourbaix said there have been various discussions for years between the two companies that date back before his tenure as CEO, but the recent talks began earlier this spring during the COVID-19 pandemic, before they intensified over the past six weeks.
Husky produces about 275,000 barrels of oil equivalent (boe) per day in Alberta and Saskatchewan, as well as from offshore projects in Atlantic Canada and in Asia. It owns the Lloydminster heavy oil upgrader and asphalt refinery, a chain of retail stations and ownership in three U.S. refineries.
The deal will give Cenovus more heft.
The combined company will produce 750,000 boe per day, with upgrading and refining capacity of 660,000 barrels per day. It will also double the pipeline capacity at Cenovus.
Pourbaix noted the deal will significantly reduce the company's free funds flow break-even price to US$36 per barrel next year and less than $33 by 2023.
"It says to me that the Canadian companies with the biggest exposure to the oilsands are confident in its future," said Richard Masson, an executive fellow at the University of Calgary's School of Public Policy and a former industry executive.
The acquisition takes place as the sector has been pounded by low oil prices and falling energy demand because of the pandemic and recession.
In recent weeks, Canadian Natural Resources snapped up debt-laden Painted Pony for $461 million and Whitecap Resources bought NAL Resources for $155 million. Bigger deals have unfolded across the global industry, including ConocoPhillips announcing last week it will acquire U.S.-based Concho Resources for US$9.7 billion.
The oil and gas sector has also been out of favour with investors. Husky has seen its share price tumble 70 per cent this year, closing at $3.17 a share Friday on the Toronto Stock Exchange, well off the $22 level seen a little more than two years ago.
Stock in Cenovus has dropped 63 per cent this year, closing at $4.88 on Friday.
Sayer Energy Advisers president Tom Pavic said this is the largest corporate takeover in Canada since Nexen Energy was acquired in 2013 by CNOOC Ltd. for $15.1 billion, while Cenovus bought ConocoPhillips' assets in Western Canada for $17.7 billion three years ago.
Pavic expects more deals ahead now that oil prices have stabilized around US$40 a barrel.
"You've seen cash flows come down significantly because of this pandemic . . . and there's a lack of equity and ability to raise money," he said. "That's the reason why there's more of an appetite for consolidation."
Unfortunately, the deal will inevitably lead to more job losses in Calgary and Alberta as the two organizations, with a joint workforce of 8,600 employees, come together.
"Anytime you combine two companies in similar regions of operations and similar headquarters, we're going to have some overlap and we are going to have some head count reductions," Pourbaix said.
It's more tough news for oilpatch workers who've faced a deluge of issues this year. The hope is a larger, stronger Cenovus can get through this downturn and emerge in a better position when commodity prices rebound.
"It is fewer jobs in the near term, but . . . they have some big assets that can grow once we have market access," added Masson.
"They will be well-positioned to start growing again a year or two from now."
Chris Varcoe is a Calgary Herald columnist.
[Top photo: The Bow building headquarters for Cenovus Energy was photographed on Sunday, October 25, 2020. Cenovus Energy is buying Husky Energy for $23.6 billion the companies said in a joint announcement on Sunday. PHOTO BY GAVIN YOUNG/POSTMEDIA]