Vancouver council candidate Jean Swanson receives seven-day sentence for Kinder Morgan protest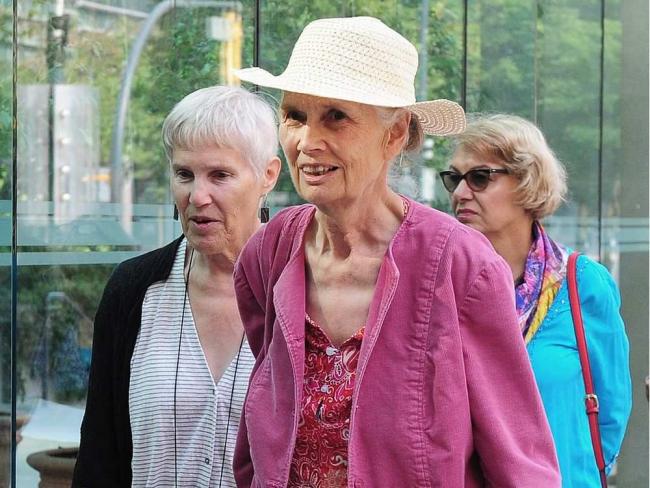 Two high-profile Vancouverites were led off to jail on Wednesday, sentenced to seven days in jail for defying an injunction by protesting at a Kinder Morgan property in Burnaby on June 30.
Jean Swanson, a candidate for Vancouver city council, and Susan Lambert, a former president of the B.C. Teachers' Federation, were among seven people who appeared before Justice Kenneth Affleck of the B.C. Supreme Court.
All seven pleaded guilty to contempt of court for blocking construction, were sentenced to seven days behind bars and were taken straight to jail.
Swanson, speaking outside court before the proceeding, said she was "dressed for shackles" and doesn't fear jail time.
"We're just going to have to keep doing this to stop the pipeline, it's insane."
Swanson said there is a possibility more people could face sentencing because occupants of the protest encampment Camp Cloud on Burnaby Mountain continue to stay put despite a second injunction, issued last week, ordering the camp to pack up.
"It's pretty bad that the City of Burnaby is doing this. They're supposed to be against the pipeline. They shouldn't be bringing forward an injunction," Swanson said.
Swanson was selected by the Coalition of Progressive Electors as one of its candidates for this fall's municipal election in Vancouver. She is a longtime anti-poverty activist and coordinator with the Carnegie Community Action Project which supports the Downtown Eastside.
Burnaby-South MP Kennedy Stewart, who is running for mayor of Vancouver, showed up at court to say he fully supports Swanson and the other protesters who have been arrested protesting the planned expansion of the Trans Mountain pipeline from Alberta.
"The people here deserve better and the people of our city deserve better. Jean and the others here today were standing up for our coast and I'm proud to stand in support of them," Stewart said.
About 100 supporters packed the courtroom.
Crown counsel Monte Ruttan said deterrence should be the reason for the sentencing, adding that there have been continued arrests in front of the facility even after it was announced jail sentences would be pursued for those who violated the injunction.
Swanson and her co-accused took turns expressing their opposition to the federal government's purchase of the Trans Mountain pipeline, their submissions drawing cheers  and prompting the judge to give the crowd a warning.
"This pipeline is the last gasp of a dying fossil fuel industry. Kinder Morgan decided it couldn't go on, and if we keep protesting, the Trudeau government is going to have to give up too," Swanson said in her statement to the court.
Lambert told the court she was ready to face consequences for her actions, but said she "feels a bit more like a political prisoner."
"It is my conviction, and I suspect everyone's in this courtroom, that scientists and our First Nations people are right. Emissions from the use of fossil fuels are harming our planet to the point of no-return."
The others sentenced Wednesday were Gyoba Sachiko, Heather Martin-Mcnab, Kathleen Flaherty, Hisao Ichikawa and Adrien Long.
"Many voted for Prime Minister Justin Trudeau solely because he promised to cancel the Kinder Morgan pipeline," said Sachiko, a 74-year-old retired elementary school teacher. "He didn't cancel it, he chose to buy it, with billions of dollars of our money. And I am strongly protesting that."
Martin-Mcnab, a resident of Salt Spring Island, said she will be celebrating her 58th birthday in jail.
"I'm proud and saddened, your honour, to be on this side of the struggle to wake our government up to what is really at stake here," she said in tears. "It was not a lack of respect for the court but a greater fear for the future that brought me to my decision."
Another accused, Ichikawa, chose to sing  when he reached the podium.
"Stop the pipeline, stop the oil tankers, we don't want them here," he sang, to a rhythm many in the courthouse's public gallery began to hum along to.
Ruttan said that approximately 215 people have been arrested to date in front of Kinder Morgan's Burnaby marine terminal. On Aug. 1, two people were arrested in front of the facility, and four other individuals were arrested on Tuesday.
[Top photo: Jean Swanson arrives at B.C. Supreme Court for sentencing after her June 30 arrest at the Kinder Morgan in Burnaby. NICK PROCAYLO / PNG]