Vancouver rally among global demonstrations calling for ceasefire to support Palestinian people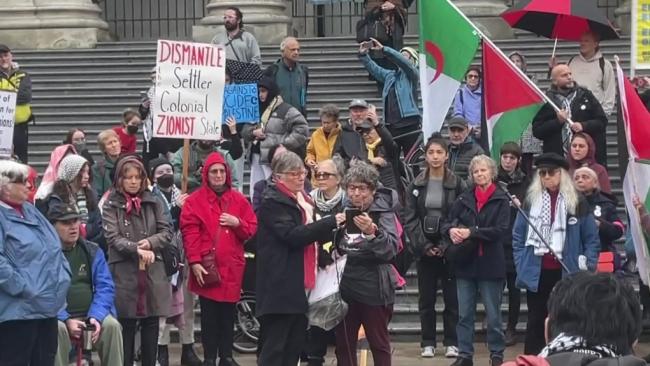 Nov. 4, 2023
Thousands of people rallied at the Vancouver Art Gallery late Saturday morning, one of dozens of demonstrations across the globe calling for a ceasefire in the Israel-Hamas war to allow for humanitarian aid.
Some two dozen Canadian cities(opens in a new tab) saw protesters calling for peace, as well as empowerment of Palestinian people and an end to what they described as aggressions by the Israeli government.
In Vancouver, one of the organizers addressing the crowd at the Vancouver Art Gallery made one of only a handful of references to more than 200 hostages taken by Hamas one month ago.
The governments of Canada and many other nations consider Hamas a terrorist group. The latest conflict began when Hamas militants murdered 1,400 people – mostly civilians – in a surprise attack.
"We call for an immediate ceasefire and release of hostages from Hamas and all those illegally detained by Israel," said Patsy George, an Order of B.C. holder(opens in a new tab) and co-founder of the Vancouver chapter of the Women's International League for Peace and Freedom. 
Fellow member and co-founder Ellen Woodsworth, who was once a Vancouver city councillor, told CTV News the group helped organize and promote the event(opens in a new tab) as a cross-cultural show of support from "the Palestinian community, the Jewish community, the Muslim community, the Christian community, (non-governmental organizations), and all kinds of different organizations." 
Many of the speakers compared colonialism in North America to the dynamics in Gaza, and two of the speakers self-identified as Jewish people seeking justice for Palestinian people facing a dire humanitarian crisis lacking clean water, food, and other necessities.
"We Jews, raised on the cry of 'never again' must fight this ongoing genocide and proclaim 'never again for anybody, anywhere,'" declared Maxine Kaufman-Lacusta, from the group Independent Jewish Voices.
Gaza-resident-turned-Canadian citizen Nasser Najjar called Vancouver's rally attendees brothers and sisters with "wonderful hearts" for showing their support at a time he lives with the daily anxiety of not knowing which of his friends or family members will survive the bloodshed in his former home(opens in a new tab). 
"My family is drinking sewage water for the last three days. My mom is out of medicine," he told CTV News. "I'm expecting death of my family every single second and we can't have a pause(opens in a new tab)?"
RELATED IMAGES
Thousands of people rallied at the Vancouver Art Gallery late Saturday morning, one of dozens of demonstrations across the globe calling for a ceasefire in the Israel-Hamas war to allow for humanitarian aid. (CTV)