The weighty costs of an electric truck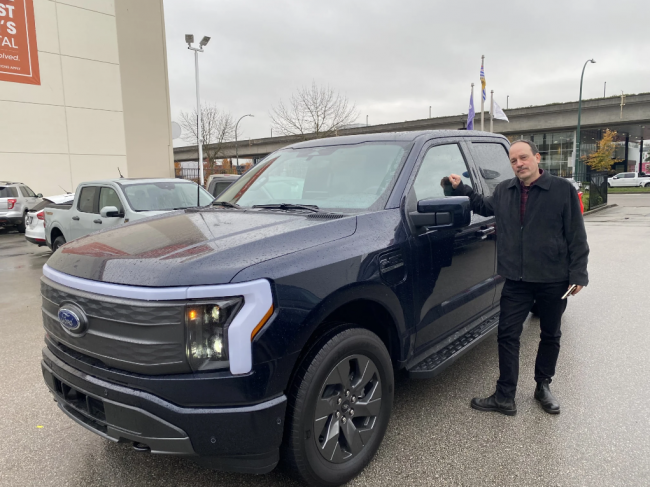 Nov. 17, 2023
North Americans love driving SUVs and big pickup trucks as passenger vehicles — a trend expected to continue as drivers replace their fossil-fuel rides with electrics. But is it possible to drive a big electric truck and be green at the same time?
In early November, I arranged to test drive a Ford F-150 Lightning — the EV version of North America's bestselling pickup. Not because I need a truck, but to better understand the real cost of this behemoth on the world.
Standing over two metres high, everything about the Lightning is writ large: the expansive "entertainment system" console, the 1,800-pound battery pack, and not least, the price. It costs over $100,000, before taxes.
The Lariat model of the Lightning comes in "anti-matter blue." There's no particulate-spewing tailpipe or even a gas pedal. I step on the accelerator and zip from a crawl to about 70 km/h in five seconds along a Vancouver sidestreet. The acceleration is soundless and so utterly smooth that it feels more like flying than driving.
The jump from internal combustion engine to EV is more like a great leap: Tesla drivetrains, for example, require only about 20 moving parts compared with 200 in conventional vehicles. EVs are also much more metal-intensive: the F-150 is not just huge, it's incredibly heavy — it weighs 6,500 pounds, 35 per cent more than a non-electric F-150. That's largely because this EV is basically a giant metallic battery pack encased in aluminum, finished with over-the-top electronics and posh leather upholstery.
The Lightning I am testing employs NCM (nickel cobalt manganese) battery chemistry, which enables it to go over 500 kilometres on a single charge. Making this possible is 75 kilograms of lithium, 95 kilograms of nickel, and about 12 kilograms of cobalt, along with many other metals, including copper, manganese, and multiple rare earths. (The salesperson would not discuss battery ingredients — except to stress I shouldn't worry because there's an eight-year/160,000-kilometre battery warranty, which can be extended if I pay more.)
If the future is to electrify the world's 1.5 billion fossil fuel vehicles — including North America's humongous fleet of pickup trucks and SUVs — it will demand a lot of new mining. Most of these metals will come from the Global South, where ore grades are declining and water scarcity from climate change is already limiting production. Not to mention, Indigenous rights and community conflict over mining impacts. And the spoils are rising.
In this way, an F-150 Lightning driver in Toronto or Los Angeles is intimately connected to the Global South, whether they know it or not. In Chile, the second-largest producer of lithium (and biggest producer of copper, required for most electrification), lithium-rich brine is drawn from beneath ancient salt lakes and dried in the open air. In 2022, I was in Chile's Atacama Desert researching my book Pitfall when I witnessed the deep divisions being driven in Indigenous communities between those who profit from lithium and copper mining and those who do not. Chile's ongoing 15-year megadrought is also starting to make water-intensive copper mining more expensive, presaging a future where hard limits will be imposed on the amount of metal that can be economically harvested.
Indonesia is an important source of the nickel needed for batteries, where low-grade laterite is strip-mined, smelted and processed into battery-grade materials, an environmentally destructive process generating big streams of toxic waste, powered almost entirely by coal. A boom is now on, with at least 34 large-scale nickel smelters in operation in 2023. Most of it is funded by Chinese companies, which maintain a stranglehold on global battery production.
How clean is a 6,500-pound truck that needs regular electrical charging? Chris Pollon takes the test. #EVs #ElectricVehicles #ZEV - Twitter
The Lightning EV pickup was in the news this year when Bloomberg traced the aluminum used to frame F-150 passenger compartments to bauxite mined in the Brazilian Amazon, where locals allege land appropriations and serious pollution. Not far from the mine, a class action lawsuit has been launched by 11,000 people living around a Norwegian-owned bauxite smelter, which has allegedly spewed pollutants into rivers, sickening thousands.
Probably the highest-profile "battery metal" is cobalt. Manufacturers are trying to phase it out of batteries, largely because most cobalt mining is limited to the Democratic Republic of Congo, where child labour, debt-bondage and modern slavery have been documented among artisanal miners, whose production feeds into the global supply chain.
It's inevitable that battery chemistries will evolve, replacing the more scarce and problematic metals with more common, inexpensive materials; but in the shorter term, lithium-ion batteries will dominate EV battery tech, for better and worse.
Closer to home, all of the EV rechargeable batteries will need to get energy from somewhere. Considering that about 60 per cent of U.S. utility-scale electricity currently generated still comes from coal, natural gas or oil, how clean is a 6,500-pound truck that needs regular electrical charging? And how will our antiquated electrical grids cope if all the vehicles on the road transition to electric?
Safety is an altogether different issue for everyone who shares the road with heavy metal EVs. During a panel on EV truck adoption at the Fully Charged LIVE EV trade show in Vancouver last September, one safety advocate compared EV trucks to tobacco — "a public health concern, in terms of injuries."
In the end, considerations about being green (and even safety) are moot if a truck is actually required for work or life. But need can be a subjective thing. I know a guy who was the recipient of one of the first F-150 Lightnings shipped to British Columbia who shut me down when I suggested he could live without the truck. "I have always driven a pickup truck, and I always will," he told me. The only pressing consideration was whether he could afford to buy it. Green or otherwise, lifestyle was not negotiable.

Vancouver freelance journalist Christopher Pollon is the author of Pitfall: The Race to Mine the World's Most Vulnerable Places, published in October 2023 by Greystone Books. He can be reached through Chrispollon.com.