Wet'suwet'en - Updates from the frontline - Continuing Support and Solidarity Actions Needed in the Face of Ongoing Colonial Violence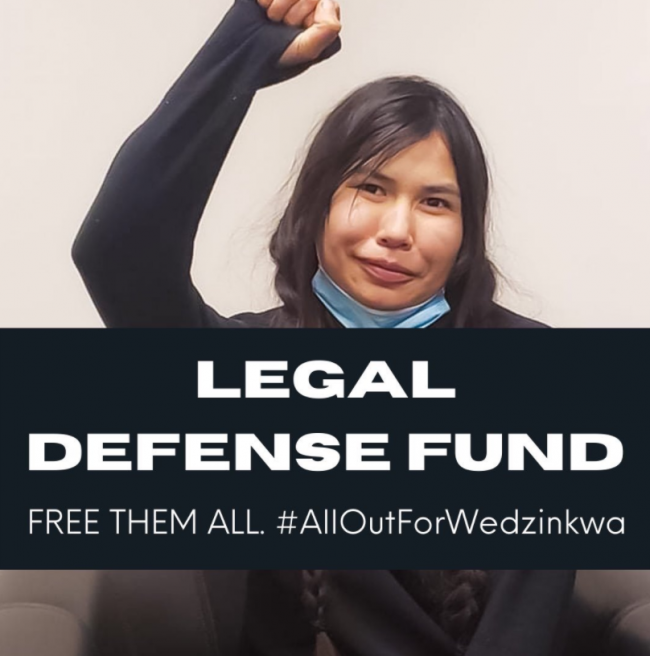 Nov. 23, 2021
COURT UPDATES

After a long day in court yesterday ten land defenders including Sleydo' and Jocelyn remain incarcerated in so called Prince George. Court resumes at 9 AM Today. 

Seven Land defenders including Sleydo's husband Cody Meriman we're released under conditions to obey the injunction and appear in court on  February 14th. 

Cody Meriman was given release conditions demanding he not return to the RCMP/CGL exclusion zone except to travel to his residence. Faced with this colonial conditional release, the decision was made to sign in order to take care of his and Sleydo's young children - not in any recognition of wrong doing. 

Amber Bracken and Michael Toledano, the two journalists arrested were released yesterday with court dates and instructions to obey the injunction and re appear in court February 14th. 

A legal defense fund is up and running for the court costs and a press release was put out by Gidimt'en Checkpoint detailing and condemning the colonial actions of CGL in the courts. 

On the day of the second raid Cheif Woos along with media were blocked from accessing his territory by RCMP while they facilitated access for CGL workers. 

SOLIDARITY

Across Turtle Island people continue to take action and share powerful statements of solidarity condemning these gross injustices. 

Below are just a few of the amazing actions that have taken place and powerful statements from land defenders. 

You Too Can Take Action:

Host a solidarity rally or action in your area.

 Issue a solidarity statement from your organization or group. Email to: yintahaccess@gmail.com

 Pressure the government, banks, and investors. http://yintahaccess.com/take-action-1

 Donate. http://go.rallyup.com/wetsuwetenstrong

 Come to Camp. yintahaccess.com/

 Spread the word.

Upcoming Actions Are Being Compiled On This Thread

----------
Powerful words from Freda Huson on the ongoing injustices on Wet'suwet'en Territory:
Support the Legal Defense Fund!
Cheif Woos' daughter Jocelyn pictured above is still incarcerated in Prince George after RCMP came with dog teams and snipers and used chainsaws to break into the cabin she was in on the CGL drill site. 
 

Video of RCMP denying Chief Woos access to his own territory while facilitating CGL access: 

RCMP blocks Hereditary Chief Woos

On the day of the illegal militarized raid on Coyote Camp Dinï ze' Woos along with media were blocked from accessing unceded Wet'suwet'en land. Meanwhile the Royal Canadian Mounted Police (RCMP) facilitated unfettered access of the territory to Coastal GasLink.

"From what I understand there's a military style raid that happened up on the drill pad site and that machine guns and sharp shooters were pointing right at the cabins. This is Giditmten territory." -Dinï ze' Woos (Gidimt'en)

This project does not and never will have the consent of our hereditary chiefs. RCMP upholds colonial laws and utterly disregards Wet'suwet'en law. We will uphold Wet'suwet'en law. No pipelines will go through our yinta.
 
Video from the powerful solidarity Action in Toronto that took place this weekend:
Eve Saint, a Wet'suwet'en Land Defender speaks at a rail blockade in Toronto over the weekend 
Kolin Sutherland Wilson speaks to the acient alliance between Gitxsan and Wet'suwet'en people. He was brutally arrested by the RCMP after they raided the railroad blockade established on Gitxsan territory in response to the violent attack on the Wet'suwet'en. 
Kolin has been going hard to support the Wet'suwet'en struggle for years and was just subjected to a brutal attack by the RCMP. You can support him here
Video of RCMP's Violent Arrest of Colin:
Warning: this video is intense and shows police violence
Powerful Words from Wet'suwet'en Land Defender Sabina Dennis!
Action Callout from Hamilton ON made at 9 AM Eastern time this morning!
All Out for Wedzin Kwa!
Unist'ot'en Solidarity Brigade