Breaking News: Pipeline protesters climb on top of Kinder Morgan drill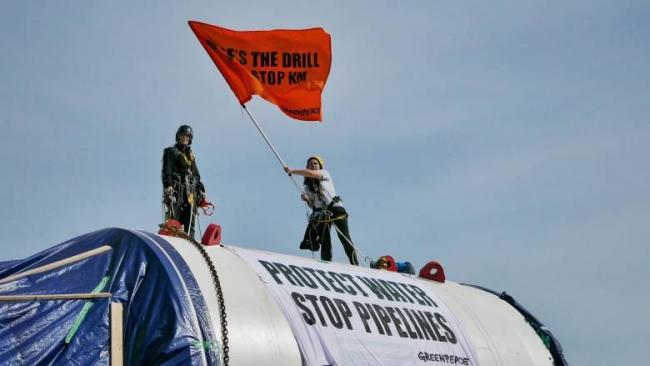 Greenpeace Canada demonstrators scaled the equipment just before dawn
At least two pipeline protesters have climbed on top of one of Kinder Morgan's drills in Delta, B.C.
The Greenpeace Canada activists scaled the equipment just before dawn, waving flags condemning the Trans Mountain pipeline expansion project.
The machine, also known as a "mole," is at a holding facility in Delta. It's meant to dig through part of Burnaby Mountain as the pipeline is built.
The demonstrators climbed the drill, seen here Thursday morning at the holding facility, just before dawn.(Duncan Cairns-Brenner/Greenpeace Canada)
Construction has been slowed on the project since Kinder Morgan announced it was stopping all "non-essential spending" on the project on April 8.
The company said the decision was due to ongoing opposition from the B.C. government and its need to protect its own shareholders.
Prime Minister Justin Trudeau has repeatedly reiterated his commitment to finish the pipeline, saying it's a project in the national interest.
The company has spent about $1.1 billion on the $7.4-billion project to date, which will twin the existing pipeline between Edmonton and Burnaby, B.C.
[Top photo: Two women climbed a drill commissioned by Kinder Morgan for the Trans Mountain pipeline expansion project on Thursday. The machine is currently at a holding facility in Delta, B.C. (Christer Waara/CBC)]