The Global Rebellion Begins October 7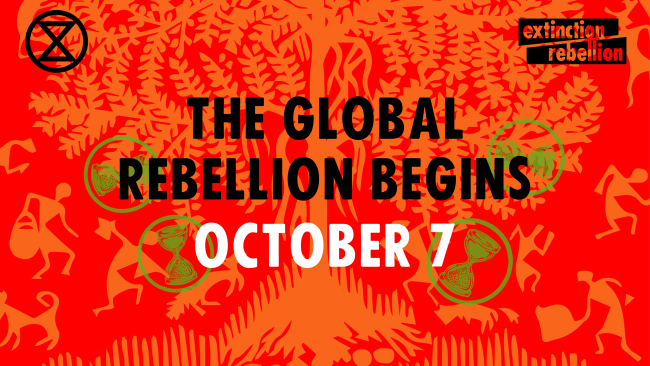 You are called on.
Something is happening. You know it is, you can feel it. You are called to be a part of it.
The 100,000+ strong climate strike in Vancouver last week shattered expectations. It is clear that this city shares a deep concern for the climate crisis and if our politicians and the country's climate criminals think they can now go back to business and politics as usual, we want them to know…
This party is just getting started!
Starting on October 7th, Extinction Rebellion is calling for an International Rebellion. Rebels in the UK plan to peacefully occupy Westminster for at least 2 weeks. Here in Vancouver, local rebels are participating in the Canada-wide #BridgeOut campaign, our first big action.
At 8am sharp on Monday, October 7th, rain or shine, we will rally near Seaforth Peace Park on the unceded territory of the Coast Salish Peoples before occupying Burrard Bridge in peaceful civil disobedience to demand that our politicians heed our voices and the voices of all concerned Canadians through a Citizens' Assembly on climate and ecological justice.
We will disrupt business as usual in order to rebel against a system that is leading us into catastrophic climate, ecological, and societal collapse. Our aim is to call attention to our urgent demands in unison with our fellow rebels across the globe
This is a public event and anyone and everyone is welcome to come and join us, with lots of music, a festive atmosphere, and family-friendly areas for people with younger kids.
We welcome all people from all walks of life and appreciate that this action may be harder for some to take part in than others. We are working as hard as possible to make the event inclusive. If there are barriers to your participation then please let us know and we will work with you.
Can't make it at 8am? No worries. We plan to keep the party going throughout the day, so check our social media for updates. We will remain flexible and may be communicating important developments as the day progresses (Twitter recommended): Twitter, Facebook, Instagram, xrvancouver.ca
---
HOW TO PREPARE & WHAT TO BRING
Here are some resources to help you prepare for this event:
We also encourage you to come to our BridgeOut Briefing and Training session on:
Saturday, October 5th, 1 - 5pm, at BMO Theatre Centre, 162 W. 1st Avenue.
---
This crisis affects every one of us. The Rebellion needs every one of us.
See you on the bridge!
With love and rage,
Extinction Rebellion Vancouver