Indigenous men ordered to stay 500 metres from Burnaby Trans Mountain sites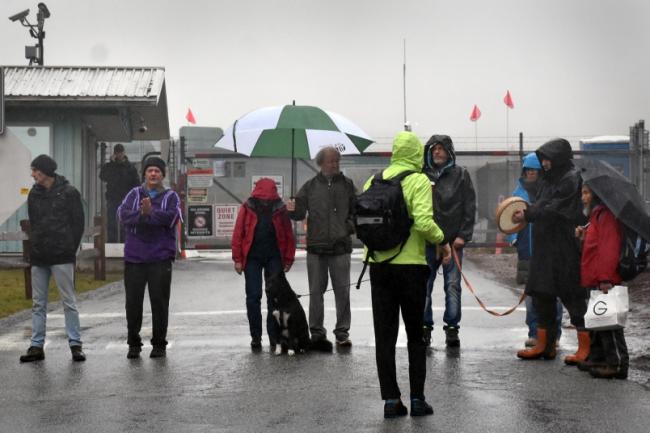 JANUARY 9, 2020
Two pipeline opponents charged with violating a court-ordered injunction. One arrested for refusing to sign paper.
A B.C. Supreme Court judge has ordered two Indigenous men to stay at least 500 metres away from Trans Mountain's pipeline facilities in Burnaby.
Jim Leyden and Stacy Gallagher appeared in court in Vancouver Thursday morning, where Crown prosecutors sought arrest warrants for the two men accused of breaching an injunction by standing in the driveway of the pipeline's Burnaby Mountain tank farm. 
Justice Shelley Fitzpatrick issued the warrants but said the men were to be released immediately if they agree to three conditions: a promise to appear at their court date (Jan. 29), to obey the terms of the injunction and to stay at least 500 metres away from Trans Mountain's tank farm, Westridge marine terminal or any other facility clearly marked as belonging to the pipeline company or its affiliates. 
Fitzpatrick allowed one exception to the no-go zone, allowing Leyden to continue attending his duties as the First Nations elder at the Watch House, a wooden structure built on the pipeline's right-of-way.
David Fay, Leyden's lawyer, said his client had been assigned that role by Tsleil-Waututh and Squamish elders and the restrictions proposed by the Crown would have prevented him from carrying out his duties.
Gallagher's lawyer, Sarah Rauch, requested that he be granted the same exception but the judge refused because, she said, he did not have the same defined role as Leyden and did not demonstrate that he needed to attend to the Watch House. 
Gallagher responded to the judge's decision, saying it was another example of a "settler or colonialist" dictating where an Indigenous person may go and what his responsibilities are. 
"We've always been here; we're not the new kids on the block," he said, referring to Indigenous people.  
The judge did, however, agree to exempt Gallagher from having to sign a document to affirm his agreement with the conditions of his release. She said he could instead have the release read to him at the court's registry. 
Leyden requested the same protocol on the grounds signing the paper would conflict with his duties under Indigenous law, but Fitzpatrick denied him the exemption, citing the fact he had signed a similar document during his previous court proceedings.
Leyden later refused to sign the order and was taken into custody. Fay said Leyden could remain in jail at least until his next court date (Jan. 29) but said he will try to secure an earlier release for his client.
Crown lawyer Monte Rattan argued the 500-metre buffer zone was warranted because both Leyden and Gallagher have already been convicted of criminal contempt of court for breaching the injunction, which only prohibits protesters from coming within five metres of Trans Mountain properties.  
"The Crown would say that the time has come that these two individuals should be restrained from a wider area around the two terminal properties where … the vast majority of protests or arrests have occurred over the last year and a half," Rattan said.
Leyden and Gallagher are the first protesters to be charged with violating the injunction for alleged incidents for which they were not arrested. Instead, the Crown is using reports from the company's security personnel and surveillance footage as evidence.
[Top photo: Protesters, including Stacy Gallagher (second from left) stand in the driveway of Trans Mountain's Burnaby Mountain tank farm on Dec. 2, 2019. - Photograph By KELVIN GAWLEY]