Kayakers take Kinder Morgan protest offshore in U.S.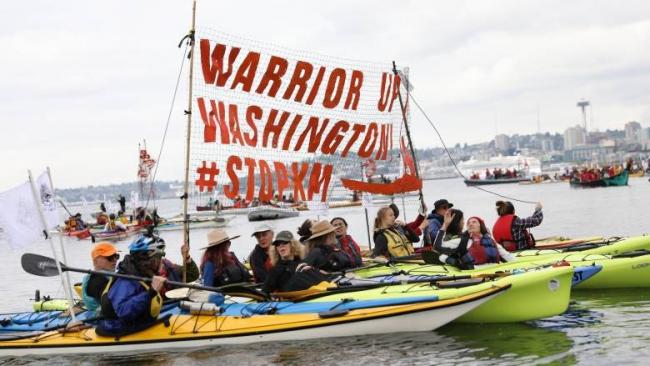 'We are going to not allow Kinder Morgan to finish this pipeline,' says protester
More than 200 kilometres south of where the Kinder Morgan Trans Mountain pipeline expansion is slated to end, environmental groups in the U.S. took to the water in Seattle on Sunday to add their voices to ongoing opposition to the project.
While the roughly 1,200-kilometre pipeline won't cross into the U.S., protesters are concerned about an increase in oil tanker traffic, which would depart from the terminal in Burnaby, B.C., and navigate across the Salish Sea.
"It's not just about the spills, it's not just about the orcas," said Graham Clumpner with Mosquito Fleet, a Washington state-based environmental group focused on stopping oil, gas and coal from being shipped along the coast.
"The bigger issue that we are all facing is climate change.
"Just like we fought Shell here in Seattle to stop arctic drilling, we are going to not allow Kinder Morgan to finish this pipeline."
Graham Clumpner is with the group Mosquito Fleet, whose motto is: 'Swarming against Global Warming.' (Briar Stewart/CBC)
Mosquito Fleet was among several environmental groups, including Greenpeace USA and the Sierra Club, that organized the rally on the water in Elliott Bay and in a city park along the coast.
About 80 people launched kayaks from the rocky shore and paddled toward Kinder Morgan's marine terminal. With a police boat stationed nearby, they unfurled banners protesting the pipeline project.
As they did that, Cedar George-Parker of  B.C.'s Tsleil-Waututh Nation spoke to those rallying along the shore about how his First Nation is continuing to fight the project in court.
Kayakers paddle toward the Kinder Morgan Terminal where a group of protesters — including members of B.C.'s Tsleil- Waututh Nation — are waiting on land. (Briar Stewart/CBC)
"They want to bring that oil through here, but we say that we will stop Kinder Morgan," George-Parker said.
"It is not happening."
Last week, Finance Minister Bill Morneau said Ottawa is willing to compensate Kinder Morgan or any other entity that takes on the pipeline project to ensure it goes ahead despite continued opposition from B.C.
The company has threatened to shelve the project over mounting risk and uncertainty if it doesn't see a clear path forward by May 31.
The $7.4 billion Trans Mountain expansion will triple the capacity of the existing Kinder Morgan pipeline, and significantly increase crude tanker traffic. (Briar Stewart/CBC)
[Top photo: Those protesting included members from various environmental groups, such as Greenpeace USA, Protectors of the Salish Sea and 350 Seattle. (Briar Stewart/CBC)]