Pact for a Green New Deal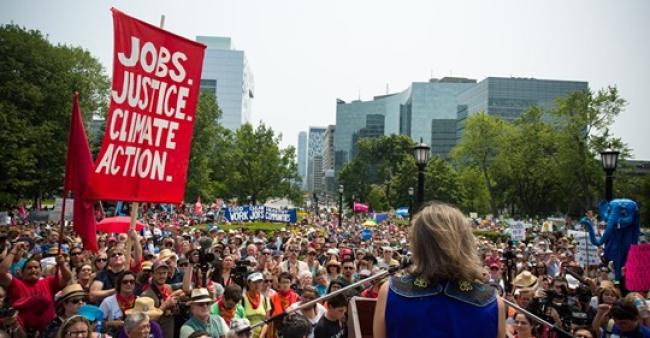 JOIN THE MOVEMENT
The climate crisis is here. Arctic permafrost is melting, forests, towns, and Indigenous territories are burning. States of emergency – declared for once-in-a-century floods – are becoming commonplace, and millions around the world already face dislocation and starvation.
But that's not the only thing keeping us up at night. Many of us are struggling to find an affordable place to live, or a decent job to support our families. Hate crimes and racism are on the rise. And promise to Indigenous peoples have yet to be implemented.
We need an ambitious plan to deal with multiple crises at the same time.
A bold and far reaching plan to cut emissions in half in 11 years in line with Indigenous knowledge and climate science, create more than a million good jobs you can support a family with, and build inclusive communities in the process.
We need a Green New Deal — for everyone. And we need everyone to be a part of building it.
Will you join the movement for a Green New Deal?
From Quebec: sign Le Pacte here
WHO WE ARE
We are a coalition of workers, artists, Indigenous leaders, scientists, youth, and people directly impacted by climate catastrophe -- from cities and towns, businesses and communities, working beyond our political differences and in solidarity with Indigenous peoples -- who want to ensure a safe world for our children and all generations after that.
That's why we stand united in support of a Green New Deal — an ambitious policy platform that re-tools our economy to respond to the multiple crises we are faced with today. If you are part of an organization or local group interested in joining our coalition, sign up here.
But winning this kind of ambitious plan will take all of us. We need your help to define what a Green New Deal will look like and to build a massive movement of people to drive our politicians to take action. 
While outreach efforts are ongoing and organizations continue to sign on in support, as of May 5, 2019, 67 organizations across sectors and across the country have come together to endorse the Pact for a Green New Deal, together with dozens of luminary Canadians.
Organizations
Indigenous Climate Action
Union of BC Indian Chiefs
Climate Strike Canada
PowerShift: Young and Rising
Migrant Workers Alliance for Change
CUPE Ontario
Canadian Union of Postal Workers / Syndicat des travailleurs et travailleuses des postes
Confédération des syndicats nationaux (CSN)
Syndicat de la fonction publique et parapublique du Québec
The Canadian Fair Trade Network
Youth Climate Lab
Canadian Health Coalition
Canadian Unitarian Council
WHEN – Women's Healthy Environments Network
Citizens for Public Justice
The Leap
Citoyens au Courant
Alerte Pétrole Rive-Sud
Eau Secours
GRAME
ENvironnement JEUnesse (ENJEU)
Montmagny en Transition
Leadnow
Greenpeace
B.C. SeaWolves
Georgia Strait Alliance
NetChange
SumOfUs
Climate Justice Edmonton
Climate Action Network – Réseau action climat Canada
IMatter Halifax
Tanker Free BC
Climate Equity Reference Project Canada
Sierra Club BC
North99
Ontario Clean Air Alliance
Wilderness Committee
Greenspiration
350.org Canada
La Planète s'invite au Parlement
Dogwood Initiative
Stand.earth
Polaris Institute
KAIROS Canada
The Council of Canadians
The Climate Reality Project Canada
Mouvement écocitoyen UNEplanète
Burnaby Residents Opposing Kinder Morgan Expansion-(BROKE)
Delivering Community Power / Vers des collectivités durables
Treaty Alliance Against Tar Sands Expansion
Social Environmental Alliance
Reclaim Alberta
Friends of Public Services
Alternatives
Fight for $15 and Fairness
Climate Justice Montreal
Workers Action Centre
Rise and Resist
No More Silence
Courage
West Coast Environmental Law Association
Partners in Health Canada
Force Of Nature Alliance
Solidarity Winnipeg
Canadian Worker Co-operative Federation
London and District Labour Council
Individuals
Dominic Champagne, Instigator of the Pact for Transition.
K.D. Lang, Musician
Cobie Smulders, Actor
Evangeline Lilly, Actor
Richard Reed Perry, Musician (Arcade Fire)
Ellen Gabriel, Indigenous leader and artist
Dan Mangan, Musician
Neil Young, Musician
William Shatner, Actor
David Suzuki, Scientist
Naomi Klein, writer
Pamela Anderson, Actor
Dave Bidini, Musician (Rheostatics)
Sarah Harmer, Musician
Dr. James Maskalyk, Author, Emergency Physician
Eamon McGrath, Musician
Geoff Berner, Musician
Gordon Pinsent, Actor
Claire Boucher, Musician (Grimes)
Jennifer Dale, Actor
Joel Plaskett, Musician
Leah Pinsent, Actor
Mark Z. Jacobson, Cofounder-Solutions Project, 100% Movement
Melissa Auf der Maur, Musician
Peter Keleghan, Actor
Rufus Wainwright, Musician
Shannon Baker, Actor, Model
Victor Garber, Actor
Stephen Lewis, Politician, Diplomat
Laurel Sprengelmeyer, Musician (Little Scream)
The Sadies, Music Band
Kyo Maclear, Author
David Wall, Composer
Measha Brueggergorsman, Soprano
Broken Social Scene, Music Band
Basia Bulat, Musician
Terra Lightfoot, Musician
Old Man Luedecke, Musician
Lance Sampson aka Aquakultre, Musician
Rosina Kazi, Musician (LAL)
Jason Collett, Musician
Simone Schmidt, Musician (Fiver, The Highest Order)
Daniel Romano, Musician
Jessie Stein, Musician (The Luyas)
Tim Darcy, Musician (Ought)
Michele Landsberg, Writer
Ansley Simpson, Musician
Charles Spearin, Musician
Ruby Singh, Musician
Cayley Thomas, Musician
The Weather Station, Music Band
Stars, Music Band
Min Sook Lee, Filmmaker
Tania Gill, Musician
Tim Baker, Musician
Murray Mclauchlan, Musician
Christina Hoicka, Scientist
Hey Rosetta!, Band
Charlotte Cornfield, Musician
Jill Barber, Musician
The Pact for a Green New Deal is a non-partisan initiative, and is not aligned with any particular political party. 
See more details at link.
Top photo by Robert van Waarden, Survival Media.