Singh calls on feds to halt Kinder Morgan, invest in clean energy jobs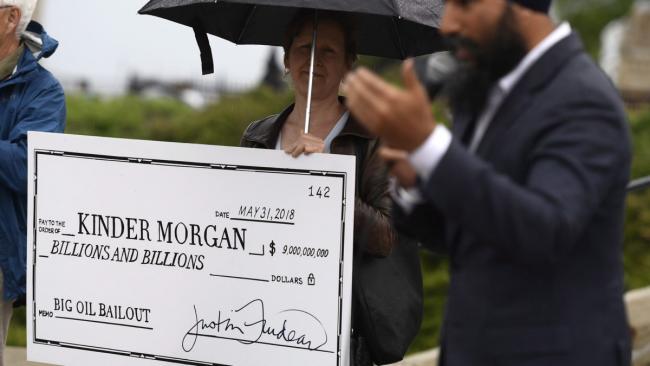 NDP Leader Jagmeet Singh is calling on the government to take the money it was planning to use to compensate Kinder Morgan investors in the proposed Trans Mountain pipeline expansion and instead invest in clean energy jobs.
Last week Finance Minister Bill Morneau said the government is willing to "provide indemnity" to any investors if "unnecessary delays" cause costs to rise.
"What we should be doing instead is using that fossil fuel subsidy, using the proposed money … to invest in clean energy jobs for today and the future," said Singh Tuesday.
He made the comments at a Parliament Hill rally where NDP MPs, Green Party Leader Elizabeth May and Indigenous leaders gathered to oppose what they called a government "bailout" of Kinder Morgan. Speaking in front of a small, rain-drenched crowd that counted AFN leadership candidate Russ Diabo among its numbers, Singh also doubled down on his opposition to the controversial project.
"It's absolutely clear now that this pipeline should not be built," he said as the crowd cheered him on.
It isn't the first time he has come out against the project. In a May 16 tweet, he condemned the government's plan to compensate the company against British Columbia's opposition and said the pipeline should not be built.
Alberta's NDP Premier Rachel Notley has rejected his position.
"I think Jagmeet Singh is absolutely, fundamentally, incontrovertibly incorrect in every aspect of that tweet," she told reporters the day the tweet went out.
At the rally, Singh doubled down on his position — in both official languages.
"What they're asking Canadians to do is to bear all the risk. They're saying Canadians should bear the environmental risk and all the financial risk."
His comments come as Notley took a pass on this week's Western premiers conference, citing the need to get a pipeline deal done.
"With 10 days remaining before Kinder Morgan's deadline, my only priority is to make sure the pipeline gets built," she tweeted.
The dispute heated up after Kinder Morgan announced it would suspend all non-essential spending on April 8. The company attributed the call to opposition by B.C.'s NDP government to the expansion, which would twin an existing pipeline to the B.C. coast — allowing Alberta oil to reach new markets.
In response to that opposition, Notley introduced legislation that would allow her government to restrict the flow of Alberta oil next door. Today, the B.C. government started the process of suing Alberta, claiming what's proposed is unconstitutional.
Saskatchewan and Quebec have also weighed in.
Provincial resistance to the project — and the inter-provincial bickering that followed — has been identified as a key concern for Kinder Morgan. The company has imposed a May 31 deadline for the government to solve the pipeline dispute.
[Top photo: NDP Leader Jagmeet Singh speaks as a woman holds a novelty cheque made out to Kinder Morgan at a rally against the proposed Trans Mountain pipeline project, on Parliament Hill in Ottawa on Tuesday, May 22, 2018. THE CANADIAN PRESS/Justin Tang]
[See also Rally in Ottawa: https://www.facebook.com/CoastProtectors/videos/1852672684791984/ 
SPEAKERS:
Territorial welcome from Elder Verna McGregor, Algonquin Community of Kitigan Zibi Anishinabeg
Chief Robert Chamberlin, Owadi, Vice President, Union of British Columbia Indian Chiefs, live from B.C.
Jagmeet Singh, Leader of the NDP
Elizabeth May, Leader of the Green Party of Canada
Maude Barlow, Honorary Chairperson of the Council of Canadians]