Big Oil rebrands its lobbying efforts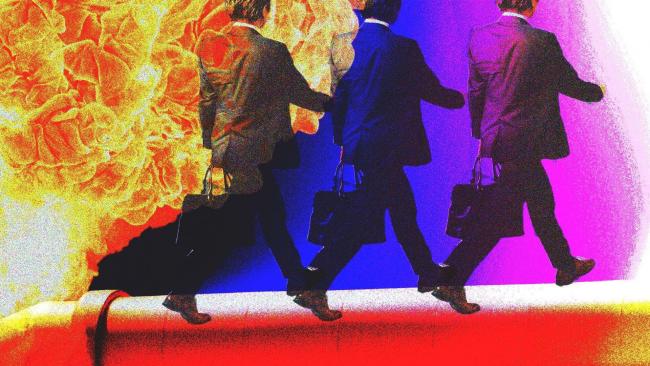 Jul 19, 2023
For decades, the Canadian Association of Petroleum Producers (CAPP) has represented Big Oil's interests, wielding a multimillion-dollar budget to set up astroturf campaigns to defend fossil fuels, deploy scores of lobbyists to shape government policy and attack critics. But in recent years, the oilsands majors appear to have become apprehensive about the industry lobby group and are going their own way.
There's been no public divorce between CAPP and the Pathways Alliance members (the country's six major oilsands producers: Suncor Energy, Imperial Oil, Cenovus Energy, ConocoPhillips, Canadian Natural Resources and MEG Energy), but a close look at lobbying records and the statements made by oil majors paints a picture of an industry seeking credibility –– and increasingly finding CAPP at odds with that goal, say industry watchers.
The Pathways Alliance was officially launched in June 2021 with the goal of reaching net-zero greenhouse gas emissions in oilsands operations by 2050. That goal is anchored by a proposed multibillion-dollar carbon capture, utilization and storage (CCUS) trunkline — essentially, a massive pipeline connecting the companies' oilsands operations to a storage hub to trap carbon dioxide emissions. When the alliance was formed, the six companies explicitly called the project "ambitious" and said it would require "significant investment" from both industry and governments.
In effect, the Pathways Alliance was announcing a charm offensive to convince the federal government to pony up cash to reduce the sector's emissions.
To do this, the Pathways Alliance uses a team of lobbyists to work politicians and bureaucrats on Parliament Hill. As of July 2023, it had 18 registered lobbyists on its roster, reflecting minimal change from two years ago when its team numbered 17. However, comparing the alliance's known lobbyists with CAPP's registered lobbyists reveals CAPP is struggling to gain traction.
In 2020, the year before the Pathways Alliance was officially launched, CAPP employed at least 37 lobbyists at the federal level. That number has been slashed 40 per cent to 22 lobbyists as of July 2023.
Both CAPP and the Pathways Alliance did not return requests for comment or interviews.
The drop in number of registered lobbyists tracks with CAPP's ability to finance its political efforts. CAPP does not report its exact revenue, but its 2021 membership form shows dues were $3.99 per barrel of oil (equivalent) –– an industry term used by companies to combine oil and gas reserves into a single unit of measurement. Based on 2021 expected production statistics, CAPP would have had a core budget of about $16 million that year. If its members drop production, or cancel membership, it hurts CAPP's war chest.
"(CAPP) fought every policy. I worked very hard to work with the oil and gas sector, but I realized that they were only representing their own interest, i.e. making money, delaying the transition..." @cathmckenna says. - Twitter
Currently, CAPP, which represents companies big and small, has 38 producer members that extract oil and gas and 40 associate members that work with oil and gas companies. Compared to February 2020, the earliest date archived online, CAPP had 61 producer members and 43 associate members, reflecting a 37 per cent and seven per cent drop, respectively.
Pathways Alliance members continue to pay CAPP membership fees, but as investors increasingly turn to environmental concerns, CAPP's explicit efforts to delay and weaken climate policies have already turned major companies away. In 2020, French energy giant Total exited the oilsands and axed its CAPP membership, citing "misalignment." In 2021, Shell considered itself aligned with CAPP, but last year the company also described "misalignment" with the industry group and publicly urged it to adopt friendlier climate positions –– still, Shell Canada maintains membership.
Similar criticisms of CAPP have come from other large companies. In 2020, BP told then CAPP president Tim McMillan that the association's advocacy around carbon pricing did not reflect BP's position. In a 2021 filing with the Carbon Disclosure Project, Suncor described its alignment with CAPP on carbon pricing as "mixed." Even CAPP's non-fossil fuel members are turning away, with perhaps the most high-profile example being Scotiabank's decision to leave last year.
"The big guys haven't formally left but they're really frustrated," explained Greenpeace Canada senior energy strategist Keith Stewart, referring to the Pathways Alliance members. "There's been a bit of a war between the smaller, conventional and fracking gas players and the big guys in the oilsands because they actually have different interests."
One casualty of that war, Stewart suspects, was McMillan, the former CAPP president who regularly accused critics of causing the sector problems, and urged the oil and gas sector to "get the microphone back" until he left last year and was replaced with Lisa Baiton. Stewart called Baiton a "much blander figure" who spent the previous decade as a managing director with the Canada Pension Plan.
Perhaps the biggest difference between what major oilsands producers and smaller companies want boils down to carbon capture. The Pathways Alliance's central pitch is for the federal government to use billions of taxpayer dollars to build their massive carbon sequestration hub to help curb emissions produced per barrel — called emission intensity. But nowhere in that pitch is a plan to extract less oil and gas, meaning the emissions that reach the atmosphere will keep growing, baking the planet further if the alliance gets its way.
So, while CAPP lobbies politicians and bureaucrats across approximately 50 topics relating to energy, environment, Indigenous issues, taxation and trade, "Pathways decided to go full-in on lobbying for the feds to pay for their carbon capture plan," Stewart said.
'Overplayed their hand'
One reason the Pathways Alliance members would want to distance themselves from CAPP is because if the goal is to extract billions of public dollars to pay for a carbon capture plan, it helps to look like a team player. CAPP has been clear its political allegiances lie with the Conservative Party of Canada (CPC), Stewart said.
"I felt like from 2015 through to 2019, CAPP had a pretty explicit political strategy of trying to defeat the Liberals," he said. "That failed in 2019, and then it failed again in 2021."
As reported by the Globe and Mail, in 2019, then Conservative Party Leader Andrew Scheer secretly met with then CAPP president McMillan and a handful of other oil industry representatives "to discuss strategies for defeating the Liberals and silencing environmental critics who oppose pipeline projects and oilsands expansion and criticized the Conservative government of Stephen Harper."
"They overplayed their hand with the direct alliance with the CPC, which is not a good look if you're going to show up and lobby the Trudeau government the next day," Stewart said.
As fossil fuel companies pivot from outright climate denial to wanting to appear to have a credible plan, being affiliated with CAPP is increasingly viewed as a liability, he added.
"That's what Pathways is all about, is having a credible story to tell, and CAPP didn't have that," he said. "So Pathways gets mountains of good press."
Former environment and climate change minister Catherine McKenna, who served in cabinet from 2015 to 2021, told Canada's National Observer that CAPP was "extremely problematic."
"They fought every policy," she said. "I worked very hard to work with the oil and gas sector, but I realized that they were only representing their own interest, i.e. making money, delaying the transition, ensuring the taxpayers pay the most for their pollution, and they wanted to have big fights.
"So that was obviously a problem," she added. "The Pathways Alliance, while they might want it to be nicer and for everyone to feel better about things, at the end of the day in climate change, you have to do the work."
McKenna now serves as chair of the United Nations Secretary General's High-Level Expert Group to develop standards for net-zero claims to combat the rise of greenwashing. Emission reductions and genuine efforts to move to a sustainable future have to be at the core of a net-zero commitment, she says. Practically, that means scaling up money for renewable energy, phasing out fossil fuels and supporting policies to do just that.
Oil and gas companies are "making historic profits, largely off of an illegal war, which they're returning to shareholders and through executive compensation rather than investing in the transition," she said. "And at the same time, they continue to lobby behind closed doors against policies that are needed… for Canada to meet its international commitments.
Despite the Pathways Alliance boasting of its commitment to climate action, McKenna says the companies' absolute emissions need to go down significantly, not just their emission intensity, and that to date, only "a fraction" of their investments are flowing into clean technology.
"I just wish everyone would get with the program because Canadians know full well that we are paying the price for climate change," she said. "Let's be clear, over 80 per cent of emissions are caused by fossil fuels.
"The problem is the problem, and so if we do not address the emissions right now from the oil and gas sector … we are literally ensuring that our kids will not have the ability to have a sustainable future."
[Top: Artwork by Ata Ojani / Canada's National Observer]