BREAKING - activists in Vancouver, Washington block pipes destined for Trans Mountain expansion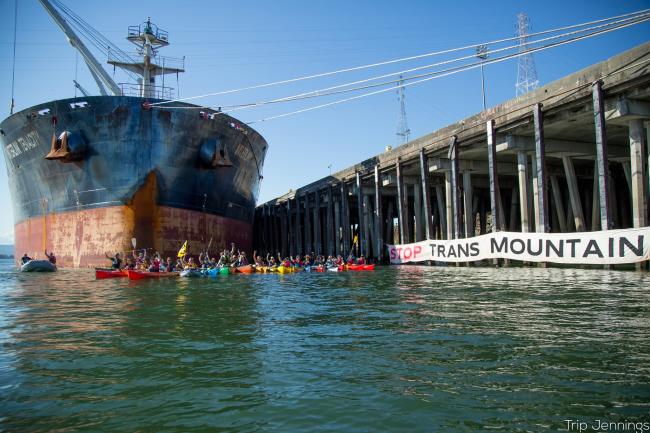 https://www.facebook.com/MosquitoFlt/photos/a.1426459521006746/2418724851780203/?type=3&theater
Live in Portland , we are taking direct action on the water standing up too shipments of pipe coming from India going too be transported by rail too Canada for the trans mountain pipeline , Community members from Oregon and Washington state stand up in solidarity with tsleil waututh , too stop this through direct action ! — with Joan Phillip, Kanahus Freedom Manuel, Stacy Gallagher and 13 others.
Portland Rising Tide
Right now, community members from Oregon, Canada, and Washington are blockading a ship attempting to dock at the Port of Vancouver, Washington that is transporting pipe for the Trans Mountain Pipeline Expansion project. In early September, activists broke the news that pipe for the project's construction is being imported by ship to the Port of Vancouver WA and then blockaded a rail line at the Port of Vancouver, WA to prevent TMX pipeline from making it to its destination in Vancouver, B.C.