Canada's Political Elites Are Climate Criminals in the Pocket of Big Oil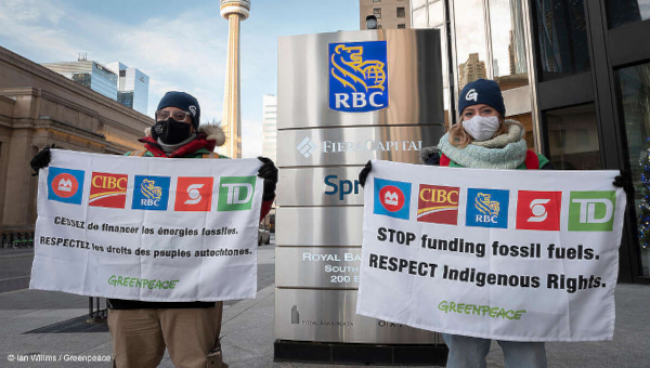 July 9, 2023
With each mile of country that burns in wildfire, this unwavering support for the oil industry is looking more and more deranged. As wildfires spread across Canada, Justin Trudeau sought to showcase his commitment to responsible environmental stewardship. He told reporters that:
"there are some politicians that still think you can have a plan for great jobs and growing the economy without having a plan to fight climate change… But Canadians know that fighting climate change is necessary both to create those great jobs and opportunities but also to prevent the catastrophic and expensive losses that Canadians are facing increasingly over the years."
It is only to be expected that Trudeau would want to distance himself from his conservative rivals at both the federal and provincial level. Their crude efforts to downplay the significance of the wildfires, often bordering on outright climate denial, are not for him. He is careful to say all the right things about environmental issues, even as he serves the interests of fossil fuel companies. And he is not alone – parties from across the political spectrum greenwash their public statements while courting Big Oil.
Worsening Wildfire Seasons
In 2019, Mike Flannigan at the University of Alberta noted the huge long-term increase in the destructive impacts of wildfires in Canada. "We burn about 2.5 million hectares a year on average – that's using about a 10-year average," he said. "It's more than doubled since the late '60s and early '70s."
Yet, this year, things are much worse, and the scale of the devastation has intensified dramatically, with four million hectares going up in flames by the first week of June. Following an exceptionally warm and dry spring, "[f]ires across Canada have already burned an area that's 12 times the 10-year average for this time of year."
The spread of the fires has forced evacuations in various parts of the country, with particularly serious developments for Quebec. On June 4, there were "136 active fires in the province, including about 20 that are priorities because they threaten residences or infrastructure." Thousands of people were subject to mandatory evacuation notices, and Quebec premier François Legault announced that "authorities had no choice but to leave the hamlet of Clova to burn, drawing the ire of local residents."
As the fires intensified, the massive plumes of smoke were carried to major urban centers throughout the eastern portion of North America, bringing home the realities of climate change to millions of people in the most direct fashion. According to the CBC, the air quality in Ottawa in early June "was so bad that it cracked through the top of a risk scale."
As the smoke spread south of the border, the impact on cities in the eastern United States was dire. On June 7, NBC estimated that, "About 128 million people were under air quality alerts because of wildfire smoke and ozone in the US… For smoke alone, around 100 million were under alerts across 16 states." At one point New York City topped the list of the world's worst air pollution.
Though the weather conditions that saw cities blanketed in smoke have eased, the wildfire season is far from played out. "Ten new wildfires were reported in Canada," teleSUR reported on June 9, "bringing the total number of wildfires in the country so far this year to 2,405, the Canadian Interagency Wildfire Center reported." On that day, 422 fires were active, and 219 were acknowledged to be burning out of control. The prospects for July, August, and into the autumn are alarming in the extreme.
Cutting Public Budgets and Building Pipelines
Canada's approach to development, deeply rooted in the logic of a petrostate, has significantly contributed to the escalation of climate change impacts. As Todd Gordon and Geoffrey McCormack put it in Briarpatch, a
"key pillar of the state and capitalists' response to Canadian capitalism's crisis is to realize profits abroad through the expansion of oil and gas exports. Canada has one of the largest oil and gas reserves in the world, and the investments already sunk into the sector are greater than those of any other in the Canadian economy."
This drive to expand oil and gas production is deeply rooted and long-standing. In 2008, activity in the oil sands of northern Alberta was described as "the world's greatest modern oil rush," and the frenzied drive to extract "dirty oil" evoked images of a "new Kuwait." At that time, it was suggested in the Guardian that by "2050 Canada could be the second largest oil producer in the world, shifting the global energy security equation but exacerbating global climate change in a way that has scarcely been considered."
The idea that Canada could be a top-tier global energy producer has become accepted across the mainstream political spectrum. Alongside that acceptance, concerns for ecological consequences have been largely disregarded, often limited to mere lip service. On the Right, federal Conservative leader Pierre Poilievre, as he campaigned for the leadership of his party, declared, "We're going to clear the way for pipelines. I am going to support pipelines south, north, east, west. We will build Canadian pipelines."
The Conservative government in Ontario has played a particularly dreadful role in rolling back preparedness for climate change–related disasters. As one commentator notes, in light of the devastating wildfires in Ontario, "it becomes apparent that the Doug Ford government's decision to slash the forest firefighting budget by a staggering 67 per cent ($142.2-million according to 2019 Ontario Budget) was a reckless and short-sighted move."
In a recent session of Ontario's legislature, Ford refused to accept that the present fires are linked to climate change. He accused the leader of the Opposition of "politicizing wildfires" when she made this suggestion. The United Conservative Party (UCP) government in Alberta is similarly responsible for cuts to wildfire-management services, and it also takes a dismissive attitude toward climate change. Premier Danielle Smith is theatrically bringing in arson investigators to divert attention from the unavoidable reality of what is driving the intensification of the threat of wildfires in Canada.
The predictable antics of right-wing politicians, as reprehensible as they are, shouldn't divert our attention from the fact that faulty climate stewardship isn't confined to conservatives. Canada's purported social democrats, the New Democratic Party (NDP), hold power in British Columbia and formed the government in Alberta up until 2019 – two provinces in which the government has very cozy relationships with extractive industries.
NDP governments in British Columbia have backed destructive pipelines and handed lavish subsidies to fossil fuel companies. As party-watchers put it, "Without a major shakeup, the NDP is on track to blow BC's weak climate targets – and condemn people here and around the world to deep suffering." Alberta's former NDP premier and present Opposition leader, Rachel Notley, opposes the Trudeau Liberals on their weak plans to cut carbon emissions and insists that any such measures must involve consultation with oil and gas companies. Notley maintains that Alberta must be "realistic" and that it will make sure that the oil industry "is able to continue to flourish."
Liberal Enablers
Trudeau challenges his conservative opponents' readiness to play to the climate denial gallery, but his own government can't be allowed to escape its massive share of the blame. As the Sierra Club put it, "Trudeau still has not been able to reconcile his promises to cut emissions with his support for the continued growth of Canada's oil and gas industry."
The Sierra Club authors also note that
"Canada's ownership and support of the Trans Mountain Pipeline expansion is one of the clearest examples of this contradiction – but it's not the only one. Trudeau has also given unflinching support to other major fossil fuel projects… In British Columbia, Trudeau also backs LNG Canada, a massive gas pipeline and liquified natural gas (LNG) export project."
When opposition to the expansion of oil and gas operations has taken the form of protests, Canada's federal police force, the Royal Canadian Mounted Police (RCMP), has cleared the way for the fossil fuel interests, and this has often involved the violation of indigenous sovereignty. In 2019, before the RCMP carried out "a militarized raid on ancestral lands of the Wet'suwet'en nation" to ensure pipeline construction, notes drawn up by RCMP commanders stated that arrests would be needed for "sterilizing [the] site." Snipers were also put in position because the RCMP determined that "lethal overwatch is req'd."
The single-mindedness with which the Trudeau Liberals have supported fossil fuel expansion is simply at odds with their empty promises around addressing the climate crisis. In 2017, Trudeau addressed an energy industry conference in Houston, Texas and told the appreciative crowd that "no country would find 173 billion barrels of oil in the ground and just leave them there." He added, "nothing is more essential to the US economy than access to a secure, reliable source of energy. Canada is that source."
Despite slight differences in approach and partisan disputes, Trudeau's address in Houston reflected the collective stance of the entire Canadian political establishment. Without a massive and powerful movement for climate justice, we may expect those in power to disregard even so dire a warning as this year's appalling wildfires. As far as Canada's political establishment is concerned, the forests may be burning and the cities choking, but fossil fuel profits still come first. •
This article first published on the Progressive International website.
John Clarke is a writer and retired organizer for the Ontario Coalition Against Poverty (OCAP). Follow his tweets at @JohnClarke and blog at johnclarkeblog.com.