Canadian oil company made bogus ESG claims to lure investors, complaint states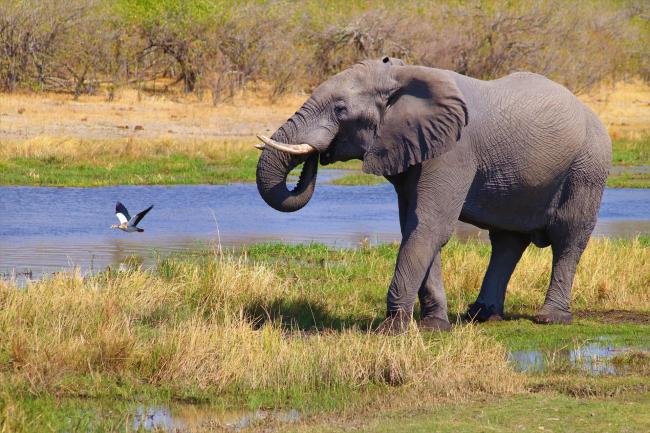 Aug. 30, 2023
A new complaint sent to the FBI's white-collar crime division and filed with U.S. financial regulators alleges Canadian oil company Reconnaissance Energy Africa (ReconAfrica) has used environmental claims to mislead investors.
ReconAfrica is drilling for oil in an ecologically sensitive region in Namibia. Its drilling plans are near the Okavango Delta — a UNESCO World Heritage Site, one of the world's largest protected areas for endangered wildlife and a culturally significant place to the San people.
The 25-page complaint obtained by Canada's National Observer alleges environmental, social and governance (ESG) metrics — essentially, benchmarks for environmental or socially friendly plans — have been misrepresented as ReconAfrica "illegally" drills. It was compiled by advocacy groups Economic and Social Justice Trust of Namibia, Kapinga Kamwalye Conservancy, Muduva Nyangana Conservancy and the Ncaute Community Forest.
ReconAfrica did not return multiple requests for comment.
At the centre of the complaint is an allegation that ReconAfrica misrepresented its climate credentials in an effort to raise cash to finance exploratory drilling. "ESG is our fundamental operating principle," ReconAfrica told investors in a fact sheet, adding it is "committed to carbon-neutral emissions."
ReconAfrica has even promoted its award nominations for its ESG best practices, including an "ESG Leader Award" at the African Energy Awards in 2021 and a nomination recognizing its "corporate social responsibility" at the Association of International Energy Negotiators (AIEN) in 2023.
But the complaint filed with regulators Tuesday says the Africa Energy Awards are operated by a ReconAfrica promoter named NJ Ayuk, a Cameroonian attorney who serves as chair of the African Energy Chamber and previously pleaded guilty to impersonating a U.S. congressman in 2007. Further, the complaint notes the AIEN awards that nominated ReconAfrica for its responsible leadership are sponsored by ReconAfrica founder Jay Park's law firm, Park Energy Law.
"The company's deliberate and sustained effort to create a false belief about their drilling and ESG program helped ReconAfrica stand out from other oil producers and significantly altered information made available to the investing public," reads the complaint.
"The supposed 'world-class' ESG program did a lot of heavy lifting for the company, but the moment you start to dig into ReconAfrica's ESG claims, they fall apart," Canadian activist Rob Parker, who works with the Economic and Social Justice Trust of Namibia, told Canada's National Observer.
A new complaint sent to the FBI's white-collar crime division and filed with U.S. financial regulators alleges Canadian oil company #ReconAfrica has used environmental claims to mislead investors. #cdnpoli - Twitter
The complaint shows that investors took ReconAfrica's ESG claims seriously. It includes screenshots on social media of company representatives and investors discussing claims as evidence it is a good company to invest in. One investor on ReconAfrica's Discord, a social messaging platform, said ReconAfrica's "ESG initiatives are what makes me comfortable" in the investment. Others speculated that ReconAfrica's $10-million ESG spending commitment was evidence the company was confident it had a "monster" fossil fuel discovery that helped justify its ESG promises.
The complaint filed with U.S. regulators Tuesday follows similar complaints in Canada. Previously, British Columbia Securities Commission (BCSC) investigator Yoshi Goto looked into ReconAfrica, according to an almost entirely redacted memo seen by Canada's National Observer, although the regulator later confirmed the company was not under investigation. Last year, the RCMP confirmed it was investigating ReconAfrica following allegations ReconAfrica has engaged in fraud and corruption, though it is unclear whether that investigation is ongoing.
The RCMP "does not confirm or deny if an investigation is underway unless criminal charges are laid," a spokesperson told Canada's National Observer. ReconAfrica has previously denied all allegations.
For years, ReconAfrica has been under heavy criticism for its operations. In 2021, when the company was facing intense criticism after critical reporting in the Globe and Mail and National Geographic exposed a flurry of serious concerns relating to environmental harm and ignoring community concerns, it reached out to Global Affairs for help.
Global Affairs set numerous meetings with ReconAfrica over 2021, including facilitating a meeting with United Nations Ambassador Bob Rae, who advised the company on who it should contact in Namibia and Botswana as criticisms mounted.
"Africa is not for sale, and our lands and our farms and water systems are not sacrifice zones for foreign companies to come and pollute," said Kapinga Kamwalye chair Thomas Muronga. "Those days of colonialism are over; we need sustainable development."
[Top photo: In 2014, the Okavango Delta was added to the UNESCO World Heritage list due to its ecological and cultural significance to the San people. Photo by Roger Brown / Pexels]