Land defender Sleydo' of the Wet'suwet'en Nation on resource extraction and territorial rights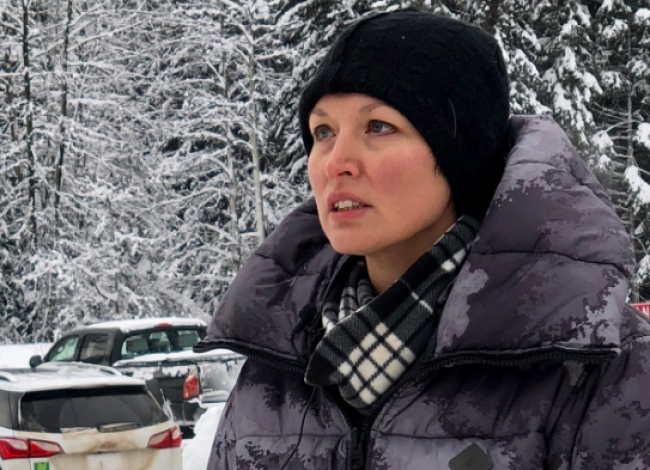 December 23, 2019
The Wet'suwet'en Nation is opposed to a fracked gas pipeline crossing their territory in British Columbia without their free, prior and informed consent.
To assert their sovereignty over their territory and stop surveying and construction activities related to the pipeline, the Unist'ot'en and Gidimt'en clans of the Wet'suwet'en Nation established two checkpoints on key roadways on their lands.
On January 7 of this year, heavily armed Royal Canadian Mounted Police (RCMP) officers raided the Gidimt'en checkpoint. By January 10, the Hereditary Chiefs said they would open the Unist'ot'en checkpoint to avoid further police violence.
Now, almost a year later, The Guardian reports, "Canadian police were prepared to shoot Indigenous land defenders blockading construction of a natural gas pipeline in northern British Columbia… The RCMP commanders also instructed officers to 'use as much violence toward the gate as you want'…"
Following this news, Sleydo' (Molly Wickham), who helped establish the Gidimt'en checkpoint,  commented, "The state has always removed our people from our lands to ensure control over the resources. The RCMP are occupying our territory for the sole purpose of protecting industry and ensuring extractive projects proceed unhindered."
Assembly of Manitoba Chiefs Grand Chief Arlen Dumas has also stated, "This form of state violence is happening to Indigenous peoples around the world. It is disheartening to know that, even in Canada, this same type of planned violence is still being considered against First Nations."
The United Nations Special Rapporteur on the rights of Indigenous peoples Victoria Tauli-Corpuz has previously stated, "Disregard of indigenous rights of traditional lands ownership breeds tensions, subsequent violence and criminalization, as indigenous peoples become trespassers or illegal occupants of their own lands."
UN Special Rapporteurs Leo Heller and Michel Forst have also previously expressed concern about the risks faced by land and environmental rights defenders (LERDs) opposed to mega-projects on their territory.
Just days after the RCMP raid, the Civic Council of Popular and Indigenous Organizations of Honduras (COPINH), which is accompanied by the Peace Brigades International-Honduras Project, posted on Facebook:
"Solidarity with the worthy struggle of Indigenous peoples in Canada! NO to the plunder of the Indigenous territories of the Wet'suwet'en People!"
Those assembled in the photograph, which includes the daughter of slain human rights defender Berta Cáceres, are holding signs that read: "No to the dispossession of Indigenous peoples!" and "Solidarity with the Wet'suwet'en people in Canada."
Tauli-Corpuz highlights, "Protecting indigenous land rights defenders is not only a human rights imperative – but also urgent to mitigating the climate crisis."
[Top photo: Molly Wickham - Sleydo']